First-Inning Rally Lifts West Virginia Over State College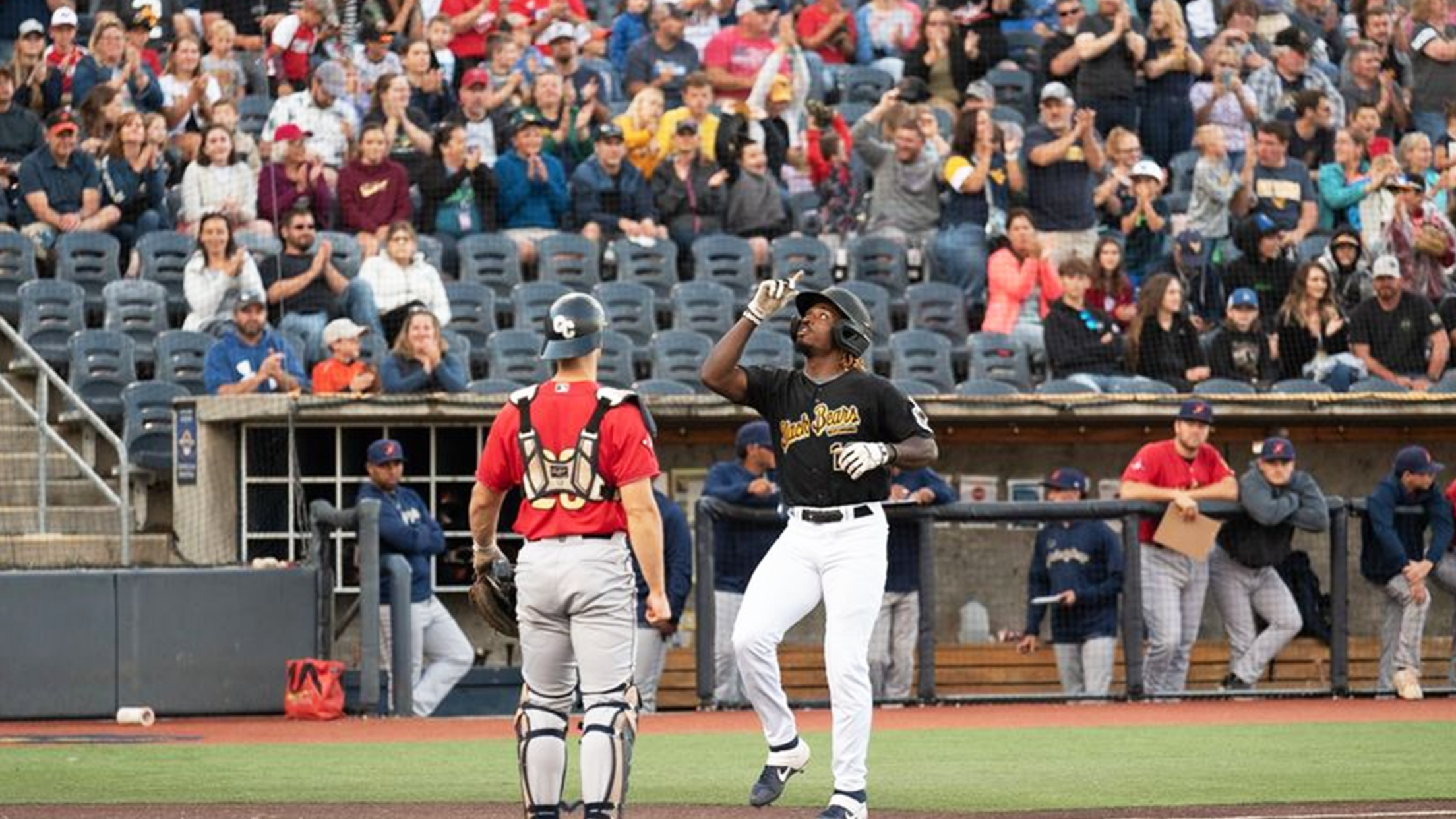 GRANVILLE, W. Va. – The West Virginia Black Bears beat the State College Spikes, 5-2, on Friday evening to a sold-out crowd at Monongalia County Ballpark. The Black Bears scored all five of their runs in the first inning, while the defense held the Spikes at bay through seven scoreless
GRANVILLE, W. Va. – The West Virginia Black Bears beat the State College Spikes, 5-2, on Friday evening to a sold-out crowd at Monongalia County Ballpark. The Black Bears scored all five of their runs in the first inning, while the defense held the Spikes at bay through seven scoreless innings. With the win, West Virginia secures the first-place spot in the MLB Draft League over the Trenton Thunder.
The Black Bears bats caught fire immediately in the first inning as they took an early 5-0 lead. 2B Kaeber Rog had the first hit of the night before he was tagged out on a fielder's choice that allowed C Tucker Mitchell to advance to first base. The rally in the first inning continued with a double from LF Paul McIntosh that dropped into center field and plated Mitchell for the first run of the evening. An RBI single from 1B Ryan McCoy brought McIntosh home and left one man on base for DH Kevin Dowdell. With a deep ball to left center field, Dowdell recorded his first home run of the season with a two-run homer that gave the Bears a four-run lead. With two outs in the bottom of the first, SS Jeron Williams became the fourth Black Bear with an RBI in the inning as he scored 3B Ranko Stevanovic from second base. By the end of the inning, all nine batters made an appearance for a total of six hits in the first.
West Virginia's defense was not to be outdone tonight as they held State College scoreless until the third inning. A triple off starting pitcher Mitch Bratt put the Spikes on the board, though it would be the only earned run Bratt allowed through four innings as he picked up the win (2-1).
The Spikes eventually scored another run in the sixth inning, but the Black Bears defense never loosened its grip on the lead. Bratt accounted for a total of 6 SO in 4 IP, tying him for the second-most strikeouts in the MLB Draft League. A day shy of his 18th birthday, the Ontario native is now one strikeout away from tying first-place in strikeouts (44) and is ranked third in total innings pitched (28). Quick athletic plays from Williams and Rog held the Spikes in check through seven scoreless innings, while the rest of the Black Bears bullpen had 7 SO in 5 IP.
The Black Bears return to the Mon to take on the Spikes in the series finale on Saturday evening. Saturday is also Black Bears Alumni Night, with a special Pirates t-shirt giveaway and highlights of the best and most memorable former players. First pitch is set for 7:05 p.m.