Black Bears Bury the Spikes in 14-3 Win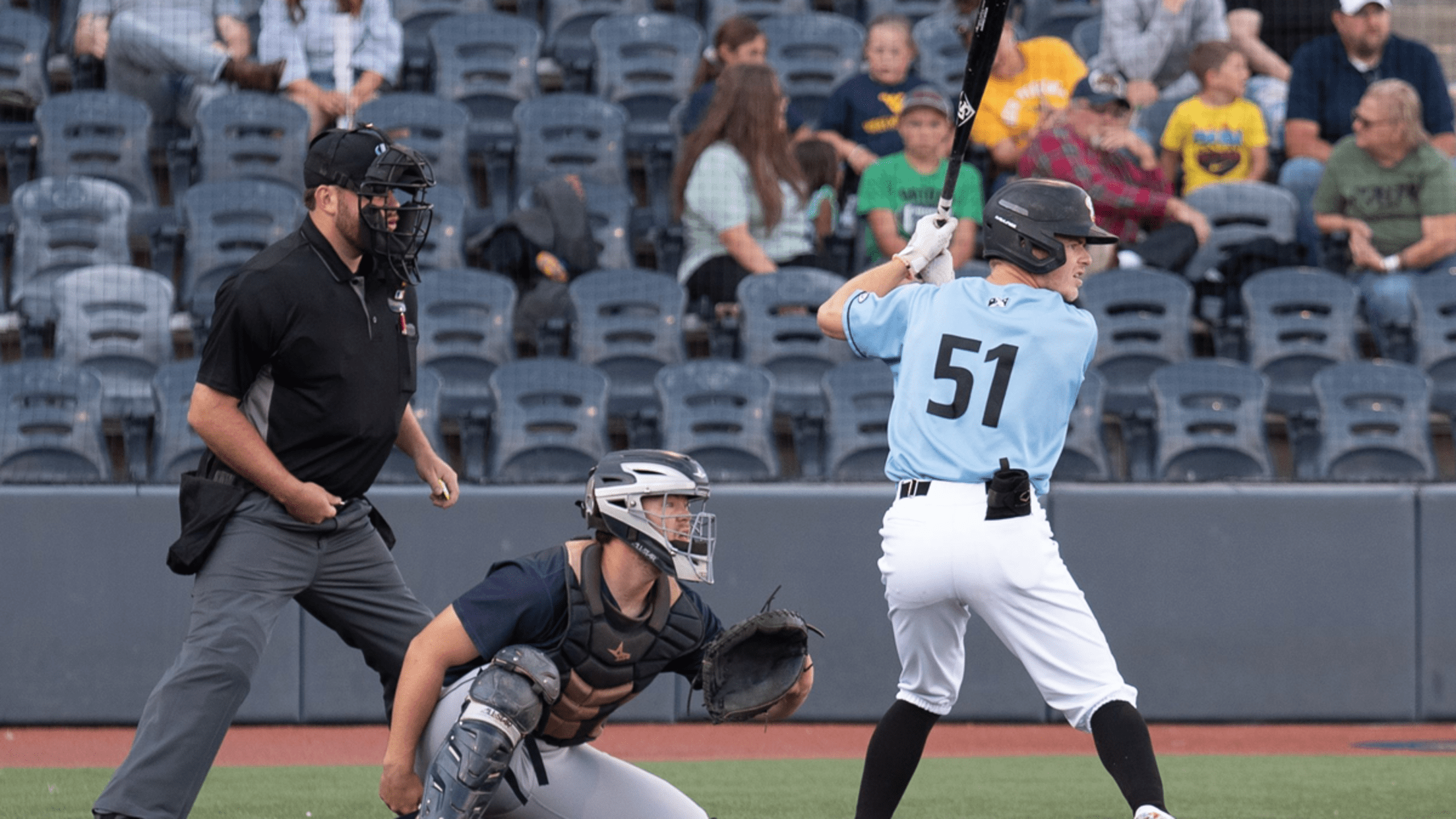 GRANVILLE, W. Va. – Another high-scoring night for the West Virginia Black Bears powered them over the State College Spikes in a 14-3 win Saturday evening at Monongalia County Ballpark. Capitalizing on inconsistent pitching and fielding issues, the Black Bears ended the night with 17 hits, while allowing only two
GRANVILLE, W. Va. – Another high-scoring night for the West Virginia Black Bears powered them over the State College Spikes in a 14-3 win Saturday evening at Monongalia County Ballpark. Capitalizing on inconsistent pitching and fielding issues, the Black Bears ended the night with 17 hits, while allowing only two hits through the first five innings.
The Black Bears offensive came out swinging as they scored at least one run through the first six innings. West Virginia had a record-setting hitting night with 13 RBI and a season record of seven doubles.
West Virginia struck first in the first inning, as doubles from CF Garrett Spain and 1B Tucker Mitchell led to the first run of the night. Mitchell would be plated after a single from LF Kyle Hess. In the second inning, another double from Spain gave him two more RBI, bringing the score to 4-0. Hess, who reached first after being hit by a pitch, crossed home after Kaeber Rog singled to left field in the third inning. Another RBI double from Freylin Minyety scored Spain, while Hess singled to plate Minyety in the fourth inning. Spain added to his stat line with another RBI in the fifth to bring the score to 8-0 heading into the last third of the game.
The Spikes would score three runs of their own in the sixth inning off Tyler Grauer, ending the Spikes scoreless streak. But a monster rally in the bottom of the inning would seal the deal. In the sixth inning, 11 Black Bears stepped up to the plate to add an additional six runs. State College never came close to a comeback, and they finished the game with seven hits to West Virginia's 17 hits.
In addition to the team's record-breaking performance, starting pitcher, Joshua South, threw a season high of 7 SO in 5 IP while allowing only 3 H during his outing. Offensively, CF Garrett Spain had a breakout night after going 5-for-6, with 3 R, 5 RBI, and four doubles. With his standout evening, Spain is now ranked third in the league for doubles with nine, sandwiched between teammates Minyety (10) and Rog (7).
The Black Bears head on the road to face Mahoning Valley this evening before crossing into Maryland to take on Frederick once more before taking a five-day break. Action will return to Monongalia Ballpark on July 15.