River Cats hold off multiple comebacks for 2nd straight win over Reno
River Cats 12, Aces 11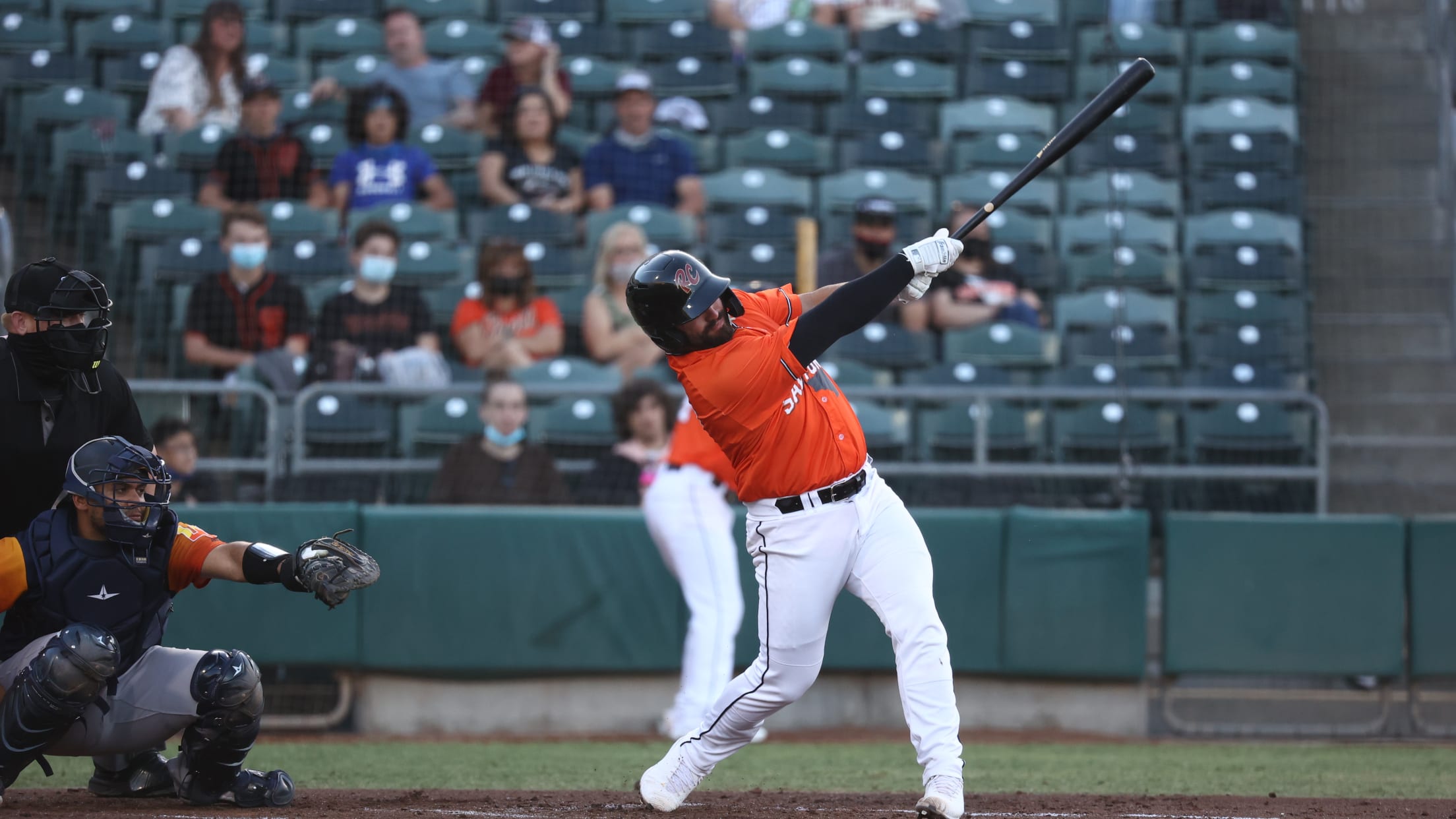 Sacramento catcher Fabian Pena swings at a pitch vs Las Vegas on May 28 (Ralph Thompson Photo)
Reno, Nev. — The Sacramento River Cats (12-16) started off hot and fended off a few rallies, including one in the ninth inning, to finish off the Reno Aces (18-10) for their second straight double-digit win. Eight of the River Cats' first nine batters reached base vs Reno right-hander Humberto
Reno, Nev. — The Sacramento River Cats (12-16) started off hot and fended off a few rallies, including one in the ninth inning, to finish off the Reno Aces (18-10) for their second straight double-digit win.
Eight of the River Cats' first nine batters reached base vs Reno right-hander Humberto Mejía. Five singles, two doubles and a walk led to five first-inning runs.
They did not let up the following three innings, scoring another five runs. Through four at-bats, the River Cats held a 10-1 advantage with 14 hits, and home runs by Peter Maris, Justin Bour, and Fabian Peña.
As Sacramento's bats cooled off, Reno's heated up. The Aces went on a 7-0 run, one coming from an in-the-park home run by Camden Duzenack, to make it 10-8 heading into the eighth inning.
The River Cats finally stopped the bleeding when left fielder Joe McCarthy doubled home third baseman Jason Krizan, and scored on reliever Silvino Bracho's infield single to make it a much more comfortable 12-8 advantage.
That cushion did not last long as Reno scored three runs and brought the winning run to the plate with two outs in the ninth inning. Hitting coach Damon Minor, who was acting as manager after Dave Brundage was ejected earlier, pulled the right string, calling in 22-year-old right-hander Kervin Castro to strikeout Jancarlos Cintron and end the comeback bid with his first save.
One play dampened an otherwise solid Triple-A debut by right-hander Matt Frisbee (1-0). A dropped third strike on a would-be fifth-inning-ending strikeout resulted in an additional two runs. In the hitter's paradise that is Greater Nevada Field, Frisbee struck out six, allowing seven hits and five runs (three earned).
The River Cats have yet to announce a starter for Monday's game, but they will be opposed by right-hander Josh Green (3-1, 3.67). First pitch is set for 6:35 p.m. (PT). Listen to all of the action live online at rivercats.com, and on the **MiLB First Pitch app. **
Additional Notes