July 3: Williams sharp, but RubberDucks lose in Erie, 6-4 in 10 innings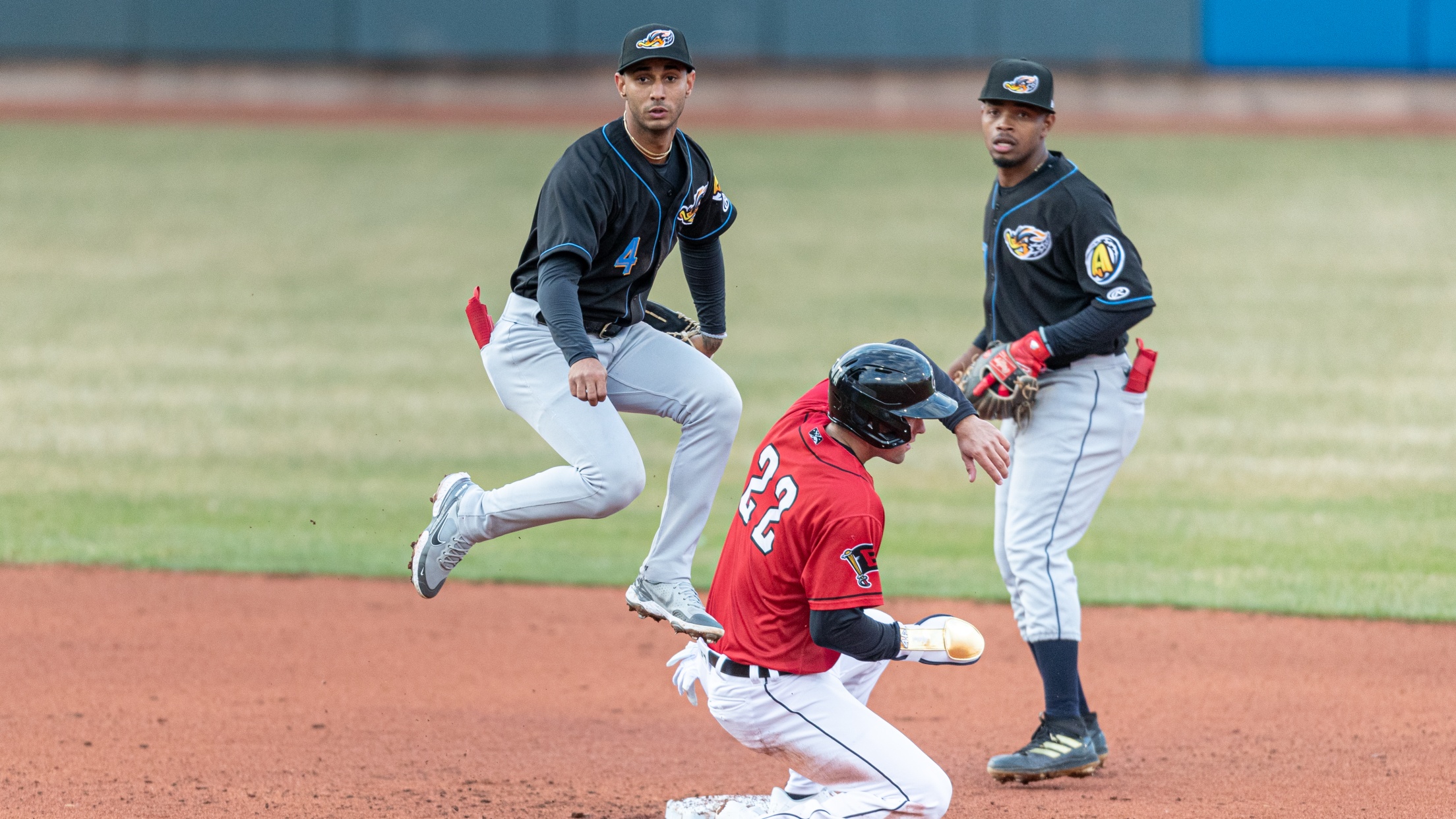 Brayan Rocchio (left) extended a six-game hitting streak Sunday, and Jose Tena (right) had his second straight multi-hit game. Andre Lipcius (22) hit the walk-off home run for Erie. (David Monseur, Accent Images Photography)
July 3 RubberDucks Game Recap | Box Score Erie SeaWolves (3-2, 42-32) 6, Akron RubberDucks (2-3, 42-32) 4 (10) WP: Billy Lescher (1-0) LP: Thomas Ponticelli (0-2) Save: None Summary RubberDucks right-hander Gavin Williams went a career-long 6 2/3 innings, allowing only an unearned run with six strikeouts, but Akron
July 3 RubberDucks Game Recap | Box Score
Erie SeaWolves (3-2, 42-32) 6, Akron RubberDucks (2-3, 42-32) 4 (10)
WP: Billy Lescher (1-0) LP: Thomas Ponticelli (0-2) Save: None
Summary
RubberDucks right-hander Gavin Williams went a career-long 6 2/3 innings, allowing only an unearned run with six strikeouts, but Akron lost a 4-1, ninth-inning lead, as Erie third baseman Gage Workman hit a game-tying two-run single, and SeaWolves designated hitter Andre Lipcius hit a leadoff walk-off two-run home run in the 10th inning for a 6-4 win and three-game-to-two series victory for the home team at UPMC Park Sunday night.
Turning Point
With a 4-1 lead in the ninth inning, rehabbing right-hander Carlos Vargas allowed a leadoff triple to center fielder Parker Meadows. Pinch hitter Dillon Dingler hit a sacrifice fly to make it 4-2. Vargas walked second baseman Wenceel Perez and retired left fielder Dane Myers on a flyout. Shortstop Andrew Navigato reached on a third-strike wild pitch, before Vargas hit catcher Chris Rabago with a pitch to load the bases. Workman lined a 2-2 pitch to left field, tying the game. The next inning, Lipcius led off against right-hander Thomas Ponticelli and hit a two-run home run to right center field.
Mound Presence
Williams retired the first 13 batters of the game. In the fifth inning, Perez reached on an error by shortstop José Tena, and Williams gave up back-to-back singles to Myers and Navigato before a run-scoring wild pitch. He yielded two singles with two outs in the seventh before yielding to right hander Brett Daniels, who retired all four batters in 1 1/3 innings. Vargas allowed three earned runs in the ninth inning, and Ponticelli allowed two runs – one earned – in the decisive 10th inning.
Don't test our infield! @rocchio05 with a diving stop for the last out of the inning!

END 6: RubberDucks 3 | SeaWolves 1 pic.twitter.com/FWRxDua5sR

— Akron RubberDucks (@AkronRubberDuck) July 3, 2022
You're a wizard Brayan!! @rocchio05 showing off his incredible defense once again for the first out of the inning! pic.twitter.com/91y9MhQW8k

— Akron RubberDucks (@AkronRubberDuck) July 4, 2022
Duck Tales
Akron took the lead in the third inning, as right fielder George Valera hit an RBI triple to right field, scoring second baseman Brayan Rocchio, and first baseman Micah Pries hit an RBI single to right field, extending his 11-game hitting streak, the longest by a RubberDuck this season. Pries and left fielder Chris Roller hit consecutive doubles in the fifth to make it 3-1. In the seventh, Valera walked, went to third base on Pries' single and scored on a wild pitch for a 4-1 lead.
That's how to work the pitch count! @GV13__ wins the long at-bat with an RBI triple down the line!

TOP 3: RubberDucks 1 | SeaWolves 0 pic.twitter.com/blK0gEoo2J

— Akron RubberDucks (@AkronRubberDuck) July 3, 2022
He's on fire 🔥 🔥🔥@micahpries with another RBI hit in the series to stretch the lead!

TOP 3: RubberDucks 2 | SeaWolves 0 pic.twitter.com/bPkr4lUSEF

— Akron RubberDucks (@AkronRubberDuck) July 3, 2022
Our bats just keep rolling rolling! @ChrisRoller_7 doubles into the gap to bring home another run!

TOP 5: RubberDucks 3 | SeaWolves 0 pic.twitter.com/JIRequaKdd

— Akron RubberDucks (@AkronRubberDuck) July 3, 2022
Notebook
Akron did not homer after hitting 13 home runs in the first four games of the series…The last two games and three of the five in the series went into extra innings. The teams have played four extra-inning games this season, with Akron winning two…The season series is tied, 7-7…The RubberDucks are 6-5 in extra innings…Game Time: 2:56…Attendance: 5,513.
On the Pond
The RubberDucks open a six-game homestand with Altoona at 7:05 p.m. EDT Monday. Right-hander Hunter Gaddis (4-2, 3.70 ERA) is scheduled to face Curve right-hander Carmen Mlodzinski (1-4, 4.17 ERA). The game broadcast, powered by FirstEnergy, is on 640 WHLO, the 640 WHLO iHeartRadio channel, and akronrubberducks.com, and available on MiLB.TV. Tickets for RubberDucks home games are available at akronrubberducks.com/tickets.