Salt Potatoes plate 11 runs in 11-3 victory over Plates on Sunday afternoon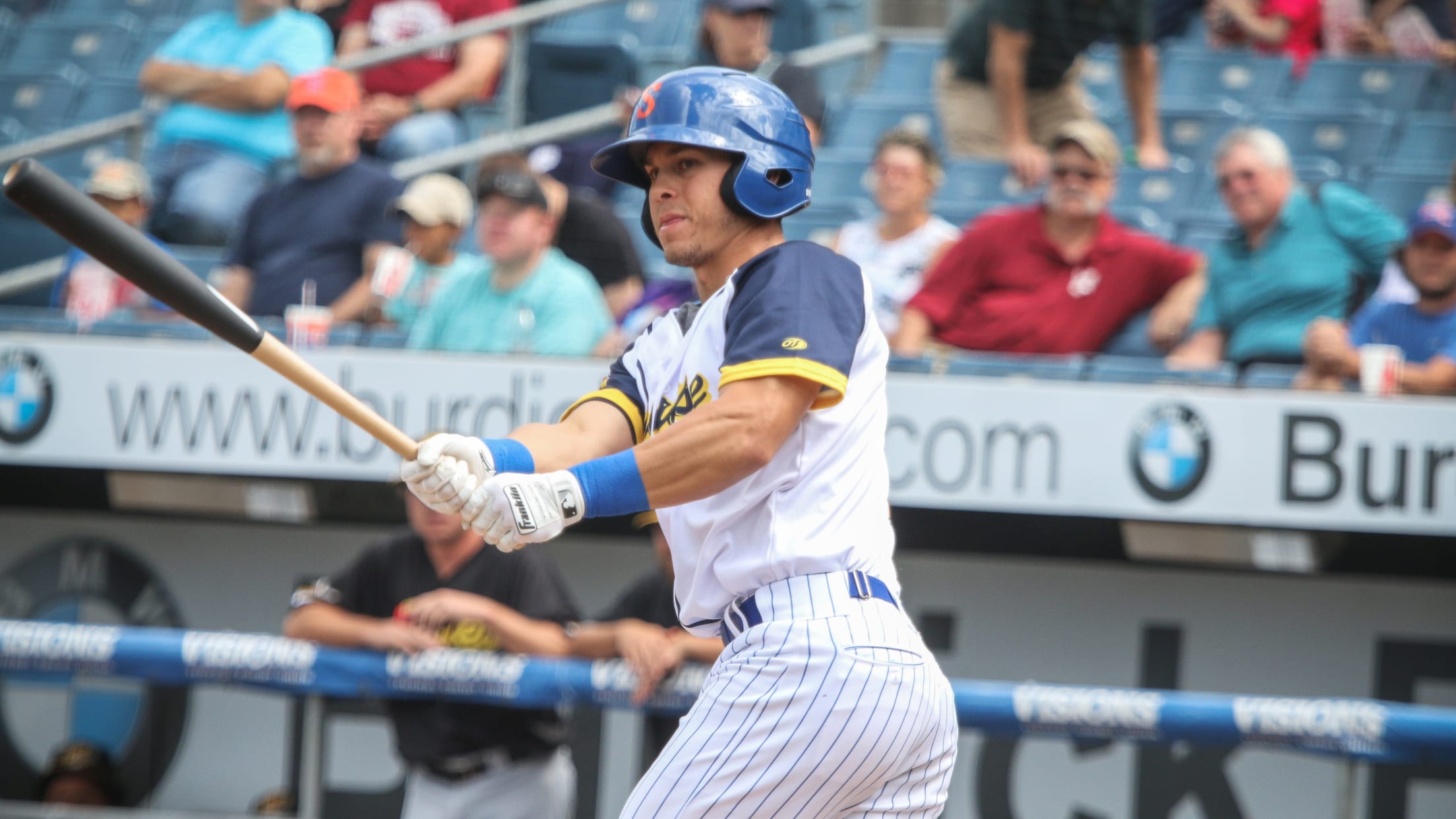 Sam Haggerty had a home run, an RBI single, and a walk on Sunday afternoon in Syracuse's win. (Danny Tripodi)
 The Syracuse Salt Potatoes used an offensive explosion to top the Rochester Plates, 11-3, and win the battle of the golden fork at NBT Bank Stadium on Sunday afternoon. With the Syracuse win and a Scranton/Wilkes-Barre loss on Sunday, Syracuse is now just a half game out of first place
The Syracuse Salt Potatoes used an offensive explosion to top the Rochester Plates, 11-3, and win the battle of the golden fork at NBT Bank Stadium on Sunday afternoon. With the Syracuse win and a Scranton/Wilkes-Barre loss on Sunday, Syracuse is now just a half game out of first place in the International League North Division.
Rochester (66-66) struck first in the top of the first inning. With two outs, Ramón Flores walked and Wilin Rosario drove him in from first on a double, giving the Plates a 1-0 advantage.
Syracuse (69-62) saw its offense come alive in the third inning. Trailing 1-0, Jason Krizan led off the frame with a single. One out later, Brandon Nimmo doubled to score Krizan from first and tie the ballgame, 1-1. The next batter, Danny Espinosa, kept things going with a two-run homer, giving Syracuse its first lead of the game, 3-1.
The Plates countered in the next half inning. With two outs in the top of the fourth, Brandon Barnes blasted a solo home run, trimming the Syracuse lead to one, 3-2.
The Salt Potatoes responded with some more power in the bottom of the fourth. Sam Haggerty led off with a home run, putting Syracuse up 4-2. Two outs and two batters later, Jason Krizan crushed a solo homer of his own, extending the Salt Potatoes lead to 5-2.
Syracuse stayed hot in the bottom of the fifth inning. With two outs, Arismendy Alcantara singled and stole second base before Haggerty rocketed a single into right field to plate Alcantara and make it 6-2 Salt Potatoes.
In the sixth, Rymer Liriano led off the inning with a walk and stole second base, Krizan singled, and Nimmo drove in Liriano on a one-out single, putting the Salt Potatoes ahead 7-2. Espinosa was then hit by a pitch, loading the bases. One out later, Alcantara lined a bases-clearing triple to put the Salt Potatoes ahead 10-2.
Rochester picked up one run in the top of the seventh. Zander Wiel led off the frame with a double. One out later, Wynston Sawyer drove Wiel in on a single, cutting the Syracuse lead to seven, 10-3.
The Salt Potatoes kept the pedal down in the bottom of the eighth inning. With one out, Nimmo doubled, Espinosa worked a walk, and then Dilson Herrera singled to score Nimmo from second and extend the Syracuse lead to 11-3.
Syracuse has a chance to move into first place in the division as it continues its weeklong homestand with a double header against the Lehigh Valley IronPigs on Monday night. The Mets and IronPigs will play the final eight innings of a previously suspended game, starting at 6:05 p.m. The second game will be a seven-inning game that starts 40 minutes after the conclusion of the first game.