Schlesener sets new Spikes strikeout record
11 strikeouts put left-hander into record book despite 3-2 loss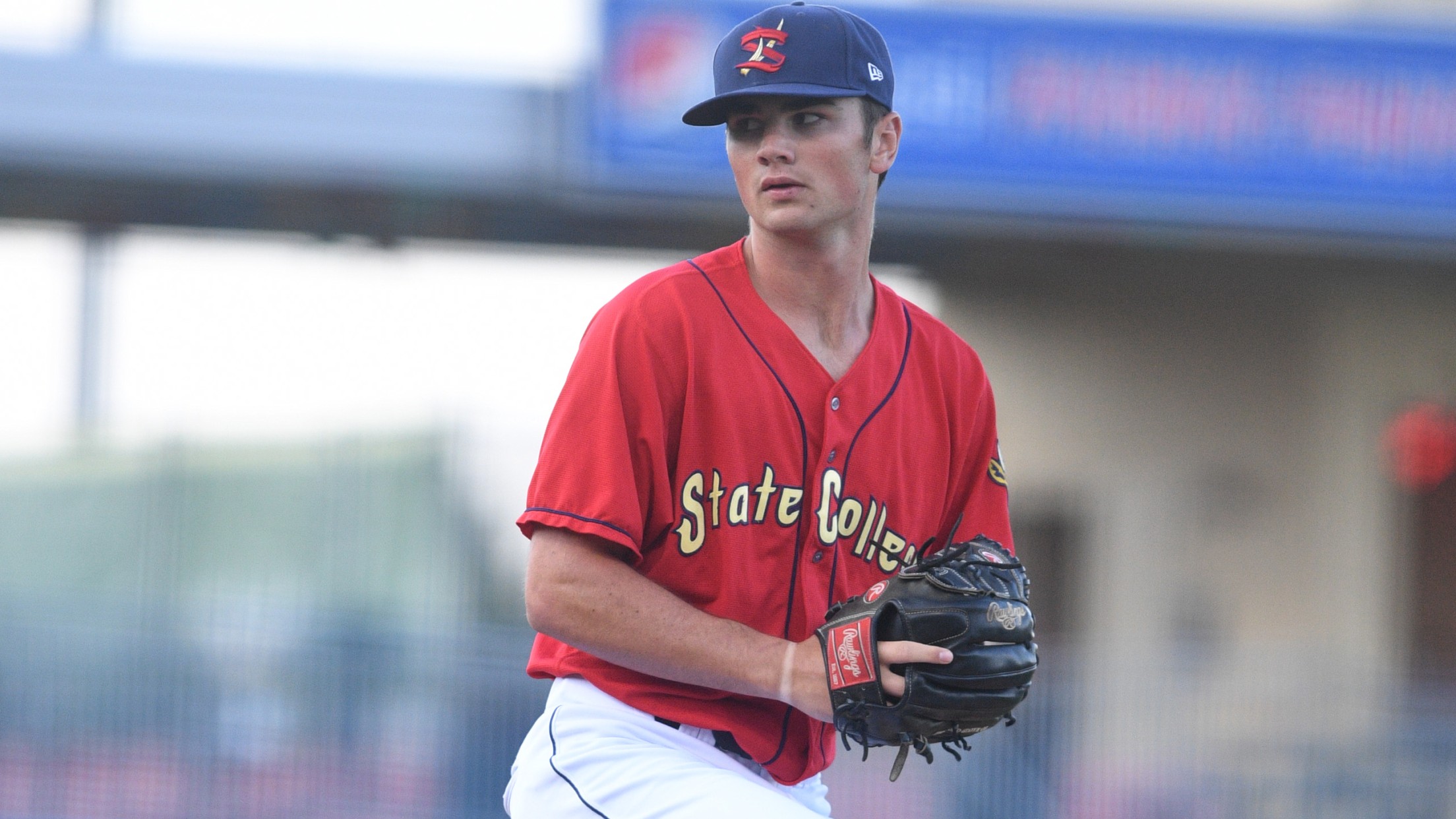 Jacob Schlesener set a new Spikes record record with 11 strikeouts, his second double-digit strikeout performance of the year. (Steve Manuel)
BATAVIA, N.Y. - Jacob Schlesener set a new State College Spikes single-game record with 11 strikeouts, and Lars Nootbaar drove in two runs to power a late comeback try, but the Spikes fell to the Batavia Muckdogs, 3-2, on Sunday afternoon at Dwyer Stadium.Schlesener (2-5), who had matched the previous
BATAVIA, N.Y. - Jacob Schlesener set a new State College Spikes single-game record with 11 strikeouts, and Lars Nootbaar drove in two runs to power a late comeback try, but the Spikes fell to the Batavia Muckdogs, 3-2, on Sunday afternoon at Dwyer Stadium.
Schlesener (2-5), who had matched the previous franchise record with 10 strikeouts in a rain-shortened four-inning outing against Williamsport on August 16, whiffed Luke Jarvis in the sixth inning to set the new record. The left-hander surpassed a mark shared by five other players, including teammate Franyel Casadilla .
With the outing, Schlesener also became the first Spikes (34-34) pitcher to record multiple double-digit strikeout performances. The Cardinals' 2015 12th-round draft choice took the loss, though, after yielding a total of three runs, two of them earned, on six hits, three walks and a hit batsman over 5 2/3 innings.
Schlesener also overcame a rough start, walking the first two batters of the game before allowing an RBI single to Albert Guaimaro in the first and yielding runs on a wild pitch and a Brayan Hernandez single in the second. However, the southpaw did not allow a hit after the third, and record ten consecutive outs at one point.
The defeat kept State College in fourth place in the race for the New York-Penn League's only Wild Card berth, with a deficit of 2 ½ games back of first-place Brooklyn with eight games remaining in the regular season. The Spikes also remained in third place in the NYPL Pinckney Division behind Mahoning Valley and Auburn.
Nootbaar, who produced a franchise-record seven RBI in the Spikes' comeback win over Auburn on Friday, drew State College within a run with his two-run double to right-center field in the eighth. The 2018 eighth-round draft choice out of USC now has nine RBI over his last three games after producing 13 over his first 45 games as a professional.
Batavia (32-36) starter Alberto Guerrero (3-5) earned the win after tossing six shutout innings and giving up four hits while striking out five batters. Eli Villalobos (1) picked up the save with a scoreless ninth in which he walked one batter and struck out one.
Monday, the Spikes look to continue their playoff hunt in a 7:05 p.m. matchup against the Muckdogs at Dwyer Stadium. The right-handed Casadilla (4-1) will get the ball for State College against Batavia right-hander Jordan Holloway , who is making the first appearance of a rehab assignment from Single-A Greensboro.
Following the three-game set in Batavia, the Spikes return home for their final home series of the regular season when they meet the West Virginia Black Bears (Pittsburgh Pirates) for a trio of 7:05 p.m. matchups from Wednesday through Friday at Medlar Field at Lubrano Park.
Highlights include Wednesday's Strike Out Arthritis Night, Thursday's rescheduled Myrtle Beach Trip Giveaway and FIREWORKS presented by VisitMyrtleBeach.com to go with Bark in the Park IV presented by NEWSRADIO 1390 WRSC, THON Night and a Spikes Fanny Pack Giveaway for the first 500 fans presented by First National Bank, and more FIREWORKS with LuCKy's Kia Giveaway II on Fan Appreciation Night, presented by Lion Country Kia and MAJIC 99 to close out the regular season on Friday.
In addition, college students across Central PA can enjoy even more value during every remaining Spikes home game with the College 3-2-1 Special. The College 3-2-1 Special offers any college student presenting a valid student ID at ticket and concessions windows $3 off their seat in any ballpark section, excluding the Pepsi Picnic Pavilion and Luxury Suites, plus $2 regular sodas and $1 hot dogs all game long.
Tickets for all three games remaining on the 2018 Spikes home schedule, are currently on sale through the Spikes Ticket Office. Tickets can be purchased by calling (814) 272-1711 or by visiting the Ticket Office in person from 9 a.m. to the end of the game on gamedays Monday through Friday, 10 a.m. to the end of the game on gamedays Saturday and Sunday, and 9 a.m. to 5 p.m. on non-gamedays Monday through Friday.
Fans can also buy and download single-game tickets by visiting StateCollegeSpikes.com.
Catch all of the action on Monday via the Spikes Radio Network, presented by Penn State Sports Medicine, Official Healthcare Provider of Penn State Athletics, at 6:50 p.m. with Spikes Live, presented by Mount Nittany Health, on the air from Dwyer Stadium. The Spikes' radio broadcast can also be heard worldwide through the "Listen Live" link on StateCollegeSpikes.com, provided by the club's flagship radio home, NEWSRADIO 1390 WRSC, as well as the TuneIn Radio app.