Shuckers Outlast Biscuits 5-3 In Series Opener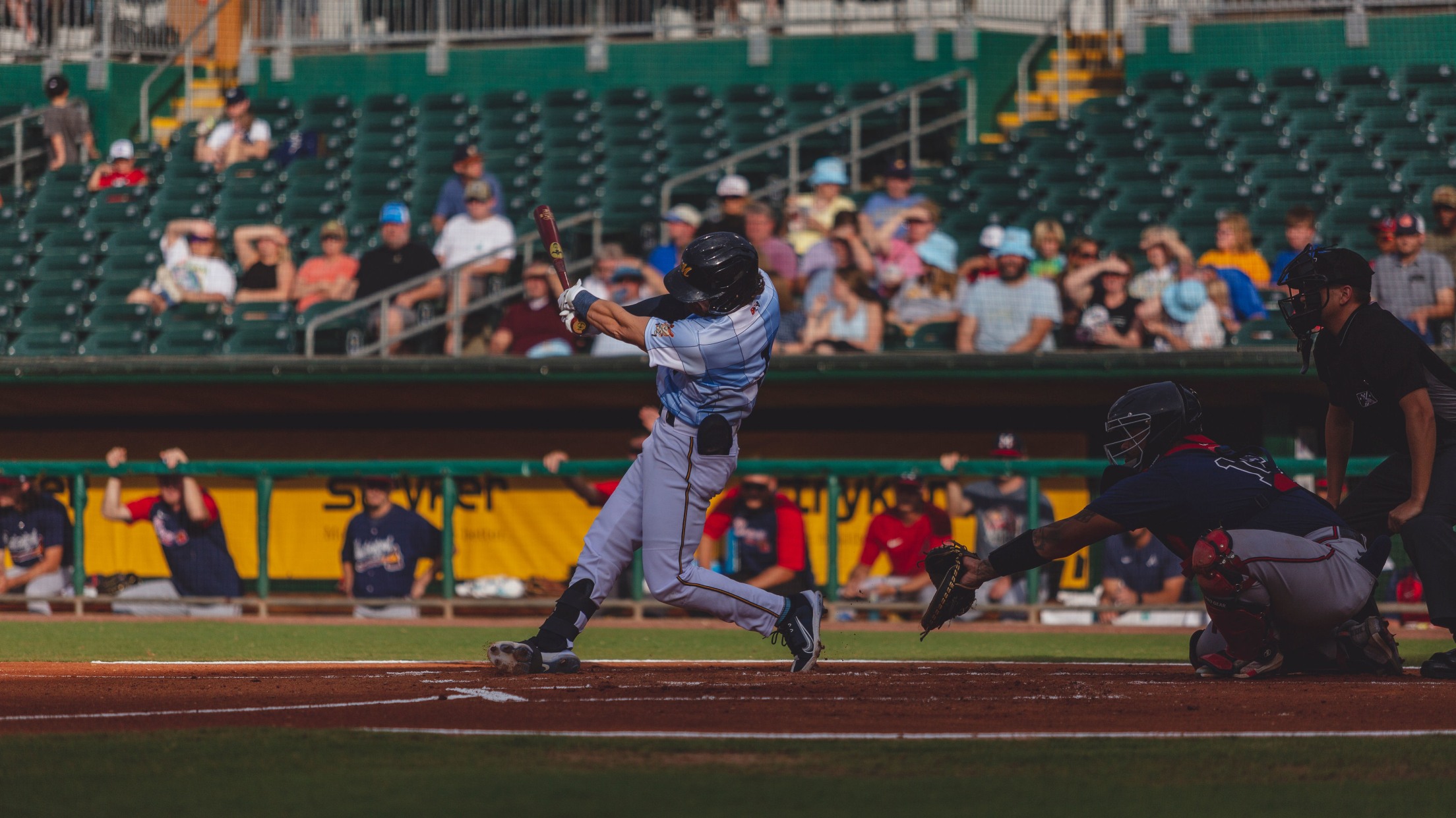 BILOXI, Mis. – The Biscuits (41-43/13-9) could not get the job done at the office as they were defeated by the Biloxi Shuckers (43-46/9-13) 5-3 in the series opener Tuesday night at MGM Park. Both teams opened up slowly, but the action got going in the third inning with Biscuits
BILOXI, Mis. – The Biscuits (41-43/13-9) could not get the job done at the office as they were defeated by the Biloxi Shuckers (43-46/9-13) 5-3 in the series opener Tuesday night at MGM Park.
Both teams opened up slowly, but the action got going in the third inning with Biscuits infielder Tyler Frank reaching on a fielding error. Not long after, Frank attempted to steal second but was thrown out by Shuckers Brent Diaz. With two outs, Biscuits Kameron Misner struck a solo home run to right to put the Biscuits ahead 1-0.
In the bottom of the third, Shuckers Andrew Monasterio reached base on a walk and successfully stole second. Grant Mitchell then drove in a line drive RBI-double to tie the game at one. A pair of singles came through against the Biscuits starter, Mason Montgomery with the latter being a go-ahead RBI from Cam Devanney to put the Shuckers on top 2-1.
Shuckers starter Victor Castaneda was on a roll and he put out seven Biscuit batters in a row midway through the sixth inning. In the bottom of the sixth, Biloxi Sal Frelick connected on a deep RBI-double to extend the Shuckers lead to 3-1.
In the top of the seventh, Montgomery closed in on the gap with a bases-loaded walk that brought Diego Infante home. Later in the inning, Frank grounded into a force out, but not before Evan Edwards came home to score and tie the game at three. In the bottom of the inning, a throwing error by Biscuits Brett Wisely allowed Garrett Mitchell to score and give the Shuckers the lead 4-3.
The Shuckers put the game out of reach thanks to a solo home run from Frelick that made it 5-3. The Biscuits still had a glimmer of hope as catcher Blake Hunt and newly acquired Ronny Simon reached base on a single and walk with just one out. With two on and two outs, Shuckers Cam Robinson struck out Misner to end the game, complete the save, and secure the series opener for the Biloxi Shuckers.
The Biscuits return to Montgomery for Alabama Weekend starting Tuesday, August 2nd with Golden Biscuits Tuesday at 6:35 PM CT, Military Wednesday presented by WOW Wednesday, August 3rd, Sweet Grown T-shirt giveaway presented by ALFA Insurance, and Thirsty Thursday, August 4th, Outdoors Night - Tribute to Humidity Friday, August 5th at 6:35 PM CT, College Football Night Saturday, August 6th at 6:05 PM CT, and Kids Water Bottle Giveaway and Bark In the Park Sunday at 3:33 PM CT.