Sky Carp to host 4th of July Spectacular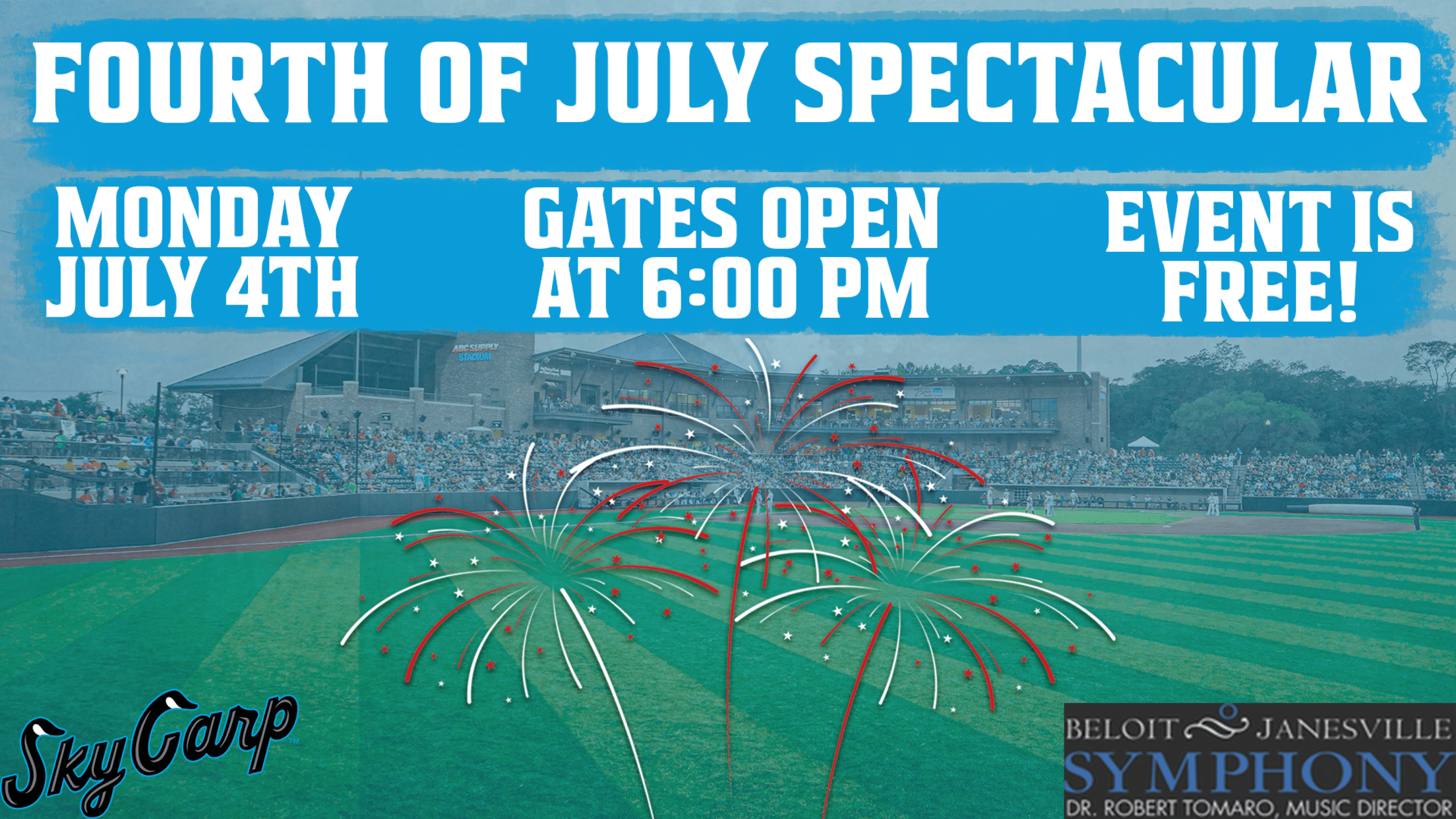 BELOIT, WI – Is there a better combination than fireworks and Independence Day? We can't thik of one! The Beloit Sky Carp are pleased to announce that they will host the City of Beloit's annual Fourth of July Fireworks show on Monday, July 4 at ABC Supply Stadium. To kick
BELOIT, WI – Is there a better combination than fireworks and Independence Day? We can't thik of one! The Beloit Sky Carp are pleased to announce that they will host the City of Beloit's annual Fourth of July Fireworks show on Monday, July 4 at ABC Supply Stadium.
To kick off the evening's festivities, the Beloit Janesville Symphony Orchestra will dazzle crowds with what is sure to be an unforgettable performance. Their performance will begin at 7:30 P.M. with gates to ABC Supply Stadium set to open at 6:00 P.M. The fireworks show, which will be nothing short of spectacular, will begin immediately following the symphony's performance, likely around 9:00 P.M.
"We are thrilled to host the Fourth of July Spectacular at ABC Supply Stadium." says Beloit Sky Carp President, Zach Brockman. "As a new fixture of the downtown landscape, and with our new state-of-the-art amenities, we are sure the Independence Day experience at ABC Supply Stadium will be a home run."
The event is free to the public, with no RSVP or any tickets required. All gates will be open to the stadium, and people will be admitted until stadium capacity is reached. Although carry-in items are prohibited, the Sky Carp will have a classic concessions menu available for fans.
Additional information regarding the opportunity to purchase VIP spaces will be announced in the near future. For more details, visit SkyCarp.com.
Questions? Contact Josh Flickinger at [email protected] or call 608-362-2272 x18.
The Beloit Sky Carp are the High-A Affiliate of the Miami Marlins and play their games at ABC Supply Stadium -- the heart of the Riverbend District.
Get tickets at SkyCarp.com or call the Box Office at 608-362-2272.
Follow the Sky Carp on Twitter at @BeloitSkyCarp, on Instagram at @BeloitSkyCarp, and like them on Facebook via <a href="http://www.facebook.com/SkyCarpBaseball" target="blank">www.facebook.com/SkyCarpBaseball_.