Spikes' first-inning barrage nets win over Scrappers
Nine runs in first inning powered by Brecklin and Paige's round-trippers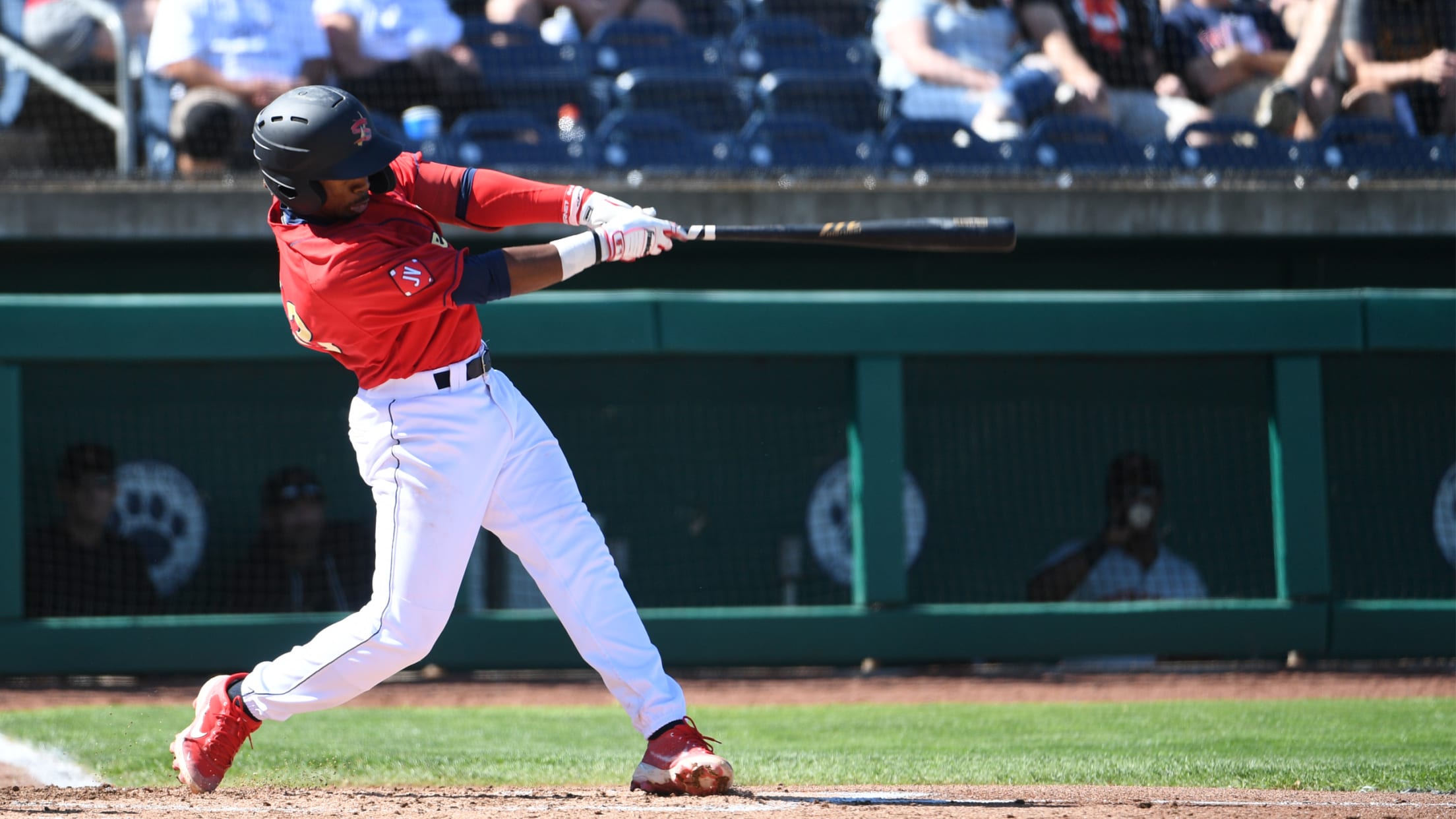 Marques Paige, seen here taking a swing at the Spikes' Memorial Day game, went deep for his first MLB Draft League homer on Sunday. (Steve Manuel)
BOX SCORE/PLAY-BY-PLAY (via PitchAware) NILES, Ohio – Turnabout was fair play on Sunday afternoon as one night after a lopsided loss, the State College Spikes scored nine runs in the first inning, keyed by homers for Brady Brecklin and Marques Paige, and cruised to a 12-2 victory over the Mahoning
BOX SCORE/PLAY-BY-PLAY (via PitchAware)
NILES, Ohio – Turnabout was fair play on Sunday afternoon as one night after a lopsided loss, the State College Spikes scored nine runs in the first inning, keyed by homers for Brady Brecklin and Marques Paige, and cruised to a 12-2 victory over the Mahoning Valley Scrappers at Eastwood Field.
State College's (5-6) fast start began with a walk to Myles Austin and a Michael Slaten single. Mark Vierling, who was one of two Spikes to shine with three hits despite a 21-6 defeat on Saturday, then doubled both of them in. After a walk to Kenny Piper, Cameron Lee singled in two more runs to give State College a 4-0 lead before Mahoning Valley (9-3) recorded an out in the first.
Following a strikeout, Brecklin then hit his second home run of the Major League Baseball Draft League season in historic fashion, as he sent became the first MLB Draft League player to leg out an inside-the-park homer. The two-run round-tripper off starter Logan Boente (1-1) went past diving Scrappers center fielder AJ Henkle to extend the lead to 6-0.
Two batters later, after Jack Anderson was hit by a pitch, Paige launched a more conventional two-run homer over the 24-foot-high batter's eye in center field on a 3-1 pitch from reliever Kerry White. The homer was Paige's first as a Spike and made it an 8-0 game.
Vierling then completed the scoring in the first with his second RBI hit of the frame, a single that plated Austin. A total of 14 batters came to the plate in the inning.
The Spikes then extended their lead in the sixth on James Jett's two-run triple. Jett joined Vierling as State College players with three hits in Saturday's game. Brecklin followed by notching his third RBI with a groundout to score Jett.
Starting pitcher Cade Carlson (1-0) earned the win after allowing two runs on six hits and three walks over 5 2/3 innings. The right-hander out of Lincoln Trail College in Illinois also recorded four strikeouts.
Tommy Benson went 3-for-4 with an RBI triple in the second to pace the Scrappers offense.
Boente took the loss, going a total of 1 1/3 innings after being replaced in the first and coming back to the mound for the second inning under the MLB Draft League's re-entry rule. The righty was tagged for six runs on six hits and three walks while striking out three batters.
Several Spikes players will now participate in an MLB Draft Combine at PNC Park in Pittsburgh during a league-wide off day from games on Monday. The whole team, which will feature several new additions, will then return home Tuesday to take on Williamsport at 6:35 p.m. to start a three-game series that serves as the front half of a six-game homestand at Medlar Field at Lubrano Park.
The stretch of six games through Sunday, June 13 includes $2 Tuesday presented by WOWY, FREE Teachers Night with teachers presenting ID at the Spikes Ticket Office receiving free admission on a Wine Wednesday, Thirsty Thursday, and 4 for $44 Friday presented by 95.3 3WZ.
The weekend presents a pair of big nights, with June 12 featuring FIREWORKS presented by Boyles Insurance on a Super Saturday presented by PA Lottery and B94.5. Fans can also win big at Baseball Bingo, with the first 10 Bingo winners entered into a drawing on August 7 for the Baseball Bingo Ultimate Prize Pack, featuring a 70-inch Ultra HD Smart TV.
It all concludes on June 13 with a Sunday Funday presented by Bigfoot Country Legends featuring a Blair Thomas Bobblehead Giveaway for the first 250 fans.
Tickets for all six games on the upcoming homestand, as well as every game remaining on the 2021 home schedule, are currently on sale through the Spikes Ticket Office. Tickets can be purchased by calling (814) 272-1711 or by visiting the Ticket Office in person from 9 a.m. to the end of the game on gamedays Monday through Friday, 10 a.m. to the end of the game on gamedays Saturday and Sunday, and 9 a.m. to 5 p.m. on non-gamedays Monday through Friday.
Fans can also buy and download single-game tickets by visiting StateCollegeSpikes.com.
Catch all of the action on Tuesday via the Spikes Radio Network, presented by Penn State Sports Medicine, Official Healthcare Provider of Penn State Athletics, starting with Spikes Live, presented by Mount Nittany Health, on the air from Medlar Field at Lubrano Park. The game can be viewed worldwide on the *MLB Draft League *streaming platform at MLBDraftLeague.com/streaming, along with the "Listen Live" link on StateCollegeSpikes.com and the *TuneIn Radio *app.