Stripers Score Six in Ninth to Stun Charlotte, 13-12
Gwinnett erases 11-3 deficit, sweeps six-game series against the Knights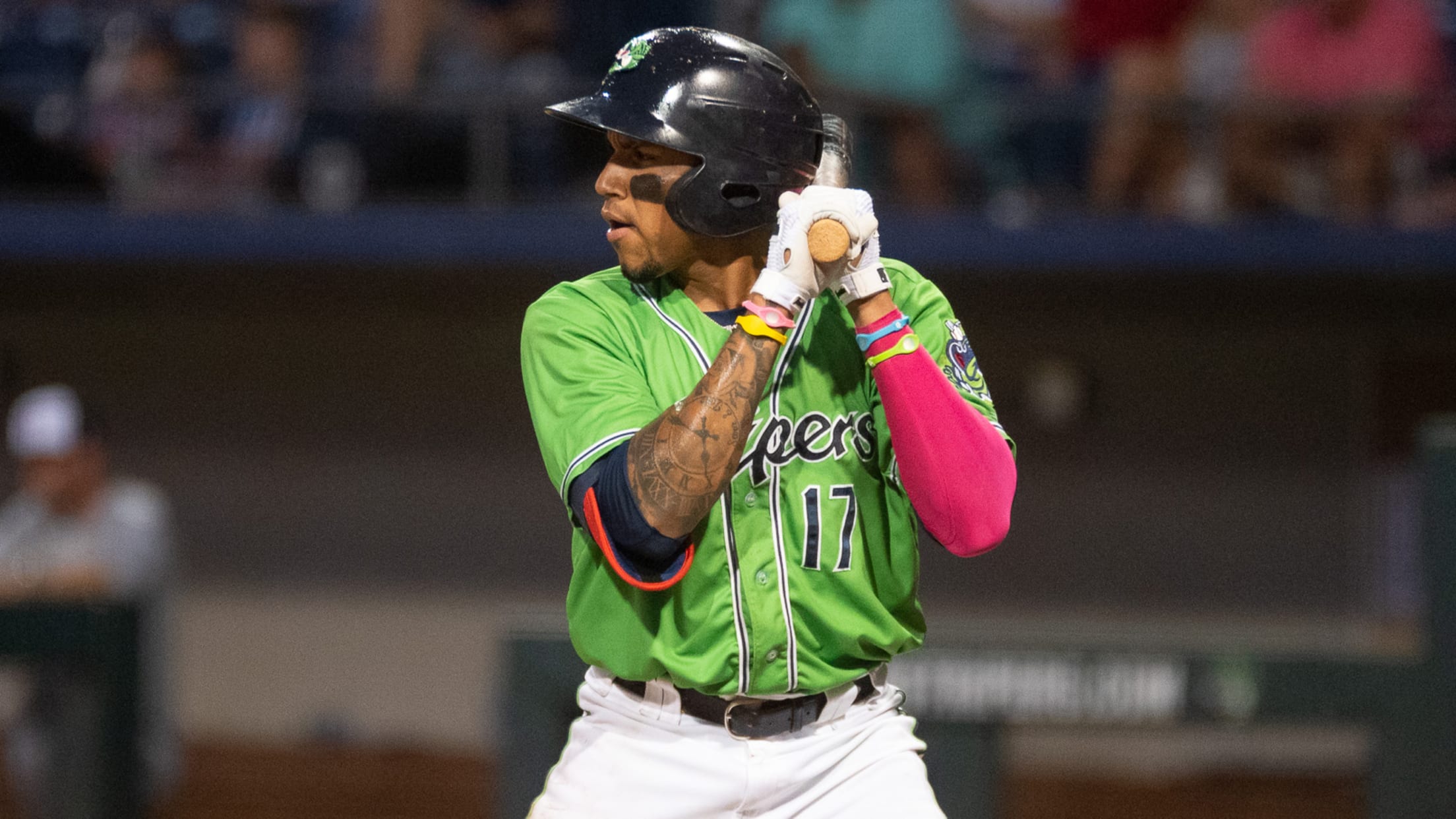 Johan Camargo hit a go-ahead two-run homer in Gwinnett's 13-12 win at Charlotte on Sunday. The Stripers pulled off the comeback to sweep the Knights in the six-game series. (Jamie Spaar/Gwinnett Stripers)
CHARLOTTE, N.C. – Down 11-3 after six innings, the Gwinnett Stripers (32-34) pulled off an improbable comeback, scoring 10 late runs to shock the Charlotte Knights (25-39) 13-12 on Sunday evening at Truist Field. The Stripers plated six runs with two outs in the ninth, completing the first six-game series
CHARLOTTE, N.C. – Down 11-3 after six innings, the Gwinnett Stripers (32-34) pulled off an improbable comeback, scoring 10 late runs to shock the Charlotte Knights (25-39) 13-12 on Sunday evening at Truist Field. The Stripers plated six runs with two outs in the ninth, completing the first six-game series sweep in Gwinnett history.
Decisive Play:**Johan Camargo** blasted a two-out, two-run home run (8) to left field off Jace Fry (L, 0-1) to give the Stripers a 12-11 lead in the ninth, but it was an RBI double by William Contreras – notching his fifth RBI of the night – that turned out to be the game-winner. Jay Flaa (S, 1) allowed a solo homer to Yermin Mercedes (4) in the bottom of the ninth before retiring the next three hitters to end the game.
Key Contributors:Six different Stripers hitters finished with multiple hits, led by Travis Demeritte (4-for-5, two RBIs), Camargo (3-for-6, homer, two RBIs), and Contreras (3-for-6, two doubles, five RBIs). Yoan Lopez (W, 3-2) pitched a scoreless eighth for the win. Six different Charlotte hitters homered: Mercedes, Eloy Jimenez, Blake Rutherford, Laz Rivera, Jake Lamb, and Mikie Mahtook.
Noteworthy: The Stripers won after trailing by eight, their largest deficit overcome in a victory this year (previously was six runs in an 8-7 win vs. Nashville on June 18). Gwinnett is now 12-0 when scoring in double figures this season. The six homers allowed by Stripers pitchers set a Gwinnett single-game record, as the club had never allowed more than five (last on June 16, 2017 at Columbus). Contreras has 13 RBIs in nine games since joining Gwinnett, batting .429 (15-for-35) with five doubles and three homers.
Next Game (Tuesday, July 20): *Gwinnett vs. Norfolk, 7:05 p.m. at Coolray Field (Family Value Tuesday, $2 hot dogs, $1 desserts, presented by Coolray Heating & Cooling). RHP *Bryse Wilson (5-2, 4.23 ERA) for the Stripers vs. RHP Konner Wade (1-1, 2.97 ERA) for the Tides. Radio Broadcast: 6:50 p.m. on MyCountry993.com.