Stripers Take Pair of Games from Memphis on Saturday
Gwinnett rallies to win suspended game 5-3, takes seven-inning game 5-2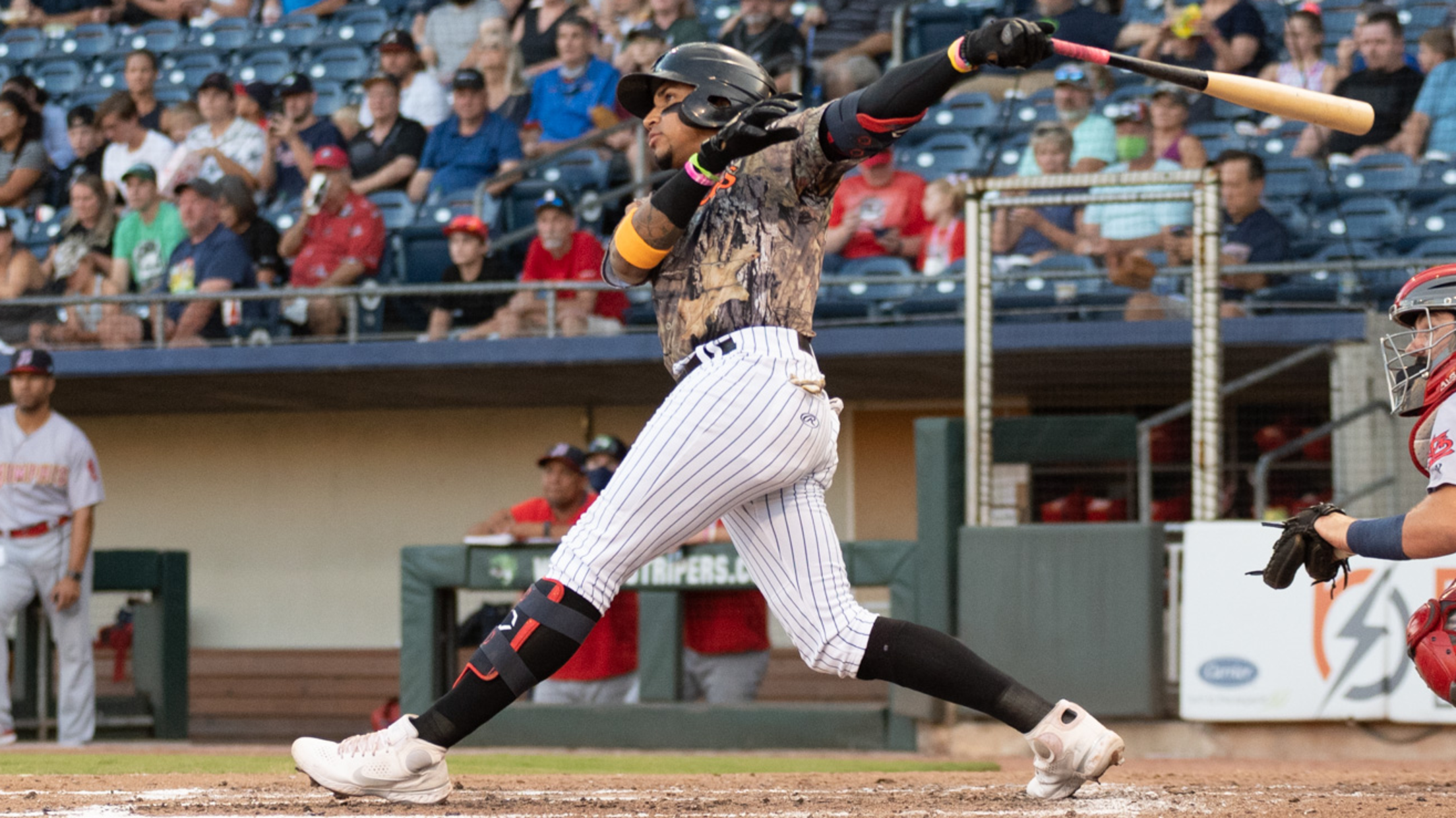 Johan Camargo blasted a three-run shot in Gwinnett's 5-2 win over Memphis on Saturday night. The Stripers took a pair of contests from the Redbirds to take a 3-2 series lead entering Sunday. (Jamie Spaar/Gwinnett Stripers)
LAWRENCEVILLE, Ga. – The Gwinnett Stripers (61-46) capped off a busy Saturday night at Coolray Field with a pair of victories, rallying to win Friday's suspended game 5-3 and another seven-inning game 5-2 over the Memphis Redbirds (50-57). Johan Camargo hit a three-run home run and added an RBI single
LAWRENCEVILLE, Ga. – The Gwinnett Stripers (61-46) capped off a busy Saturday night at Coolray Field with a pair of victories, rallying to win Friday's suspended game 5-3 and another seven-inning game 5-2 over the Memphis Redbirds (50-57). Johan Camargo hit a three-run home run and added an RBI single for a four-RBI night in the second game.
Decisive Play (Game 1)**:** Trailing 2-0 entering the fifth inning, The Stripers took their first lead with Cristian Pache's RBI single off Ramon Santos (L, 0-1), making it 3-2. Jason Kipnis added a sacrifice fly for a 4-2 lead. Phillip Ervin belted a solo homer (7) in the seventh inning to make it 5-2.
Decisive Play (Game 2)**:** Following an RBI single by Pache earlier in the third inning, Camargo blasted a three-run shot (15) off Connor Thomas (L, 5-3) to give Gwinnett a sturdy 4-2 advantage.
Key Contributors:**Dylan Lee** (W, 5-1) tossed 3.0 scoreless innings in relief to record the win in the first game. Jose Rodriguez (W, 5-3) did not allow an earned run over 5.0 innings to take the victory in game two. Trevor Kelley (S, 1) struck out three Redbirds over 2.0 scoreless innings to record the save in the night cap. Pache led the Stripers with two hits, going 2-for-4 with an RBI in the first game, while Camargo finished 2-for-3 with four RBIs and a run in the second game.
Noteworthy: Camargo's four-RBI contest was his second such game this season (the other on July 30 at Memphis). In his last 14 outings, Lee is 3-1 with a 0.00 ERA (0 ER in 17.2 IP), 22 strikeouts, 0.51 WHIP, and .119 BAA. Pache has reached base safely in seven-straight games, batting .381 (8-for-21) with two runs, three RBIs, and three walks.
Next Games (Sunday, September 5): Gwinnett vs. Memphis, 1:05 p.m. at Coolray Field (Sunday Funday, with postgame kids run the bases, presented by Georgia United Credit Union). RHP Connor Johnstone (3-6, 5.22 ERA) for the Stripers vs. RHP T.J. Zeuch (2-3, 4.75 ERA) for the Redbirds. Radio Broadcast: 12:50 p.m. on MyCountry993.com.