Stripers Win Fifth Straight with Rout of Charlotte
Jackson, Contreras, Demeritte, combine on 11 RBIs in 11-3 victory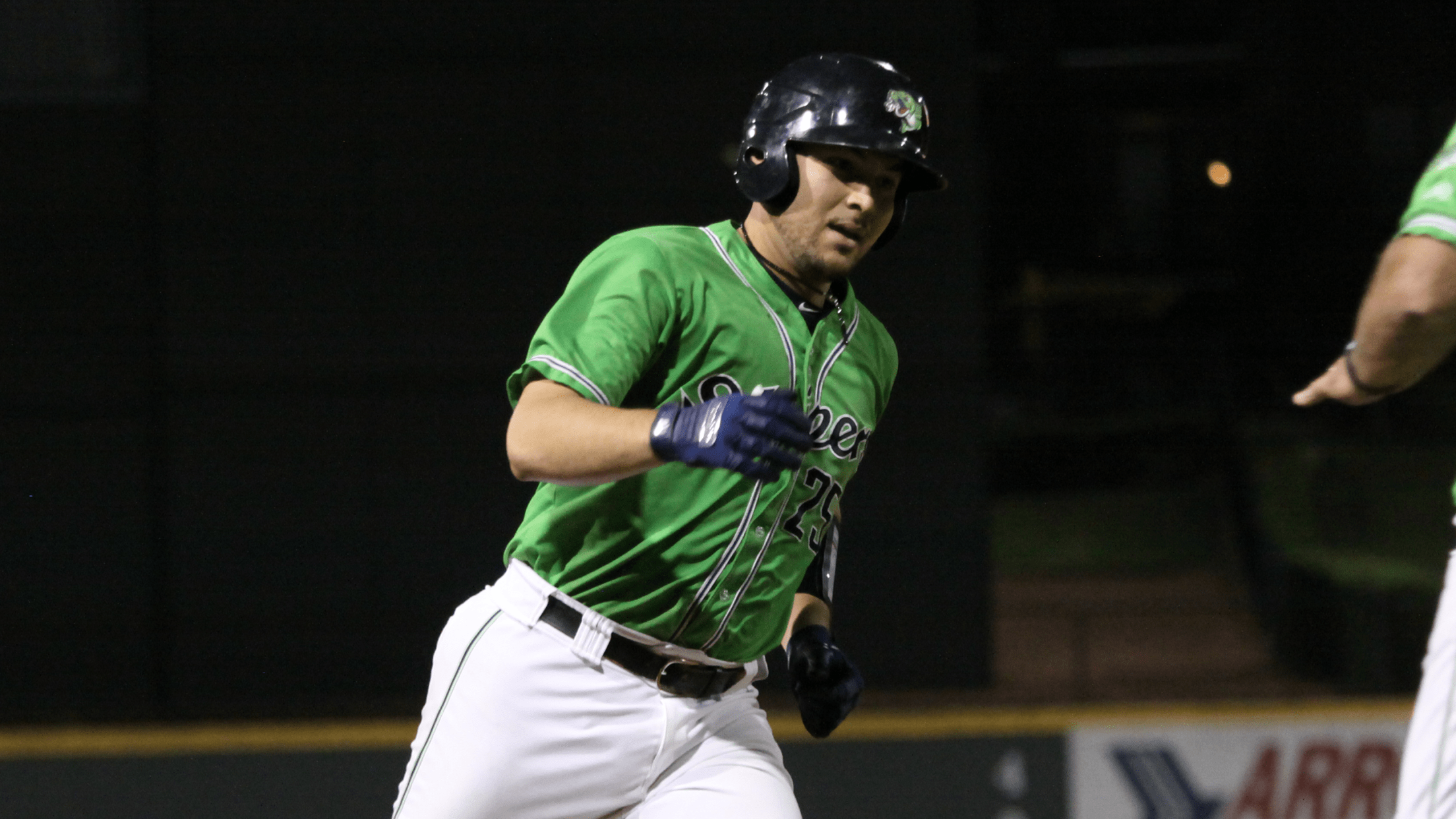 Alex Jackson tied Gwinnett's single-game doubles record with three on Saturday, notching four RBIs. (Matthew Caldwell)
CHARLOTTE, N.C. – Alex Jackson doubled three times and plated four RBIs, William Contreras blasted his third home run and tallied three RBIs, and Travis Demeritte launched a grand slam as the Gwinnett Stripers (31-34) extended their winning streak to five games with an 11-3 win over the Charlotte Knights
CHARLOTTE, N.C. – Alex Jackson doubled three times and plated four RBIs, William Contreras blasted his third home run and tallied three RBIs, and Travis Demeritte launched a grand slam as the Gwinnett Stripers (31-34) extended their winning streak to five games with an 11-3 win over the Charlotte Knights (25-38) on Saturday night at Truist Field.
Decisive Play: Contreras's two-run shot (3) to left-center off Mike Wright (L, 5-3) gave Gwinnett a 3-0 lead in the third. A six-run seventh, highlighted by Jackson's two-run double and Demeritte's grand slam (9) extended the lead to 9-2.
Key Contributors:Jackson (3-for-5, 3 doubles, 4 RBIs), Contreras (2-for-4, double, homer, 3 RBIs), and Demeritte (1-for-5, homer, 4 RBIs) combined to drive in all 11 Gwinnett runs. Connor Johnstone (W, 2-6) fired 2.0 scoreless innings in relief as he, starter Tanner Roark, and Trevor Kelley no-hit the Knights over the first 5.0 innings. Yermin Mercedes ended the shutout bid with a two-run homer (6) off Chasen Bradford in the sixth.
Noteworthy:Jackson tied Gwinnett's single-game doubles record with three, becoming the first to do it since manager Matt Tuiasosopo had three doubles on June 8, 2016 vs. Lehigh Valley. Demeritte's grand slam was the fourth of his career and second with the Stripers, first since June 3, 2019 at Charlotte. The Stripers have won five straight games for the first time since July 17-21, 2019.
Next Game (**Sunday, July 18*): *Gwinnett at Charlotte, 5:05 p.m. at Truist Field. RHP **Jose Rodriguez (0-2, 7.71 ERA) for the Stripers vs. RHP Tanner Banks (3-2, 3.41 ERA) for the Knights. Radio Broadcast: 4:50 p.m. on MyCountry993.com.
*Next Home Game (Tuesday, July 20): *Gwinnett vs. Norfolk, 7:05 p.m. at Coolray Field (Family Value Tuesday, $2 hot dogs, $1 desserts, presented by Coolray Heating & Cooling).