Tarpons Fall Twice to Flying Tigers in Finale of Home Schedule
Tampa's Elimination Number Drops to Five with Seven Games Remaining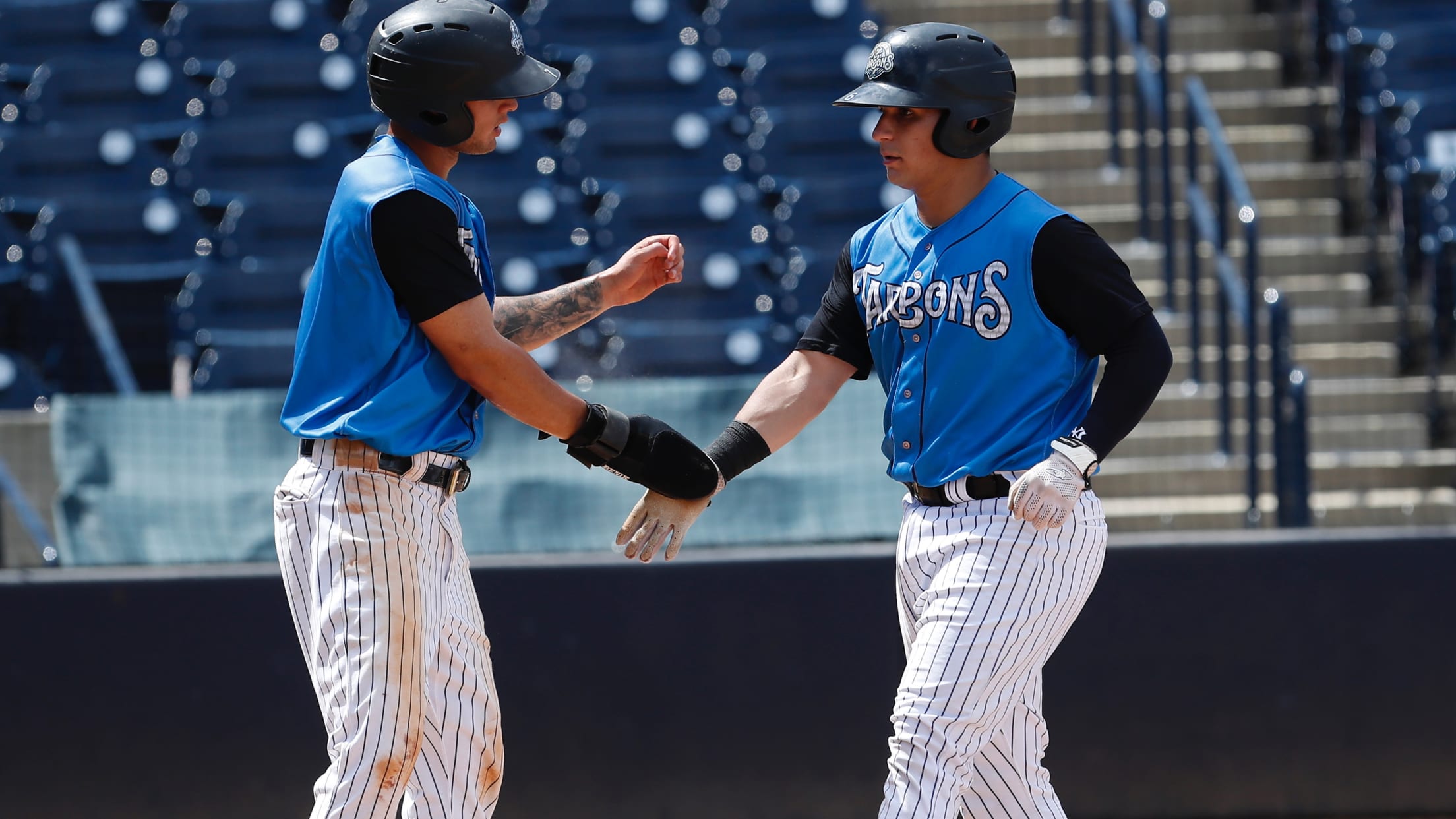 Mickey Gasper (R) is greeted at the plate by Pablo Olivares after Gasper clubbed a go-ahead two-run homer in the 1st in Game Two of Tampa's doubleheader vs. Lakeland on Sunday afternoon at George M. Steinbrenner Field. (Mark LoMoglio)
TAMPA, Fla. - A chance for the Tampa Tarpons to claim the final Florida State League North Division postseason spot took a hit on Sunday as the Lakeland Flying Tigers moved into sole possession of first place in the second-half standings by defeating the Tarpons in both ends of a
TAMPA, Fla. - A chance for the Tampa Tarpons to claim the final Florida State League North Division postseason spot took a hit on Sunday as the Lakeland Flying Tigers moved into sole possession of first place in the second-half standings by defeating the Tarpons in both ends of a doubleheader on Sunday afternoon at George M. Steinbrenner Field.
LHP Jordan Montgomery began a rehab assignment, getting the nod in Game One for the Tarpons. The 26-year-old made six starts with the New York Yankees in 2018 before having "Tommy John" surgery to repair an injured left elbow. Limited to two innings, Montgomery retired all six batters he faced, striking out a pair on 19 pitches (13 strikes).
After stranding a pair of leadoff base runners in the second, Tampa (33-32, 61-70) opened the scoring when Mickey Gasper lined a two-out RBI single off RHP Jake Thompson in the third.
Wilkerman Garcia singled, and Donny Sands walked to begin the bottom of the fourth, but Thompson got a double-play groundout by Steven Sensley before getting a groundout by Leonardo Molina to escape the inning. Thompson allowed one earned run on three hits in four innings, walking three while striking out three on 77 pitches (45 strikes).
LHP Deivi Diaz made his Tarpons debut in relief of Montgomery in the third and retired eight of the first 11 batters he faced, stranding a runner in the third and fourth before a double-play allowed the 20-year-old to face the minimum in the fifth.
Tampa loaded the bases with one out in the home-half of the fifth, but RHP Ethan DeCaster got Diego Castillo to ground into a 1-2-3 double-play, keeping the score at 1-0, Tarpons.
Reece Hampton lined a leadoff double to left in the sixth, and Brock Deatherage followed with a sacrifice bunt. Diaz fielded the bunt and overthrew first base, allowing Hampton to score and Deatherage to reach second. A strikeout later, Deatherage took third on a passed ball by catcher Donny Sands, but Diaz got a pop-out and a strikeout to strand the runner.
Diaz returned for the seventh and added his sixth strikeout but left after issuing his second walk. The Venezuela native allowed one unearned run on three hits while throwing 45 of 73 pitches for strikes in four and a third innings.
RHP Matt Wivinis got a pair of flyouts to end the seventh, sending a 1-1 tie into the bottom of the seventh. RHP Angel De Jesus relieved DeCaster, and Pablo Olivares drew a one-out walk, but was caught stealing after a strikeout by Estevan Florial for a double-play.
Jordan Pearce began the eighth inning at second for Lakeland as the extra-inning runner but was thrown out by Wivinis at third on a bunted ball by Hampton. Deatherage then reached as Hampton was forced out at second on a fielder's choice.
Deatherage then stole second and scored on a go-ahead, two-out RBI single by A.J. Simcox. An error, a wild pitch, a walk and a hit-batter plated Simcox while loading the bases, and John Valente delivered a two-run single, putting the Flying Tigers ahead, 5-1, before Wivinis (L, 2-4) got a flyout by Christopher Proctor to end the frame.
Tampa loaded the bases with a walk and a hit-batter to bring the tying run to the plate in the bottom of the eighth, but De Jesus (W, 3-1) got a lineout to right by Sands to end the game.
A mid-doubleheader roster move sent Diaz back to the Gulf Coast League while RHP Carlos Gomez joined the Tarpons from the GCL to make a spot-start in Game Two.
Deatherage opened the game with a double off the right field wall and stole third before scoring on a sacrifice fly by Brady Policelli, giving Lakeland an early 1-0 lead. Tampa answered in the home-half when Olivares reached on an error and scored on a go-ahead two-run home run to right by Gasper, giving the Tarpons a 2-1 lead.
After getting a double-play to face the minimum in the second, Gomez issued a pair of walks and a wild pitch to begin the third. Deatherage struck out on a pitch in the dirt, but an errant throw by Gasper (playing catcher in Game Two) allowed Deatherage to reach third while two runs scored. One walk later, a wild pitch scored Deatherage to put Lakeland ahead, 4-2.
Olivares and Garcia lined back-to-back doubles off RHP Billy Lescher to begin the bottom of the third, cutting the deficit to 4-3. Garcia took third on a groundout by Gasper and scored on a wild pitch by Lescher to tie the game a 4-4.
Valente singled into right field and reached third as Sensley misplayed the ball for a two-base error to begin the fourth. Nick Ames followed with a base hit to center, scoring Valente to put the Flying Tigers back in front, 5-4.
Gomez allowed five runs (two earned) on four hits in four innings, walking three while striking out three on 76 pitches (40 strikes) in his Tarpons debut.
Once again, the Tarpons found a response in the home-half of the frame. After two quick outs recorded by RHP Mark Ecker, Molina singled to left and took third on a double to right by Kyle Gray . Olivares followed with a base hit to right, scoring Molina to tie the game, but Gray was thrown out at the plate by right-fielder Urlich Bojarski to end the inning.
RHP Aaron McGarity relieved Gomez in the fifth and was greeted by a leadoff home run to right by Deatherage, promptly giving Lakeland back the lead, 6-5. Simcox then hit a sharp grounder off McGarity's leg for an infield single, and McGarity (L, 0-1) left the game.
RHP Kyle Zurak entered in relief and, after issuing a walk by Policelli, got a 1-6-3 double-play off the bat of Bryant Packard before getting a groundout by Bojarski to end the frame. In the sixth, after a one-out walk by Ames, Zurak got a 5-4-3 double-play from Cole MacLaren for the fourth twin-killing of the game by the Tarpons defense.
Hampton and Deatherage both singled to begin the seventh, and Simcox followed with a sacrifice bunt. Zurak fielded the bunt and threw the ball away, allowing Hampton to score, and Deatherage to take third. Simcox took second on defensive indifference, and Packard followed with a two-run single to center, putting Lakeland (36-30, 65-66) ahead, 9-5.
Ecker (W, 6-1) picked up a strikeout while stranding a hit-batter in a scoreless fifth before LHP Liarvis Breto (SV, 2) retired six-of-seven batters he faced, tallying a strikeout while stranding a walk in the final two innings. Tampa was held hitless for the final three frames.
The Tarpons left 10 runners on base while going 1-for-12 with runners in scoring position in Game One. Despite setting a single-game season-high with four double-plays in Game Two, Tampa's defense combined for five errors in the doubleheader, leading to nine unearned runs scored by the Flying Tigers.
Gasper (3-for-4, HR, 2B, 3RBI, BB, HBP, SB) reached base in five-of-six plate appearances and has now reached base safely in 18-straight games with the Tarpons. Olivares (3-for-6, 2B, 2BB, RBI, 3R, CS) reached base safely in four-of-eight trips to the plate. Garcia (2-for-6, 2B, BB, HBP, RBI, R) also hit safely in both ends of the doubleheader.
The Tarpons now sit in third place in the second half FSL North Division standings, 2.5GB of first-place Lakeland and 2.0GB of second-place Dunedin with seven games remaining in the regular season, resulting in an elimination number of five.
Tampa will travel to Roger Dean Chevrolet Stadium for a four-game series against the Jupiter Hammerheads, beginning on Monday at 6:30 p.m. RHP Luis Medina (0-0, 1.80) will make his second start since being promoted to the Tarpons. Live play-by-play audio will be available on the Jupiter Hammerheads Baseball Network.