Three San Jose Giants Named Cal League All-Stars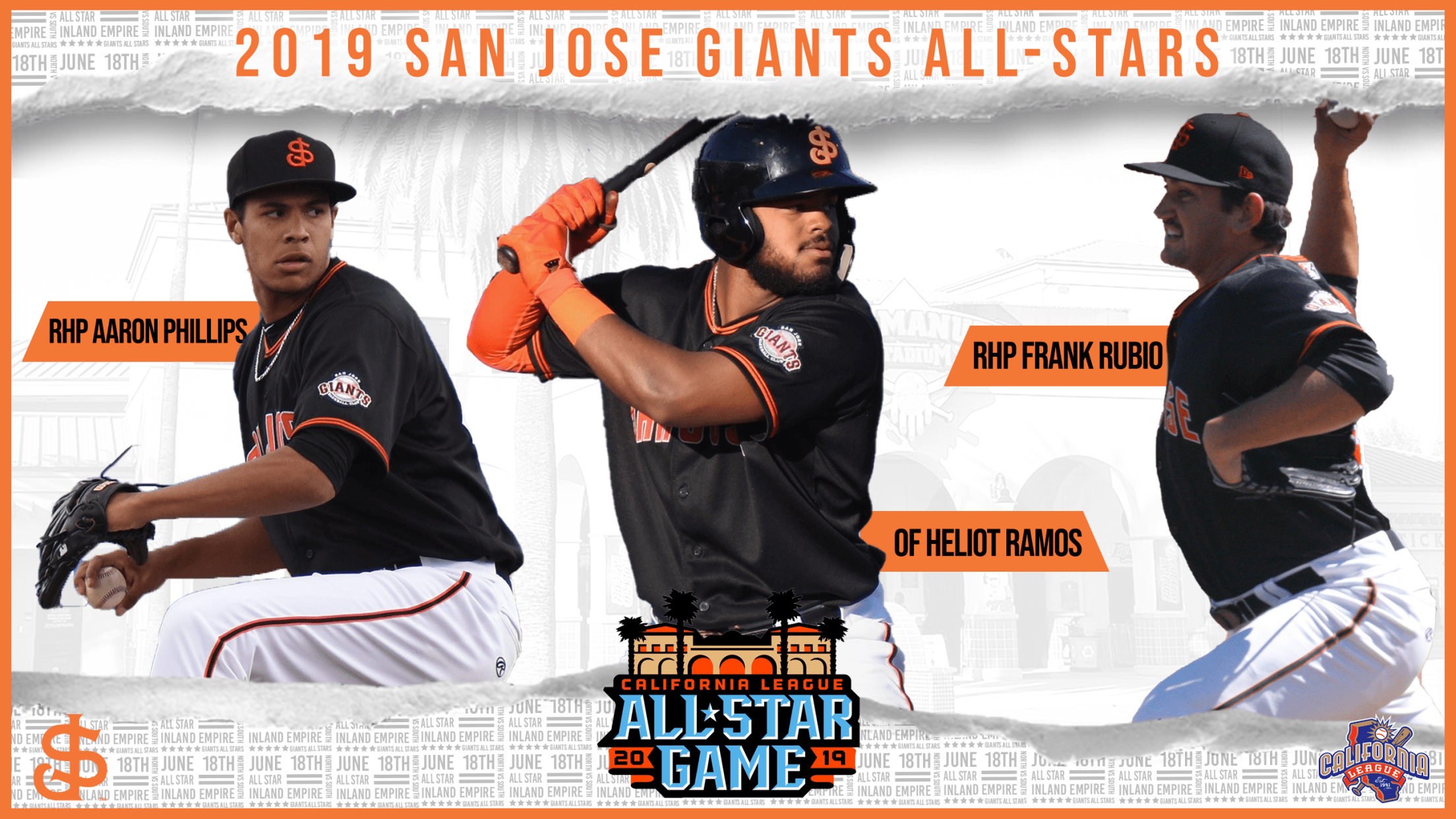 San Jose, CA- Three San Jose Giants players have been named to the North Division California League All-Star team and will participate in the 2019 California League All-Star Game against the Southern Division All-Stars on June 18 in Inland Empire at San Manuel Stadium. OF Heliot Ramos (San Francisco Giants #2
San Jose, CA- Three San Jose Giants players have been named to the North Division California League All-Star team and will participate in the 2019 California League All-Star Game against the Southern Division All-Stars on June 18 in Inland Empire at San Manuel Stadium. OF Heliot Ramos (San Francisco Giants #2 overall prospect), RHP Aaron Phillips, and RHP Frank Rubio represent the Giants in the All-Star contest.
"The entire Giants organization is proud of our selected all-stars," said Bill Hayes, San Jose Giants Manager. "It's an honor for Heliot Ramos, Aaron Phillips and Frank Rubio to represent the California League and the San Francisco Giants organization. This is a well-deserved recognition for all of their hard work and dedication."
2019 San Jose Giants All-Stars
OF Heliot Ramos, the San Francisco Giants #2 overall prospect, has shown off his immense talent during his time in San Jose. In 28 games, Ramos is batting .302 with a .420 on base percentage and has driven in 16 runs. He also leads the team with seven homers.
RHP Aaron Phillips has provided steady performance leading the San Jose Giants rotation. He owns a 4-4 record in 11 starts and has fashioned a 4.01 ERA. Through 49.1 innings the righty has struck out 40 batters. Phillips has allowed just four earned runs in his last five starts spanning 27.2 innings.
RHP Frank Rubio has been a dominant force all season out of the Giants' bullpen. Rubio boasts an incredible 0.31 ERA allowing only one earned run in 29 innings of work. He also averages over a strikeout per innings and opposing hitters own a meager .170 batting average against him.
The California League All-Star Game pits the best of the Northern Division against the Southern Division with each roster made up of 22 active players. The 2019 California League All-Star Game takes place on June 18 at 7:00 PM at Inland Empire's home ballpark, San Manuel Stadium. Festivities include a Cal League Hall-of-Fame induction ceremony honoring Rollie Fingers, Adrian Beltre, Harry "Bud" Heslet and former Cal League President Joe Gagliardi and a Home Run Derby set to begin at 5:00 PM.
The San Jose Giants return to Excite Ballpark on Wednesday, June 12 for a five-day homestand. Highlight promotions include a Joey Bart bobblehead giveaway (City National Bank), Wizarding Night, '09 San Jose Giants Champions bobblehead (IBEW) giveaway, and two nights of postgame fireworks. San Jose Giants tickets can be purchased online at sjgiants.com, at the Municipal Stadium box office, or by calling 408.297.1435.
Purchase San Jose Giants Tickets
View the 2019 San Jose Giants Schedule
###
ABOUT THE SAN JOSE GIANTS
The San Jose Giants are a professional baseball team in the Class A Advanced California League and have been an affiliate of the San Francisco Giants since 1988. San Jose has won six California League Championships as a Giants affiliate (2010, 2009, 2007, 2005, 2001 and 1998) and eleven overall. The San Jose Giants have graduated 206 Major League players, 149 of whom have played or currently play for the San Francisco Giants. Excite Ballpark, the home of the San Jose Giants, first opened in 1942 and has seen well over 7 million fans enter through its gates. The organization has been honored with the Larry MacPhail Award, presented to the club with the best creative marketing and promotions, and the President's Trophy, granted to the most complete franchise. For 2019 tickets or to reserve your group outing, please contact the San Jose Giants Box Office at 408.297.1435 or visit us online at sjgiants.com. San Jose Giants baseball in your backyard since 1942, Our Town, Our Team, Our Giants.