Threshers Thrash Marauders 18-4 on Friday Night
Jared Carr 5-for-5 with 4 RBI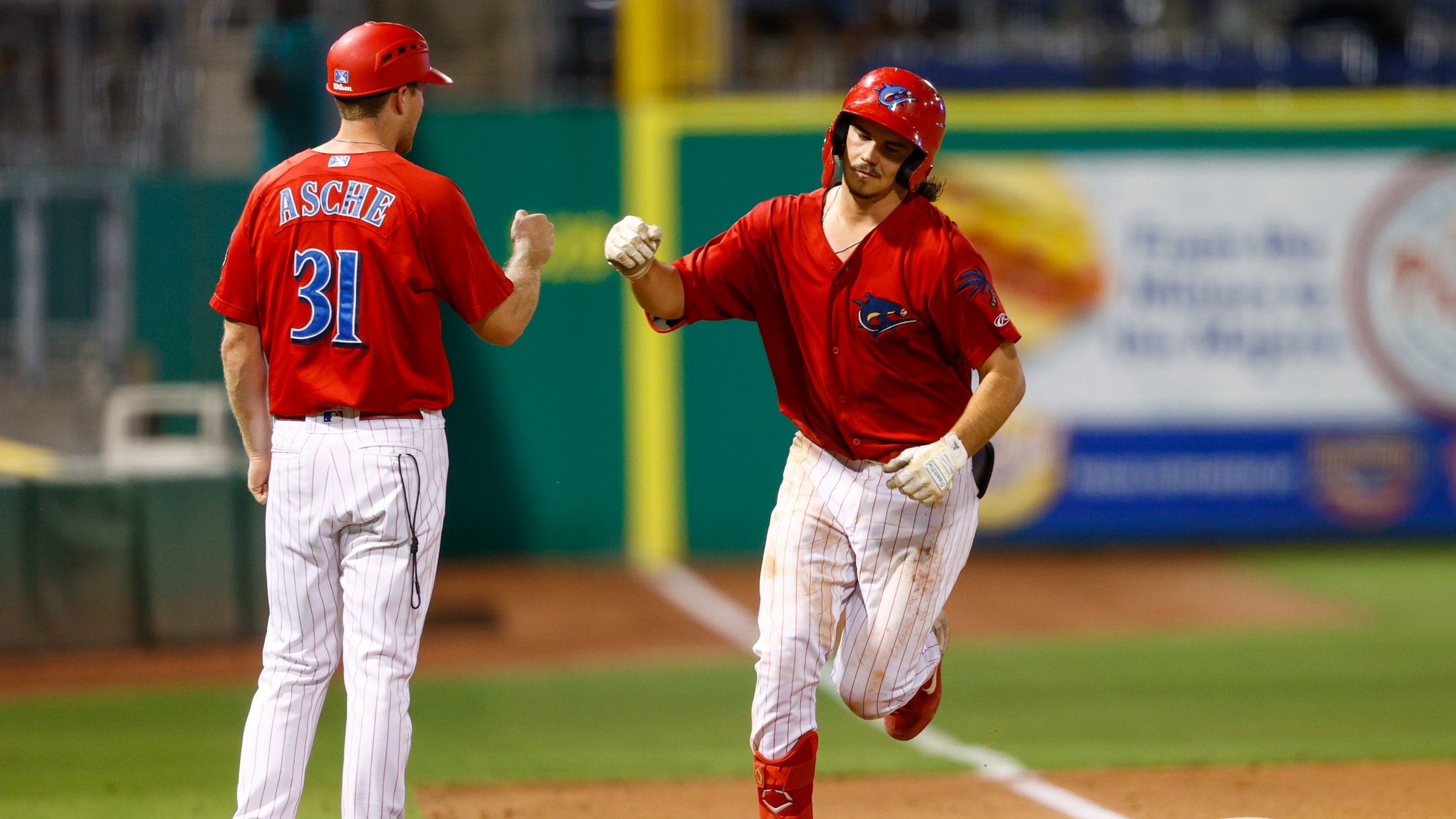 Threshers OF Jared Carr rounds the bases and gets a fist bump from hitting coach Cody Ashe (Clearwater Threshers)
CLEARWATER, Fla. – The Clearwater Threshers earned a decisive 18-4 win over the Bradenton Marauders on Friday night at BayCare Ballpark. BOX SCORE Bradenton jumped on the scoreboard with a three-run blast from Jack Herman that gave the Marauders a 3-0 lead in the top of the first. Clearwater answered
CLEARWATER, Fla. – The Clearwater Threshers earned a decisive 18-4 win over the Bradenton Marauders on Friday night at BayCare Ballpark.
Bradenton jumped on the scoreboard with a three-run blast from Jack Herman that gave the Marauders a 3-0 lead in the top of the first.
Clearwater answered in the bottom of the second, putting up five runs on the board. Felix Reyes was hit by a pitch to get on base and Chris Burke knocked a two-out single to put a man in scoring position. Jamari Baylor was hit by a pitch to load the bases and the Threshers walked in a run as Ethan Wilson took the base on balls. Kendall Simmons drove a groundball into left field to even the score 3-3. Jared Carr then followed with a two-run single that pushed the Threshers ahead 5-3.
The Threshers added another five runs in the bottom of the third inning. Jamari Baylor reached on a fielder's choice that allowed Baron Radcliff to score and a wild pitch brought in another run. Wilson drove in two with a double and Carr topped off the five-run inning with an RBI single.
Clearwater further extended the lead in the fourth with four runs crossing the plate. T.J. Rumfield hit a ball on the ground through the left side for the first run of the inning. A force out at second base erased him from the base path but allowed Radcliff to score. Simmons reached base on a throwing error for Burke to cross the plate, and Carr whacked a ball down the left field line for a ground-rule double and his fourth RBI of the night.
Carr finished the night 5-for-5 with four RBI and one walk.
Bradenton got a run back in the fifth with an RBI double, but Clearwater responded in the home half of the inning with an RBI double of its own from Burke.
The Threshers put an exclamation mark on the win with a home run from Casey Martin in the bottom of the eighth inning for a decisive 18-4 victory over the Marauders.
Starting pitcher Rodolfo Sanchez did not factor in the decision. He was tagged for three runs on four hits. He walked two batters and struck out three in three innings. RHP Alex McKenny (2-1) earned the win. He did not give up an earned run, surrendered two hits, walked three, and struck out three batters in 3.2 innings of relief. LHP Maikel Garrido tossed 2.1 scoreless innings, giving up one hit, walking three batters, and striking out two.
The Threshers and Marauders continue their series on Saturday night. LHP Gabriel Cotto is scheduled to start against RHP Logan Hofman of the Marauders for a 6:30 p.m. first pitch on First Responders' Appreciation Night and 9/11 Remembrance. TICKETS