Toyota Road Report: Wisconsin 7/20-7/25
South Bend heads up to Wisconsin to take on the Timber Rattlers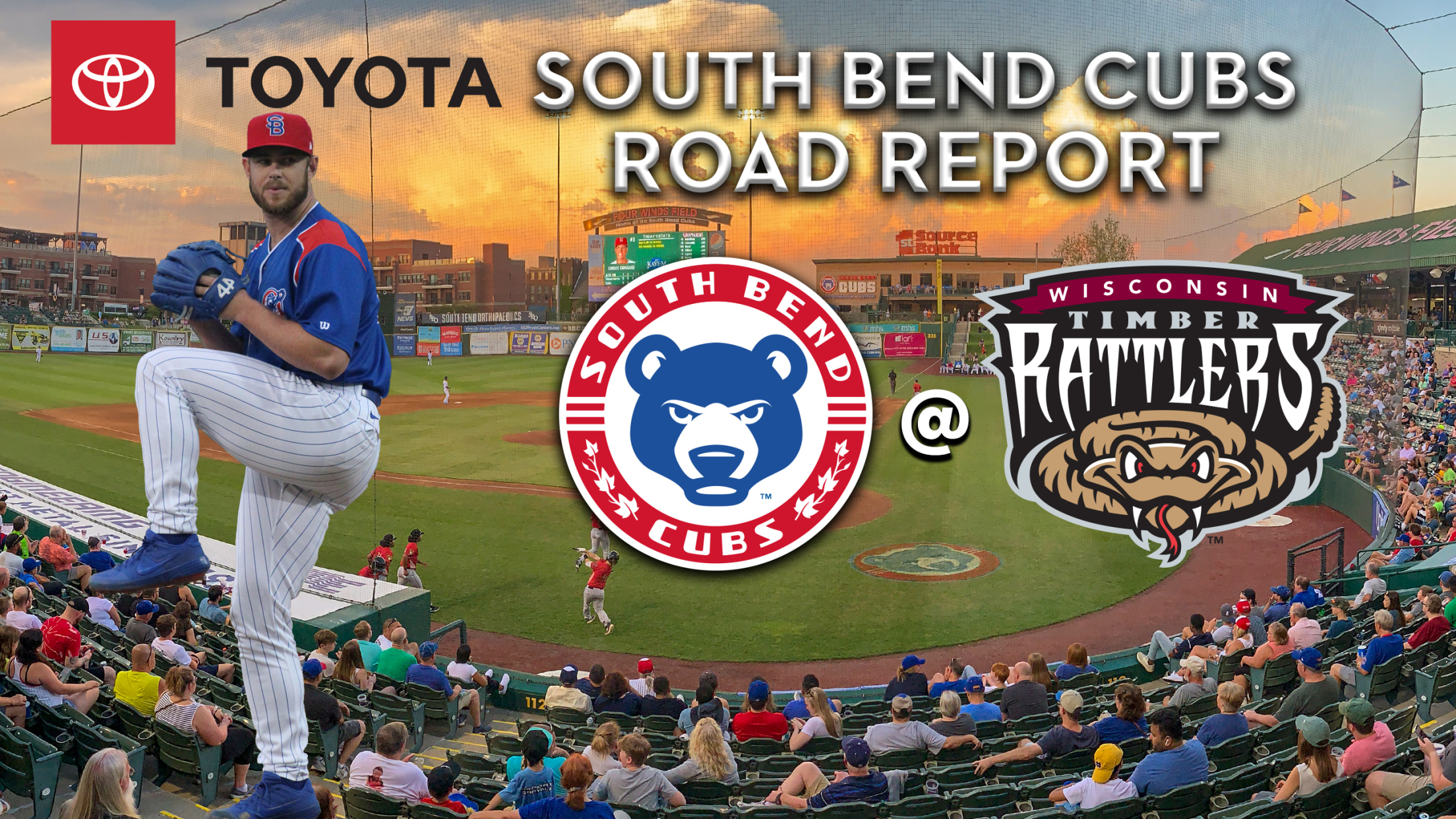 Wisconsin Timber Rattlers Miles from South Bend: 288 Affiliation: Brewers Stadium: Fox Cities Stadium South Bend vs Wisconsin This season: 3-3 Last season: 0-3 Since becoming a Cubs affiliate: 9-12 This week the South Bend Cubs (30-35) head up to Appleton, Wis. To take on the high-a affiliate of the
Wisconsin Timber Rattlers
Miles from South Bend: 288
Affiliation: Brewers
Stadium: Fox Cities Stadium
South Bend vs Wisconsin
This season: 3-3
Last season: 0-3
Since becoming a Cubs affiliate: 9-12
This week the South Bend Cubs (30-35) head up to Appleton, Wis. To take on the high-a affiliate of the Milwaukee Brewers; the Wisconsin Timber Rattlers (31-34). South Bend is coming off back-to-back series wins over the Snappers and the Kernels en route to an 8-4 homestand. The Timber Rattlers are coming off a 3-3 series split with the Peoria Chiefs, who have the worst record in the league.
Players to watch on Wisconsin
Kory Howell, INF/OF: Howell was great at getting on base in his rookie season back in 2018, he hit .311 and had a .398 OBP in the Arizona League with the Brewers rookie-ball team. The following year Howell struggled in low-a with the Timber Rattlers, but now he's back with the team, at the high-a level, and killing it at the plate. Howell is top-10 in the High A Central this year in runs scores (2nd, 51), triples (t-6th, 4), slugging percentage (7th, .502), on-base plus slugging (9th, .861) and home runs (t-9th, 10). Howell can do it all at the plate, and defensively even though he's listed as an infielder he has appeared in 41 of his 47 games on defense in the outfield, 34 of which came in center.
David Hamilton, SS: Hamilton was an eighth-round pick by the Brewers out of the University of Texas in 2019. The 23-year-old can flat out run. He is second in the league, behind only South Bend's Delvin Zinn, with 35 stolen bases this season and MLB scouts grade his speed on the 20-80 scale as a 70. Hamilton climbed draft boards after an amazing sophomore season in 2018 in which he hit .291, had an OBP of .404 and stole 31 bases. That was the most stolen bases by a Texas player in 16 years. He ruptured his achilles tendon and missed the 2019 season, so this is the first look in live games for Hamilton in three years. Right now he is getting aboard at a .340 clip and slugging .411.
Hayden Cantrelle, 2B/SS: Cantrelle has been a strange case study so far this season. The Brewers number 16 prospect is hitting just .186 and slugging only .335 more than halfway through his first season. He was drafted in the fifth round out of Louisiana-Lafayette in 2020's shortened MLB Draft. But despite a lack of power and lack of base hits Cantrelle has somehow mustered his was into sixth in the league in on-base percentage (.398). At just 22 years old, Cantrelle might have the best eye of anyone in the high-a central throughout the season, leading the league in walks with 64, 18 more than Griffin Conine who's in second. Cantrelle has 64 walks in 59 games and has walked more than he has struck out (61).
Players to watch on South Bend
Bryce Ball, 1B: Ball will have many eyes on him throughout the rest of the season and in the future within the Cubs organization. The first major trade with the deadline a couple weeks away was the cubs shipping Joc Pederson to the Braves in return for Ball. Ball is a 6-foot-6, 240-pound first baseman with tons of power. At the time of the trade he was listed as the Braves number 12 prospect, per MLB Pipeline. After playing in junior college for two years Ball went to Dallas Baptist for a season and knocked the cover off the ball, slashing .325/.443/.614, while hitting 18 homers and driving in 54 in just 63 games. His first MiLB season, that same year, was crazy similar; he slashed .329/.395/.628 and hit 17 homers while driving in 52 in just three more at-bats.
D.J. Artis, OF: D.J. Artis made his return to South Bend last week, playing left field and hitting in the two-hole all six games. He reached base in 10 of his 27 trips to the plate (.370 OBP), in the six-game series. The left-handed hitter slugged two homers to the opposite field and ripped an opposite-field double off the wall. Not to mention he drove in five during the series, scored seven runs and stole three bases. If his first series back is any indication of what his second half may look like, we are in for a treat to watch him at the plate.
Rowan Wick, P: Rarely would I put someone in here with so little playing experience during the season, as Wick has thrown just 13 pitches this season. But these are different circumstances. Wick has been one of the best relievers for the Cubs in the 2019 and 2020 seasons and now he is back on the mound and rehabbing with the South Bend Cubs. His first appearance with South Bend Came on Saturday and he struck out the side in order on just 13 pitches. Needless to say he's going to be a player to keep your eye on the next week as he is expected to make another appearance or two with the team on the road.
Schedule
Tuesday, Thursday and Friday's games are at 8:05 p.m., Wednesday's game is a matinee at 1:05 p.m., Saturday's is at 7:35 p.m. and Sunday is another day game, that one at 2:05 p.m. All times listed are Eastern Time.
You can listen to Darin Pritchett call every game of the series on the flagship station for the South Bend Cubs WSBT 960 AM, online at wsbtradio.com, or at Milb.com