Vermont Blanks ValleyCats 1-0 On Tuesday
Abdiel Mendoza tosses six scoreless inning in 3-hit shutout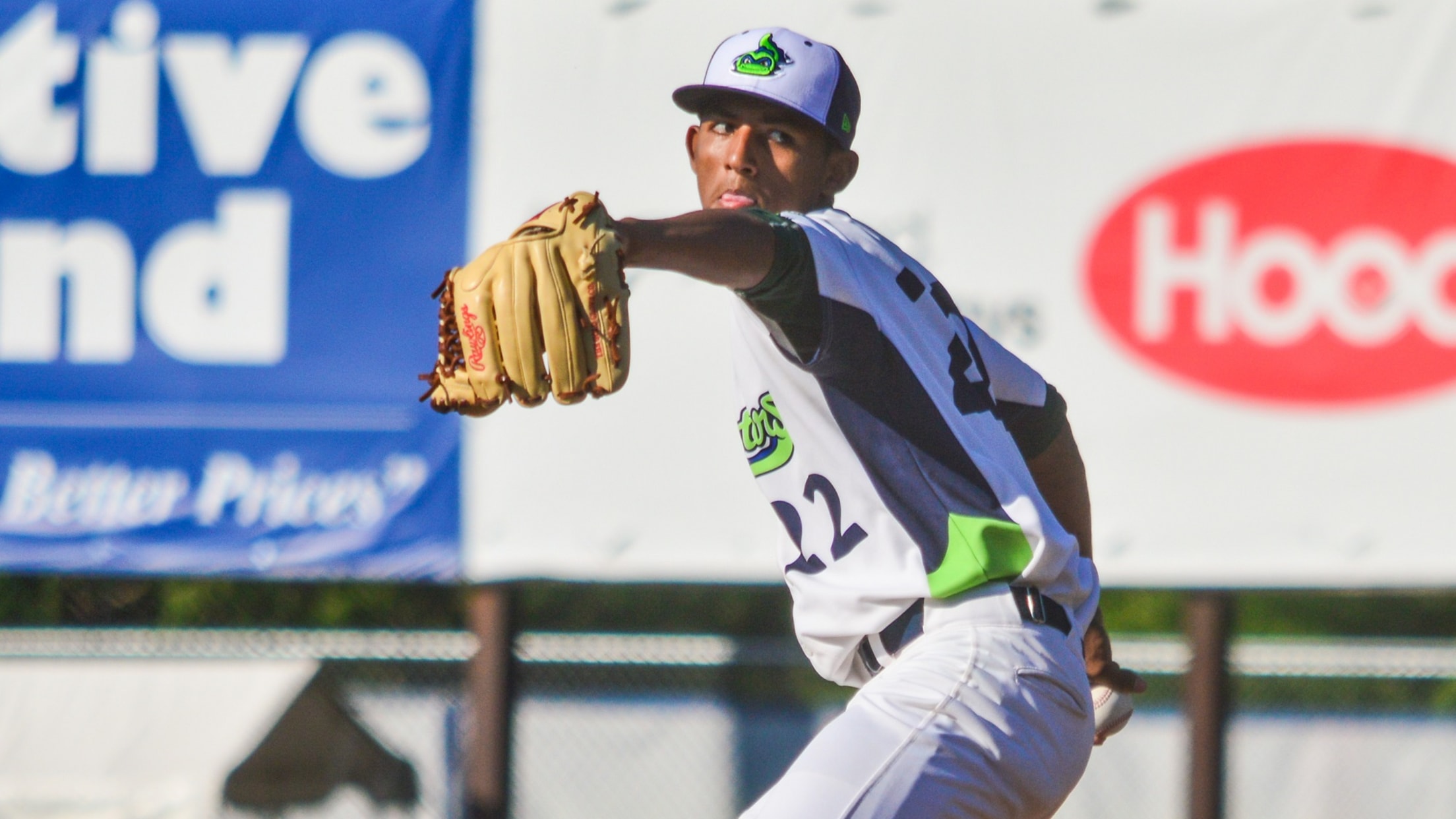 Abdiel Mendoza allowed three hits with three walks and three strikeouts over six scoreless innings for win on Tuesday (Greg Bessette)
BURLINGTON, VT --- Abdiel Mendoza tossed six scoreless innings and combined with two relievers on a three-hit shutout, while the Vermont Lake Monsters scored the only run of the game without the benefit of a hit in the second inning for a 1-0 New York-Penn League victory over the Tri-City
BURLINGTON, VT --- Abdiel Mendoza tossed six scoreless innings and combined with two relievers on a three-hit shutout, while the Vermont Lake Monsters scored the only run of the game without the benefit of a hit in the second inning for a 1-0 New York-Penn League victory over the Tri-City ValleyCats Tuesday afternoon at historic Centennial Field.
Mendoza (2-1) scattered three hits with three walks (two in the first inning) and three strikeouts over the first six innings on 86 pitches (56 for strikes). He worked out of a leadoff walk, then single jam in the fifth with a flyout and double play, then ended the day by working around a leadoff single in the sixth.
After a leadoff walk to start top of the seventh, reliever Charlie Cerny retired the next six ValleyCats in order before Clark Cota a scoreless ninth for save with a game-ending double play after hitting the first batter of the ninth.
Vermont scored the only run of the day in the second inning without the benefit of a hit as Devin Foyle led off with a walk, stole second, moved to third on a wild pitch and scored on a Noah Vaughan sacrifice fly to leftfield off ValleyCats starter Mark Moclair (0-2).
Tri-City bullpen tossed 6 1/3 scoreless innings of relief with Nivaoldo Rodriguez allowing two hits with one walk and four strikeouts over 4 1/3 and Riley Cabral two hitless innings. Jeremy Pena had two of three hits on the day for Tri-City (10-8).
The Lake Monsters finished with just four hits in the victory. Vermont is now 3-0 all-time in home games on July 3rd, all one-run wins over Tri-City (7-6 in 2011 and 2-1 in 2013). It was also the Lake Monsters second shutout victory of the season and first 1-0 win since July 7, 2017 vs. Hudson Valley.
Vermont ends the six-game homestand 4-2 to improve to 10-8 overall and move back into sole possession of first-place in the Stedler Division.
After winning two-of-three in the series at Centennial, the Lake Monsters head to Tri-City for another three-game series against the ValleyCats beginning at 6:30 pm Wednesday. Vermont returns home to Centennial Field on Saturday for a three-game series against Connecticut.
Paul Stanfield is the Media Relations Director for the Vermont Lake Monsters.