Where Will They Be in 2020: Starting Pitchers
Our best guesses at where the 15 Power starting pitchers in 2019 will go in 2020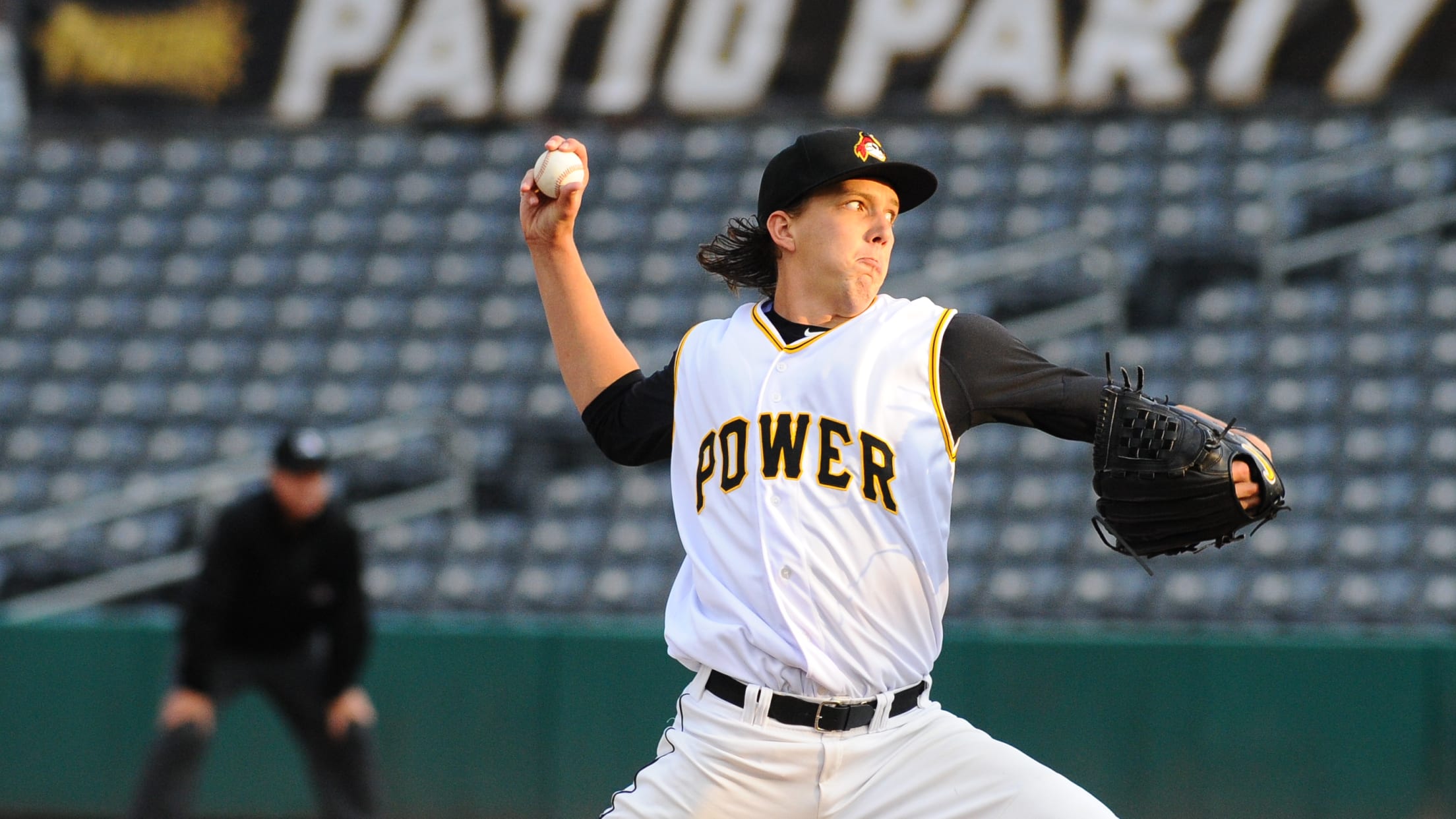 Logan Gilbert dominated in his five starts with West Virginia during the 2019 season. (Sam Santilli)
The 2019 Minor League season is more than three months behind us now, and with the Arizona Fall League wrapped up and Winter Leagues underway, fans, media, players and staff members are shifting gears to 2020. The pressing question on a lot of their minds: Who will be where in
The 2019 Minor League season is more than three months behind us now, and with the Arizona Fall League wrapped up and Winter Leagues underway, fans, media, players and staff members are shifting gears to 2020. The pressing question on a lot of their minds: Who will be where in 2020? Will players get an aggressive push to a new level? Will some be designated to repeat the station they were saddled with in 2019? The short answer is: We won't know for sure until April 2020, but that doesn't stop us from guessing.
Throughout the next few weeks, we'll be making our best predictions as to where every player on the 2019 Power roster will end up. This series will encompass all 59 Power players who donned a jersey and appeared in at least one game (sorry, J.T. Salter….). We'll go by position group. First, we started with the catchers, then we moved on to the infielders before shifting to the outfielders. Now, it's time to toe the rubber and talk about the starting pitchers. Without further ado, here we go.
There were 15 men who were regular starting pitchers for the Power in 2019: Damon Casetta-Stubbs, Clay Chandler, Josias De Los Santos, Nate Fisher, Deivy Florido, Logan Gilbert, Ryne Inman, Oliver Jaskie, Evan Johnson, Matt Martin, Bernie Martinez, Steven Moyers, Christian Pedrol, Devin Sweet, and Juan Then.
Some players were mainstays in the rotation throughout the entire season, yet others just earned a cup of coffee. Either way, they were each an integral part of the 2019 season.
2020 Prediction: West Virginia Power
Prediction Strength: STRONG
With Gilbert's early departure to High-A Modesto and the struggles of Jaskie, Casetta-Stubbs may have been asked to blossom before he was ready. However, the Power's rotation was in a state of minor flux, so Casetta-Stubbs continued to get opportunities to impress. He started strong, spiraling back-to-back five-inning shutout performances, but then sputtered, allowing at least three earned runs in seven consecutive starts. His inconsistency forced a move down to Short-Season Everett for the rest of the year, where he stabilized over 15 starts, going 3-3 with a 4.11 ERA.
After a full season of development for the now-20-year-old, Casetta-Stubbs should be poised to turn his spurts of brilliance into a constant string of success in 2020.
2020 Prediction: High-A Modesto Nuts
Prediction Strength: STRONG
Tasked with handling a second consecutive season in Low-A ball, Chandler made the most of the cards he was dealt, especially in April. The Kentucky native turned in one of the most brilliant April performances in team history, going 3-0 with a 0.31 ERA, and although his May and June marks left something to be desired, Chandler still earned one of the Power's four Midseason All-Star nods. He did not pitch in the All-Star Game at Appalachian Power Park, but he dominated in his two of final three starts in July and then received a well-deserved promotion to Modesto. Following a small adjustment period, he settled into the hitter-friendly Cal League, giving up three earned runs or less in four of his five outings.
Chandler is well on his way to become a masterful finesse pitcher, and he'll have a chance to prove himself in Modesto to start the season. However, just like last year, don't be surprised if Chandler comes into this year driven more than ever and finds himself in Double-A by the All-Star break.
2020 Prediction: Extended Spring Training (then West Virginia)
Prediction Strength: MEDIUM
Like Casetta-Stubbs, De Los Santos was pushed into full season ball perhaps before he was ready, and that reflected, as he was sent into a piggy-backing role with Florido for most of the first half. Starting in July, things just started to click, however, as he only surrendered more than three earned runs in two of his final 11 starts, while lasting five innings-plus in 10 of them.
Though it took De Los Santos awhile to find his footing, he certainly proved he was capable of handling the pressure of full season baseball, however, he might benefit from a shorter active season as a 20-year-old, so a touch of Extended Spring Training could be just what the doctor ordered to get the Dominican Republic native's career on track.
2020 Prediction: West Virginia Power (bullpen)
Prediction Strength: STRONG
Though Fisher was a starter at Nebraska and spent his five-appearance time in Charleston as a starter, the southpaw's outlook seems to fit the bullpen bill. His numbers as a reliever with Everett were far superior to his Power statistics, and even in his starts with West Virginia, he'd have those two-inning jolts where he'd look marvelous. Fisher has all the makings of a lefty specialist out of the bullpen, and he could test that out in Charleston next season.
2020 Prediction: Extended Spring Training (then Short-Season Everett)
Prediction Strength: MEDIUM
Florido has a mixture of Casetta-Stubbs' and De Los Santos' outlook; he showed brief signs of dominance with West Virginia, then struggled, then adjusted, then regressed. Being just 19 years old, his arm is still developing and his repertoire needs tweaking, and that's why a full year in Short-Season ball could give him just the seasoning he needs to stop being a journeyman hurler and become a bonafide piece of a team's rotation.
2020 Prediction: Double-A Arkansas
Prediction Strength: STRONG
Wow. What a rookie season Gilbert had. After his chances at pitching in his draft year were washed away due to a variety of injuries and a full college campaign, Gilbert took on 2019 with ferocious aggression and never looked back. After starting in West Virginia and posting a 1.59 ERA in five starts, the Stetson product quickly ascended to High-A Modesto. The Cal League was still no problem for Gilbert, and he ended his rookie campaign dominating with the Travelers as they hurdled towards the Texas League playoffs.
With a Baseball America Minor League and Class A All-Star selection in tow, as well as the Mariners' Jamie Moyer Minor League Pitcher of the Year, Gilbert wrapped up one of the most successful inaugural seasons in Minor League history. No one would be surprised if the righty is toeing the slab at T-Mobile Park come September 2020. Just look at his final season numbers:
10-5, 2.13 ERA, 26 starts, 135 innings, 165 strikeouts, .198 BAA. He's a superstar, and he proved well worthy of being the Mariners' 2018 first-round selection.
2020 Prediction: High-A Modesto
Prediction Strength: MEDIUM
As was the case for Chandler, Inman was designated for a second straight season at the Low-A level. Similar to Chandler as well, Inman got off to a roaring hot start, including becoming the first Power pitcher to strike out 10 batters (though he certainly wouldn't be the last). However, the 2015 draft pick ran into a bit of inconsistency with walks and endurance, diminishing his chances of a promotion that Chandler and others earned. Yet, Inman still made history in 2019, as he became the first Power pitcher to hurl a nine-inning complete game shutout when he held Lakewood to three hits and punched out 12 on August 8.
However, when you get down to brass tax, it's Inman's sixth year in Minor League Baseball in 2020, as he has yet to pitch above the Low-A level. He should get a chance to see what he can do in High-A Modesto this season, and he'll have to prove he can stay there.
2020 Prediction: Admittedly, no clue (but maybe West Virginia)
Prediction Strength: LOW
There's really no other way to put it, Jaskie had a tough 2019 season. The 2017 sixth-round selection out of Michigan was looking to get it right this year, and things just never fell into place. Jaskie only made four appearances in 2019, and then was relegated to Extended Spring Training. Though there are a multitude of reasons why the southpaw may have struggled so mightily this past year, it's just as neat and tidy to say it just wasn't his season.
Here's hoping a more prosperous 2020 season is around the corner for Jaskie.
2020 Prediction: Short-Season Everett AquaSox
Prediction Strength: STRONG
Johnson was another piece of the Mariners 2019 free agent class that found his way to West Virginia after a brief stint with Everett. His last two starts were positive signs of what could be for Johnson, as he twirled a career-best 7.2 innings August 25 and then struck out a career-high seven men on September 1. However, it could behoove Johnson to develop a bit more with Everett before he makes his way back to The Capital City.
2020 Prediction: West Virginia Power (bullpen)
Prediction Strength: STRONG
Matt "Magic" Martin. What a debut he had in West Virginia. After making 11 trips to the mound out of the bullpen with Everett, Martin was called up for emergency duty with West Virginia and shined. He allowed a total of six hits in 12 innings shutout innings of work over his first two starts in the SAL, and although he got battered around by a powerful Greensboro lineup in his final tune-up, Martin proved he had the stuff to survive in full season baseball. However, with the plethora of high-level pitching talent in the Mariners' system, Martin may start the year in the Power's bullpen and be used as a spot starter for doubleheaders or re-shuffled rotations.
2020 Prediction: West Virginia Power (bullpen)
Prediction Strength: MEDIUM
Martinez, one of the one-hit wonders for West Virginia in August, dazzled in his only Power outing, hurling six innings of one-run ball and then was sent to try his luck in Modesto. However, it was a tale of two levels for the free agent signee, as he was battered around in Modesto and Arkansas after being nearly lights out in the AZL, Everett and West Virginia.
The University of Incarnate Word product needs a full season at one level to hone his skills, and West Virginia seems like the place to do just that in 2020.
2020 Prediction: High-A Modesto Nuts
Prediction Strength: STRONG
"Mr. Quality Start" as Moyers came to be known, the southpaw was one of the most integral pieces of the Power's rotation until his mid-July bump to Modesto. Moyers tied Dario Agrazal for the most quality starts thrown by a Power starter in team history before his departure, and was a part of the quarter of West Virginia hurlers to accumulate 100+ innings and strikeouts in 2019.
Though Moyers was an elder statesman (26 now) and wasn't a blow you away stuff pitcher, he had arguably the best control of any of the Power's starters, and he knew how to handle any given situation. Plus, man he made some great defensive plays. His solidified string of success was missed down the stretch for the Power, but he's destined for Modesto in 2020, no question.
2020 Prediction: ???? (Released September 13)
Prediction Strength: N/A
As was the case for Martinez, Pedrol was a one-timer in West Virginia, tossing a quality start in his Low-A debut. Overall, Pedrol's numbers and his age indicate he's got room for improvement before he sticks in full season ball. And it seems that it will not be with the Mariners, as Seattle released the 19-year-old on September 13.
2020 Prediction: High-A Modesto
Prediction Strength: STRONG
What a transformative season for Sweet, who found himself one of the most remarkable starters in the second half for the Power. As a starting pitcher, Sweet went 5-3 with a 2.59 ERA in 12 starts, striking out 81 batters over 73 innings after posting a 4.04 ERA out of the bullpen.
After making history as the first Power pitcher to spin a nine-inning complete-game with his 12-strikeout gem at Rome in late July, the NC Central product jumped to Modesto for the last three outings of his season and dealt, going 1-0 with a 0.96 ERA and being tabbed the final CAL Pitcher of the Week in 2019. Sweet's exceptional turnaround has him destined to rise through the Mariners' system rather quickly, and he could be on the top 30 prospect list come 2020. The sky is the limit for Devin Sweet.
2020 Prediction: West Virginia Power
Prediction Strength: STRONG
Wow, is Then fun to watch or what? Though he only made three starts with West Virginia, he flashed brilliance with his array of pitchers, including a nasty slider/curve ball combo that sent 14 hitters back to the bench. The former Mariner, then Yankee, then Mariner again seemed right at home in the South Atlantic League in 2019, and it seems fitting that the top 30 prospect will be a part of the Power's Opening Day 2020 rotation. Oh, and let's not forget that he no-hit Greensboro, the second-best hitting team in the league, for five innings in the season finale.
There is a plethora of pitching talent in the Mariners' system, some of which have bid their adieus to West Virginia, while others have yet to really show what they can do in full season baseball. Regardless, we were witness to a bevy of different stars in 2019, and it should be more of the same next year.
Off to the Winter Meetings next week, so we'll have our final prediction article for the 2020 season in two weeks time, as we take a look at the 2019 Power reliever class.