O'Ree gave up baseball for greater purpose
Former Minor Leaguer turned blind eye to color barrier in NHL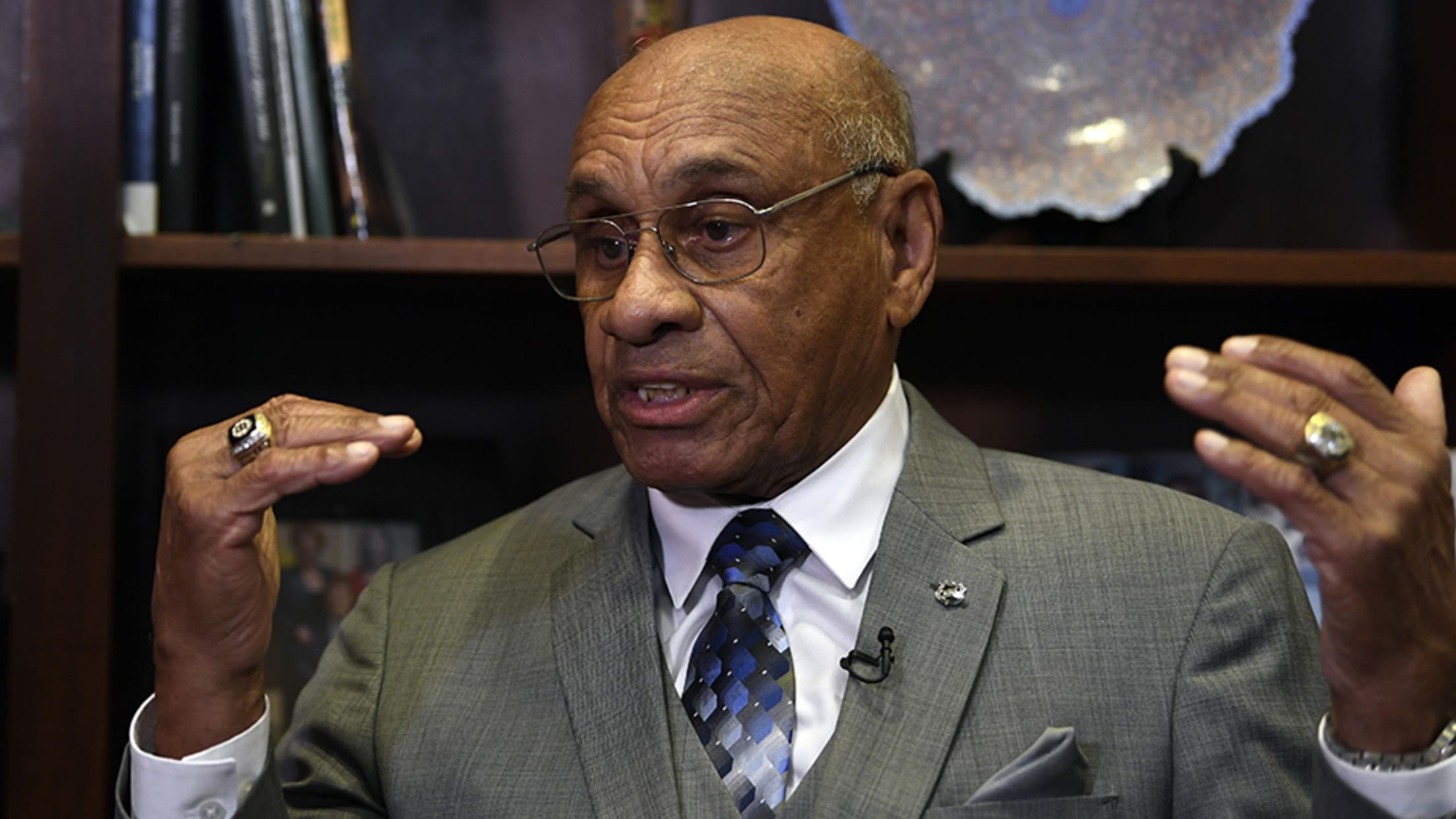 Willie O'Ree was inducted to the Hockey Hall of Fame in Toronto in November 2018. (Susan Walsh/AP)
When Willie O'Ree met Jackie Robinson in 1949, Robinson asked him what sports he played. The 14-year-old O'Ree, who was visiting New York because his baseball team won a local championship, told Robinson he played baseball and hockey. Robinson was surprised to hear that, telling O'Ree that there weren't any
When Willie O'Ree met Jackie Robinson in 1949, Robinson asked him what sports he played. The 14-year-old O'Ree, who was visiting New York because his baseball team won a local championship, told Robinson he played baseball and hockey. Robinson was surprised to hear that, telling O'Ree that there weren't any black kids who played hockey. "Yeah, there's a few," O'Ree responded.
Nine years later, O'Ree turned such impressions around. On Jan. 18, 1958, he put on a Boston Bruins sweater and became the first black player in the NHL. He did it despite being unable to see out of his right eye due to a slap shot that shattered his retina in his final year of juniors in 1955. But O'Ree hardly lacked vision when it came to pursuing his dreams of playing hockey.
Ironically, O'Ree followed in Robinson's footsteps by not pursuing baseball. He flirted with a baseball career and landed a tryout in 1956 with the Milwaukee Braves system in Waycross, Ga. Upon arriving in Atlanta, O'Ree knew baseball wasn't right for him but learned from seeing segregation for the first time. He entered the airport terminal seeing separate bathrooms and moved into an all-black dorm.
"Being from Canada, I never experienced this before," O'Ree said. "I started practicing down there, and all the time it was running through my mind was that I didn't want to be there. I wanted to play hockey."
The Braves were impressed with his play but felt he needed more seasoning. But O'Ree was ready to resume his hockey career. To O'Ree, baseball was mostly a fun way to keep his legs in shape in between hockey seasons anyway.
"I liked playing baseball," he said. "I was a pretty good shortstop and second baseman. I was good at the plate. I was a good runner, used to steal a lot of bases, but there was just something about hockey. When I put a pair of skates on and a hockey stick in my hand and started maneuvering the puck, I just became obsessed with it. I had that burning desire within me."
When O'Ree was cut a couple of weeks later, he left on a bus, spending most of the five-day trip to his hometown of Fredericton, New Brunswick relegated to the back and leaving only for an occasional sandwich or bathroom break. He ambled toward the front of the bus as it moved slowly north. This was progress, but there were much tougher challenges ahead.
Overcoming blindness in one eye was the least of his problems. Doctors told him he'd never play hockey again after losing 97 percent of the vision in his eye, but O'Ree was back on the ice a couple of months later after realizing he could still fly up and down the ice, deke with his stick and score goals.
"Even today, a lot of people don't realize the 21 years I played professionally, I played with one eye," said O'Ree, who later his eye replaced by a prosthesis. "They said that's impossible."
The left wing compensated by looking over his right shoulder for passes. He also hid the fact he wouldn't be able to pass eye exams administered by teams. They didn't care to test him as long as he was in top physical shape and played hard. That wasn't an issue for O'Ree, who started skating when he was 2 years old and had been playing organized hockey since he was 5.
O'Ree was an aggressive forward and a fearless backchecker. His speed helped him score nearly 500 goals in his professional career. But his ability and passion for the game didn't endear him to fans or opponents early on. O'Ree played in front of some antagonistic crowds in the Minors who would throw cotton balls or black cats on the ice and yell derogatory comments. Teams would try to injure him, and O'Ree had his teeth knocked out and his nose broken. The only choice he had was to fight back to earn respect.
"I fought because guys would take shots at your head, come up with the stick. They speared me and crosschecked me, and we didn't wear helmets or face shields back then," he said. "But I never fought once when guys made racial remarks because then I'd be in the penalty box all the time, and that wasn't the goal I had set for myself."
His goal was to make it to the NHL. With the Bruins beset by injuries and in need of a winger, they called up O'Ree from the Quebec Aces of the Quebec Professional League to meet them in Montreal for a game against the Canadiens on Jan. 18, 1958.
O'Ree didn't realize the significance of the event until much later -- and neither did the hockey press. Unlike Robinson's debut with the Brooklyn Dodgers on April 15, 1947, there was no buildup to the event nor was the moment publicized much afterwards. It received a one-sentence write-up in The New York Times: "The Boston Bruins, with a Negro, Billy O'Ree, in the line-up for the first time in National Hockey League history, scored once in every period tonight to beat the first-place Montreal Canadiens for the first time in eight games, 3-0." The bigger news was the Bruins shutting out the juggernaut Habs at the hallowed Forum.
O'Ree played one more game with Boston before being sent back to the Minors to finish the rest of the 1957-58 season. He returned to the NHL in 1960 for a 43-game stint that was much better received. The media dubbed him "the Jackie Robinson of hockey" and on Jan. 1, 1961, O'Ree scored the eventual game-winning goal in a 3-2 victory over Montreal.
In the third period, O'Ree broke away from his check, received a perfect pass from defenseman Leo Boivin and stickhandled past Canadiens' Tom Johnson and Jean-Guy Talbot before firing a 10-footer off the inside of the post past goaltender Charlie Hodge. The 13,909 Bruins fans at the Boston Garden gave O'Ree a two-minute standing ovation that still gets him teary-eyed.
"Every time I talk about it, I get a little choked up," he said. "It was a great moment in my life. I just felt like I was appreciated."
O'Ree totaled four goals and 10 assists with the Bruins in 1960-61, but his NHL career was over when the season ended. Boston traded him to Montreal, where his chances of cracking its talent-rich lineup were severely limited.
The Canadiens moved him to the Los Angeles Blades of the Western Hockey League, where he spent six productive seasons, thanks to a prudent position change. The Blades were short on right wingers, so his coach, Alf Pike, asked O'Ree if he would switch. It benefited O'Ree greatly since he no longer had to twist his head to find the puck, leading to scoring titles in 1964 and 1969 with the San Diego Gulls. He spent nine seasons with the Gulls and San Diego Hawks of the Pacific Hockey League. He retired in 1979 at the age of 44 and still makes his home in San Diego.
Although it took until 1974 before another black player, Washington Capitals winger Mike Marson, made it to the NHL, O'Ree's impact is unquestioned. His 45-game stint in the NHL opened up opportunities for a growing number of minorities in the league. The diversity in the league is represented in approximately 42 players, including Jarome Iginla, Mike Grier, Kevin Weekes, Anson Carter, Raffi Torres and Scott Gomez. There are also former NHL stars in three-time 30-goal scorer Tony McKegney and goaltender Grant Fuhr, who retired in 2000 and was inducted to the Hockey Hall of Fame in 2003.
Today, O'Ree is the director of the NHL Diversity Program. The 70-year-old travels the country, preaching to students that hockey is for everyone, hosting clinics and promoting the game he loves. It's a way for O'Ree to give back something that brought him so much enjoyment, even with the obstacles he had to overcome.
"I was happy that I was in the position to just break the barriers and open the doors," O'Ree said. "I never gave it much thought when it happened. Even today, I just feel very happy with the opportunity to give back. But it's a great feeling to be even mentioned it in the same category as Mr. Robinson."
Eric Justic is a contributor to MiLB.com.