Garcia, Morgan lead RubberDucks over Curve in opener, 5-1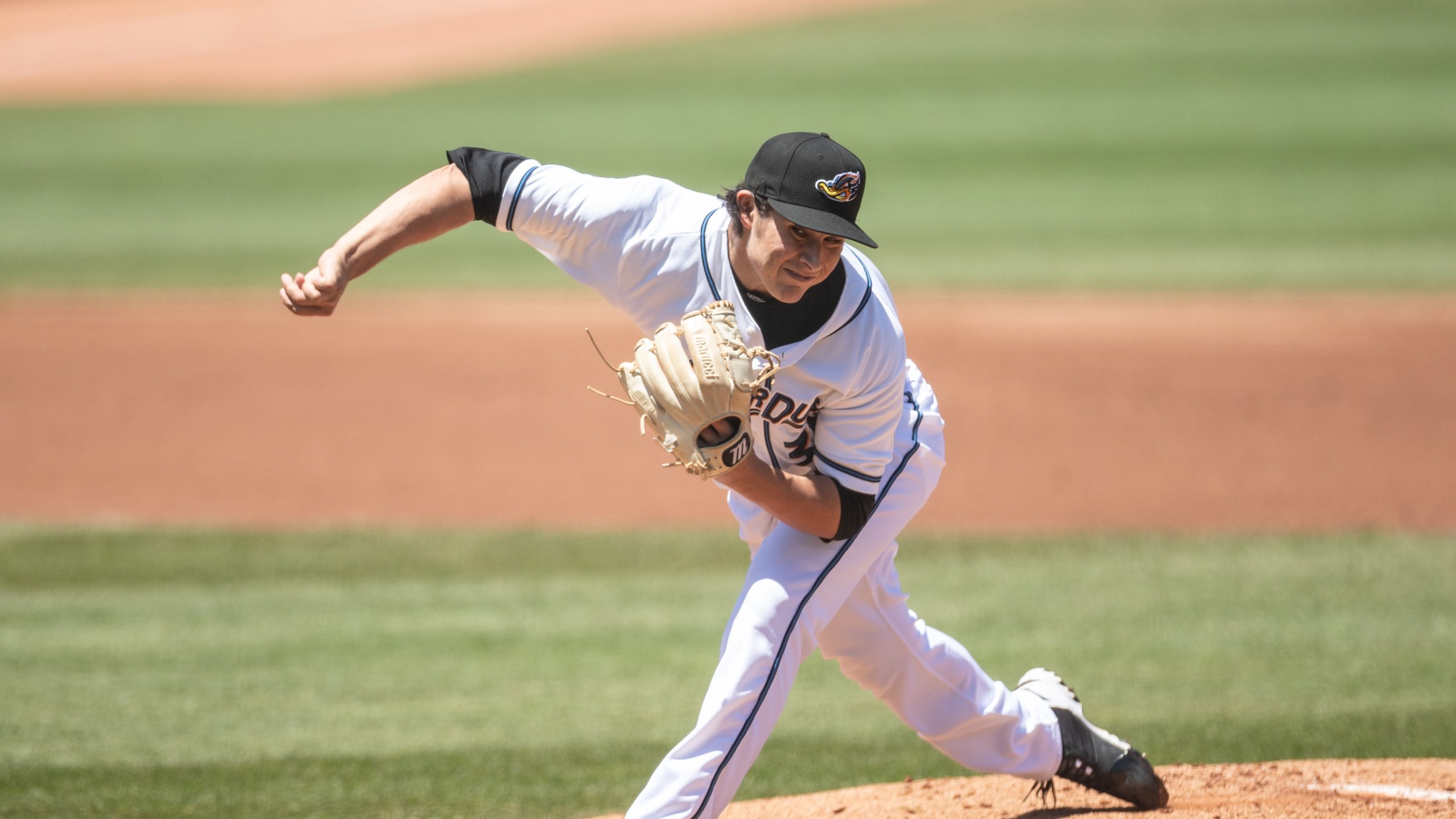 Eli Morgan pitched 6 2/3 scoreless innings on Friday in Altoona to win his fourth straight start for the RubberDucks. (David Monseur)
SummaryAkron RubberDucks first baseman Wilson Garcia homered in each of his first two at-bats against former RubberDuck Sean Brady for the Altoona Curve, and right-hander Eli Morgan (4-0) pitched 6 2/3 scoreless innings to win his fourth straight start in a 5-1 series-opening victory at Peoples Natural Gas Field in
Summary
Akron RubberDucks first baseman Wilson Garcia homered in each of his first two at-bats against former RubberDuck Sean Brady for the Altoona Curve, and right-hander Eli Morgan (4-0) pitched 6 2/3 scoreless innings to win his fourth straight start in a 5-1 series-opening victory at Peoples Natural Gas Field in Altoona on Friday night.
Turning Point
In the first inning, Brady hit left fielder Mitch Longo with his second pitch of the game. Shortstop Ernie Clement grounded into a fielder's choice, and center fielder Ka'ai Tom singled to center field, before Garcia launched a three-run home run down the left-field line. Trailing 3-0 before batting, the Curve never brought the tying run to bat the entire game.
Mound Presence
Morgan allowed a runner to second base in the first inning but none again until the sixth inning. He did not allow multiple baserunners until he gave up two hits in the seventh inning and was removed after allowing five hits and one walk with six strikeouts in 6 2/3 innings, matching his longest start of the season. Morgan has not allowed a run in his last 10 1/3 innings. In his Double-A debut, right-hander Robert Broom retired the final batter of the seventh inning and the first six he faced before allowing a ninth-inning two-out triple, hit batter and RBI single by shortstop Brett Pope. For Altoona, Brady lasted six innings, allowing all five runs on 10 hits with one walk and three strikeouts.
Duck Tales
Garcia led off the third inning with his second home run of the game to left field, marking his first multi-homer game this season and giving him nine homers this season. In the fourth inning, second baseman Tyler Friis doubled down the third-base line, went to third base on third baseman Alexis Pantoja 's groundout and scored on Longo's RBI single. Seven RubberDucks had at least one of Akron's 13 hits, with at least one in each of the first eight innings.
Notebook
After his six two-homer games in 2018, Garcia became the third RubberDuck with a two-home run game this season, joining Tom (May 11 and 29) and Daniel Johnson (May 10). Garcia also leads the Eastern League in extra-base hits (29) and RBI (43)…Clement had his first three-hit game of the season…After losing the first five games in the season series, Akron has won three straight over Altoona…At 31-28, Akron matched its season high of three games above .500…Time of game: 2:25…Attendance: 5,691.
On the Pond
The RubberDucks continue their series in Altoona with Saturday's 4:30 p.m. EDT doubleheader. RHP Evan Mitchell is scheduled to make his RubberDucks debut in Game 1 against LHP Domingo Robles (0-1, 4.09) for the Curve. Altoona right-hander James Marvel (4-5, 3.92) will start Game 2. The games will be broadcast on Fox Sports 1350 AM, the WARF iHeartRadio channel, and the TuneIn Radio App, and available on MiLB.TV.