With first 6-homer game in 11 seasons, Ducks rout Fightin Phils, 15-2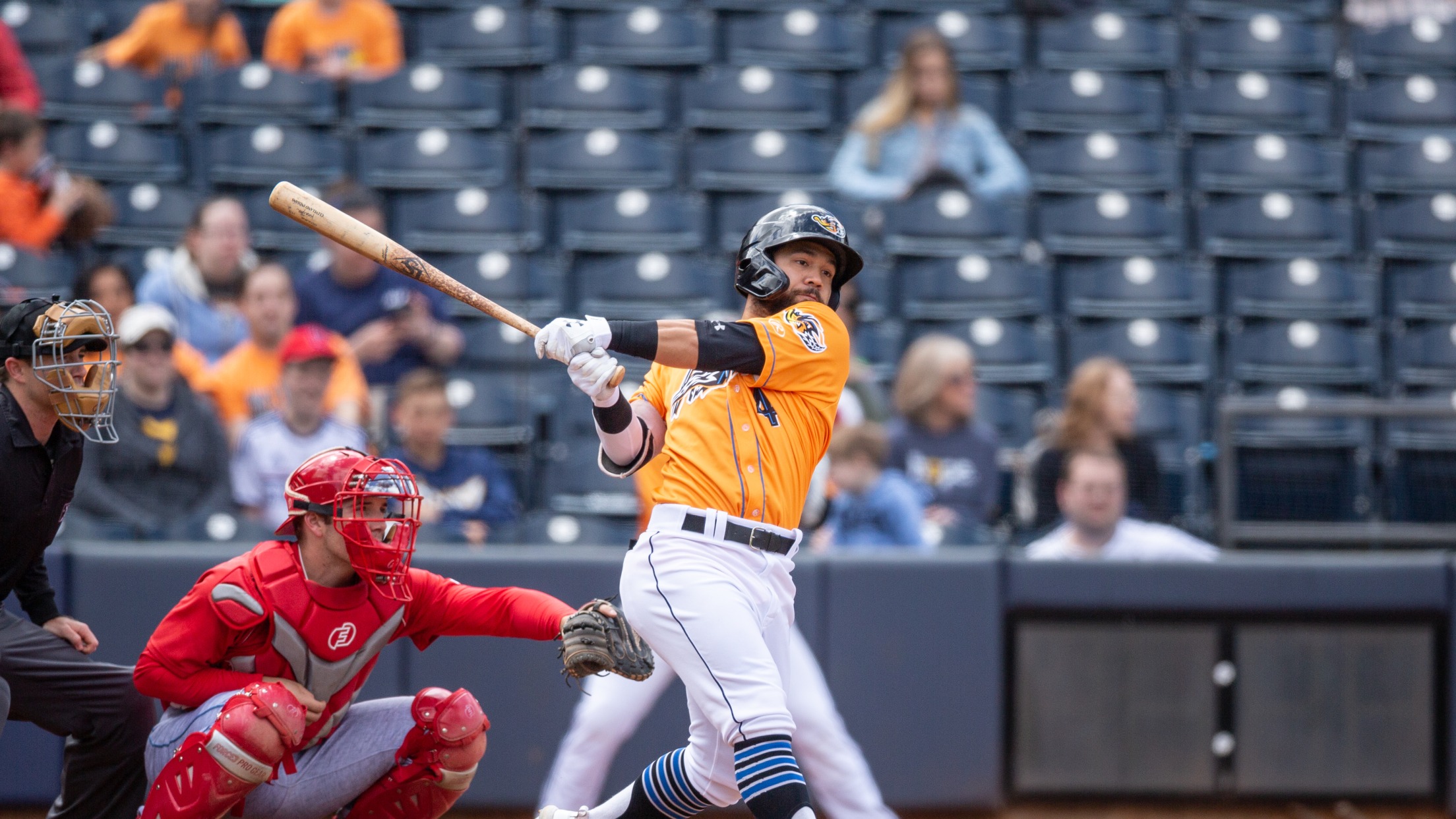 Ka'ai Tom had his second career two-homer game (and the second this season by a RubberDuck) on Saturday in Reading. (David Monseur)
SummaryRubberDucks left fielder Ka'ai Tom homered in each of his first two at bats, and Akron (15-20) hit six home runs in a game for the first time since July 2, 2008, giving right-hander Aaron Civale (1-0) a win in his season debut, a 15-2 road victory over the Reading
Summary
RubberDucks left fielder Ka'ai Tom homered in each of his first two at bats, and Akron (15-20) hit six home runs in a game for the first time since July 2, 2008, giving right-hander Aaron Civale (1-0) a win in his season debut, a 15-2 road victory over the Reading Fightin Phils (17-14) in the second game of the series Saturday night at FirstEnergy Stadium.
Turning Point
In the first inning against Reading right-hander Ramon Rosso, who entered with a 1.03 ERA - second-lowest in the Eastern League - Akron third baseman Alexis Pantoja hit a one-out single to right field, center fielder Daniel Johnson walked, and right fielder Connor Marabell hit a two-run home run - his second of the season - to left field for a 3-0 lead. In the bottom of the inning, the Fightin Phils hit three straight singles to load the bases against Civale, but he retired the next three batters without allowing a run. Reading never brought the tying run to the plate the rest of the game.
Mound Presence
After the first inning, Civale faced the minimum in the second through fourth. He allowed a walk and two-run home run to Fightin Phils catcher Austin Bossart in the fifth but completed the inning, allowing two earned runs on five hits and two walks with no strikeouts. Left-handers Rob Kaminsky (two innings) and Kyle Nelson (one), and right-hander Nick Sandlin (one), gave scoreless relief. For Reading, Rosso lasted 3 1/3 innings, allowing six earned runs on five hits, including three home runs. Three relievers each allowed a home run, before designated hitter Henri Lartigue pitched the ninth.
Duck Tales
Tom led off the second and fourth innings with solo home runs to right and left field, respectively, for his second and third of the season. Catcher Logan Ice hit his second home run - a three-run shot - to left-center field in the fifth inning, first baseman Wilson Garcia added a two-run home run - his fifth of the season and third against Reading - in the sixth inning, and designated hitter Nellie Rodríguez , making his 2019 debut, hit a three-run home run to left field in the eighth.
Notebook
Civale is the first 2019 RubberDuck to win his first start…Tom joined Johnson (Friday) as RubberDucks with a two-homer game…Garcia matched Johnson's feat of homers in back-to-back games (Johnson homered Thursday and Friday) and has a team-high 23 RBI…Johnson's fourth-inning RBI infield single gave him seven RBI in a four-game RBI streak…Akron's last six-homer game was a seven-homer game July 2, 2008, in a 10-6 win at Erie…Time of game: 2:57…Attendance: 5,598.