Woodpeckers Power Five Home-Runs in Double-Header Sweep of Mudcats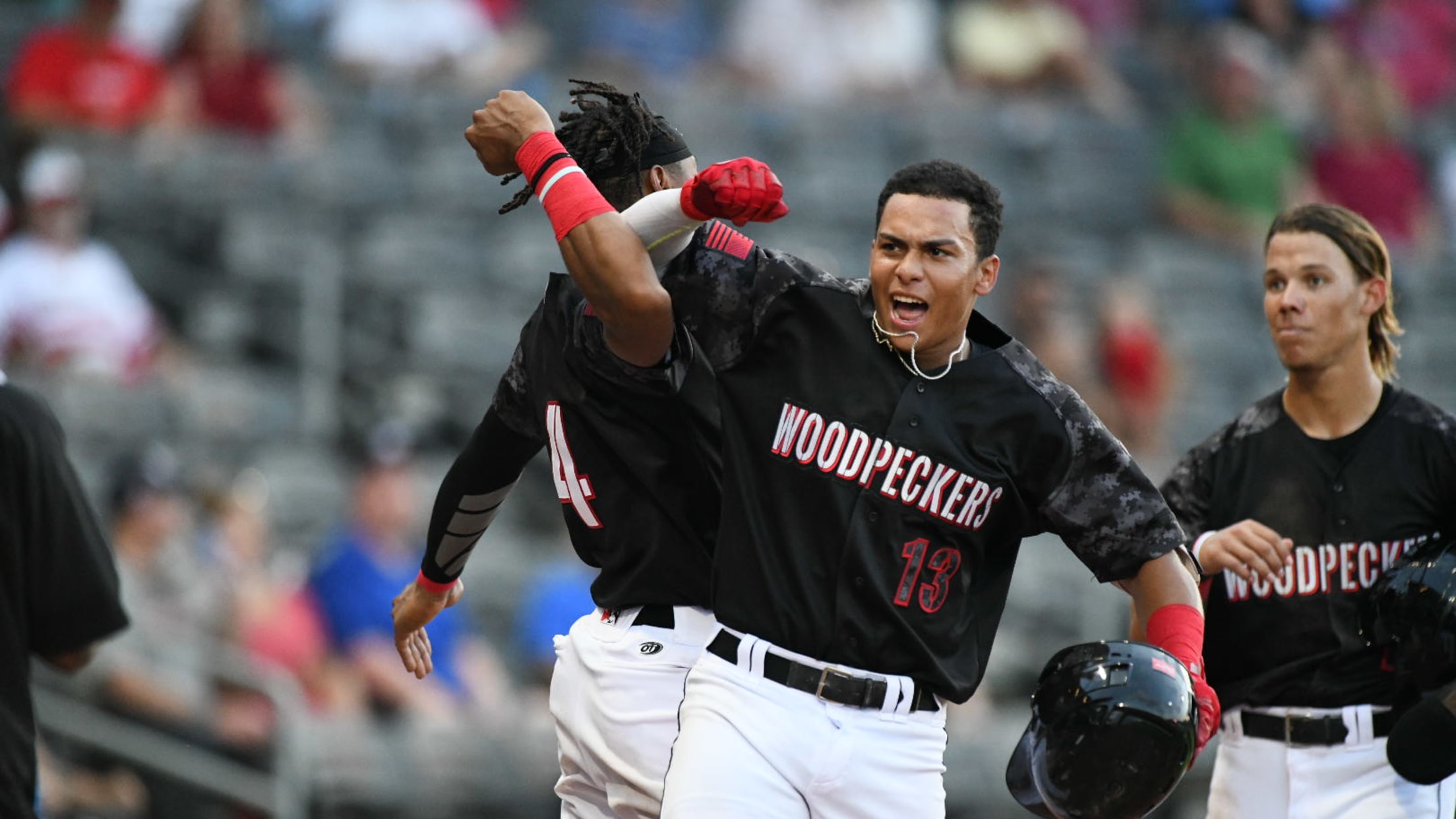 FAYETTEVILLE, NC - The Fayetteville Woodpeckers (20-29) offense clobbered five total home runs across both games of a double-header on Wednesday night, sweeping the Carolina Mudcats (28-21) with a 9-3 win in game one, and a 12-9 game two victory at Segra Stadium. GAME ONE The Woodpeckers struck first with
FAYETTEVILLE, NC - The Fayetteville Woodpeckers (20-29) offense clobbered five total home runs across both games of a double-header on Wednesday night, sweeping the Carolina Mudcats (28-21) with a 9-3 win in game one, and a 12-9 game two victory at Segra Stadium.
GAME ONE
The Woodpeckers struck first with an RBI single in the top second inning by Yeuris Ramirez to make it 1-0. Jordan Brewer added to the Fayetteville lead with a solo home run in the third and Yohander Martinez followed with his first homer of the year, a two-run shot off of Mudcats starter Jhoan Cruz (L, 3-5) to make it 5-1.
In the top of the fifth inning, Justin Dirden belted a two run home run over the center field wall, and Luke Berryhill blasted a two run homer of his own in the seventh. The long-ball was Berryhill's first at Segra Stadium and fifth against the Mudcats.
Shea Barry (W, 1-1) pitched a season high five innings, striking out two and surrendering two runs. Ernesto Jaquez was tagged with a run in the seventh, but stranded two runners on base to secure the 9-3 victory.
GAME 2
The Woodpeckers held three separate leads in the game and came from behind thanks to five late unanswered runs to win 12-9.
Nerio Rodriguez doubled home J.C. Correa to open the scoring in the first inning against Miguel Guerrero before Zach Daniels added on with an RBI single.
Carolina jumped ahead against Peyton Plumlee in the second with a grand slam from Andre Nnebe. Plumlee departed the game after 1.2 innings on the mound and a 4-2 deficit.
In the bottom of the second, J.C Correa tied the game with a two-run homer off Guerrero and Sean Mendoza followed later in the inning with an RBI single to take a 5-4 lead.
The Mudcats came back from 7-4 down with a five-run fourth inning, which included a three-run homer from Ashton McGee and a two-run shot from Zavier Warren. Fayetteville responded again in the home-half, tying the game at 9-9 on a Kenedy Corona sacrifice fly.
The final push came in the bottom of the sixth with Corona batting, Yeuris Ramirez at third, and Ronaldo Urdaneta at second. Corona rolled a ball to short, and after subsequent run downs of both Ramirez and Urdaneta, a fielding error on a throw home allowed both men to score and make it 11-9. Correa added the final run of the game with an RBI single, his third RBI of the night to cap the game at 12-9.
The series continues on Thursday night with first pitch scheduled for 6:30 p.m. ET. Fayetteville is scheduled to start RHP Jayson Schroeder and Carolina will counter with RHP Michele Vassalotti.