Wright Delivers Another Scoreless Start in Stripers' 2-1 Win Over Jacksonville
Kyle Wright earns 10th win, extends scoreless innings streak to 23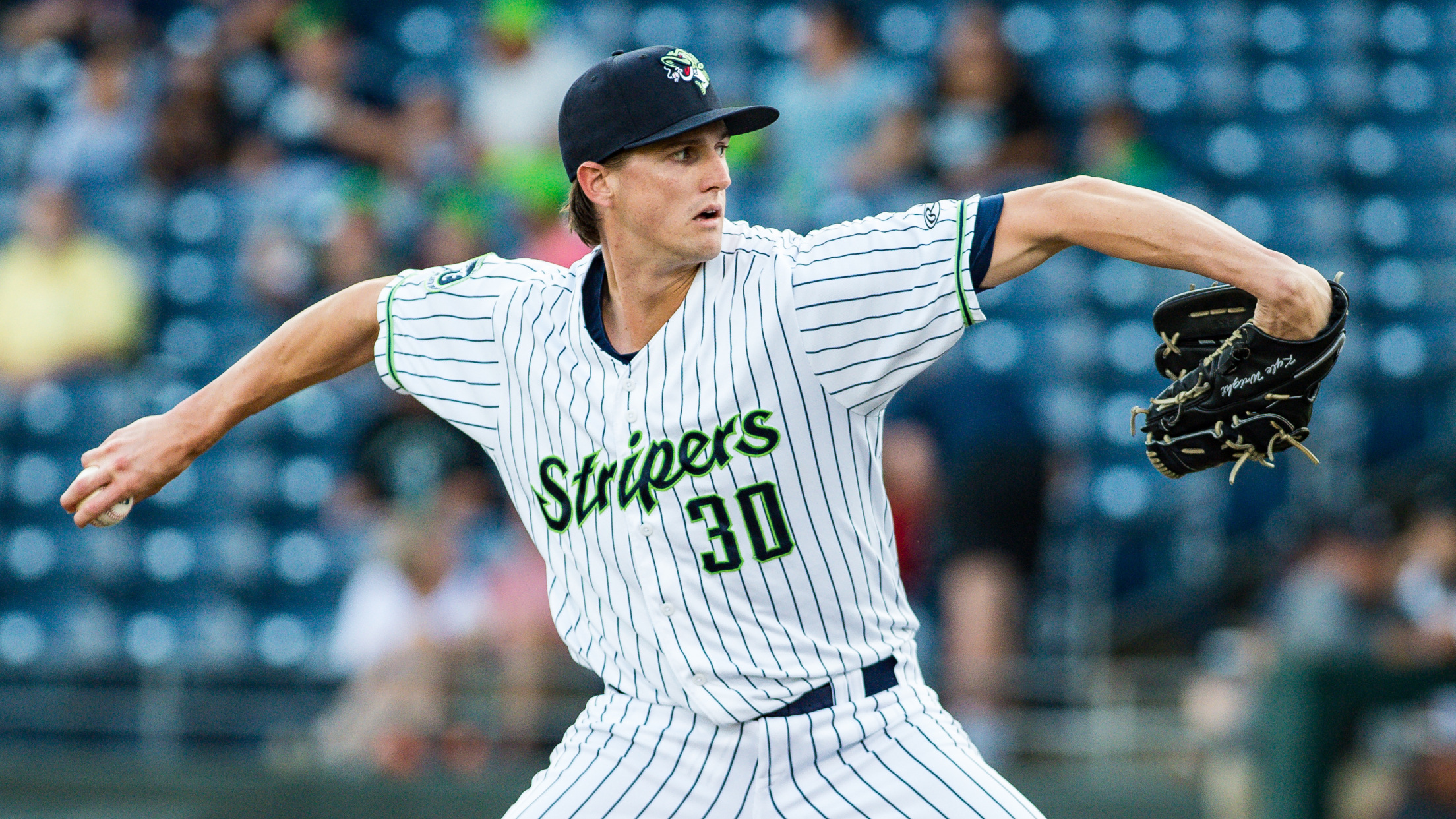 Kyle Wright tossed 7.0 scoreless innings in Gwinnett's 2-1 win over Jacksonville on Saturday night at Coolray Field. (Will Fagan/Gwinnett Stripers)
LAWRENCEVILLE, Ga. – Kyle Wright (W, 10-5) continued his dominance on the mound on Saturday night, tossing 7.0 scoreless innings in the Gwinnett Stripers' (71-57) 2-1 victory over the Jacksonville Jumbo Shrimp (74-55) at Coolray Field. Decisive Plays: Gwinnett scored both runs in the bottom of the fourth inning, taking
LAWRENCEVILLE, Ga. – Kyle Wright (W, 10-5) continued his dominance on the mound on Saturday night, tossing 7.0 scoreless innings in the Gwinnett Stripers' (71-57) 2-1 victory over the Jacksonville Jumbo Shrimp (74-55) at Coolray Field.
Decisive Play**s:** Gwinnett scored both runs in the bottom of the fourth inning, taking a 1-0 lead with Johan Camargo scoring on a throwing error by Jacksonville shortstop Connor Justus after Ryan Goins' fielder's choice. Phillip Ervin followed with an RBI single off Braxton Garrett (L, 5-4) to score Goins and give the Stripers a 2-0 lead.
Key Contributors**:** Wright celebrated his 26th birthday by tossing 7.0 scoreless innings, allowing five hits and one walk, and striking out eight. Sean Newcomb (S, 4) tossed a hitless ninth for the save. Camargo led the Stripers with two hits, going 2-for-3.
Noteworthy: Wright has not allowed a run over his last 23.0 innings pitched, the longest scoreless streak by a Stripers pitcher this season. He'll also finish the season with a 3.02 ERA and 137 strikeouts, which currently lead Triple-A East. Camargo extended his hitting streak to 11 games, batting .488 (20-for-41) with four doubles, a triple, four homers, seven runs, and 12 RBIs in that span.
Next Game (Sunday, October 3): Gwinnett vs. Jacksonville, 1:05 p.m. at Coolray Field (Sunday Funday with postgame kids run the bases, presented by Georgia United Credit Union). RHP Connor Johnstone (3-8, 4.98 ERA) for the Stripers vs. LHP Daniel Castano (6-2, 4.35 ERA) for the Jumbo Shrimp. Radio Broadcast: 12:50 p.m. MyCountry993.com.