Tides Announce 2019 Coaching Staff
Gary Kendall to manage Norfolk after eight-year stint in Bowie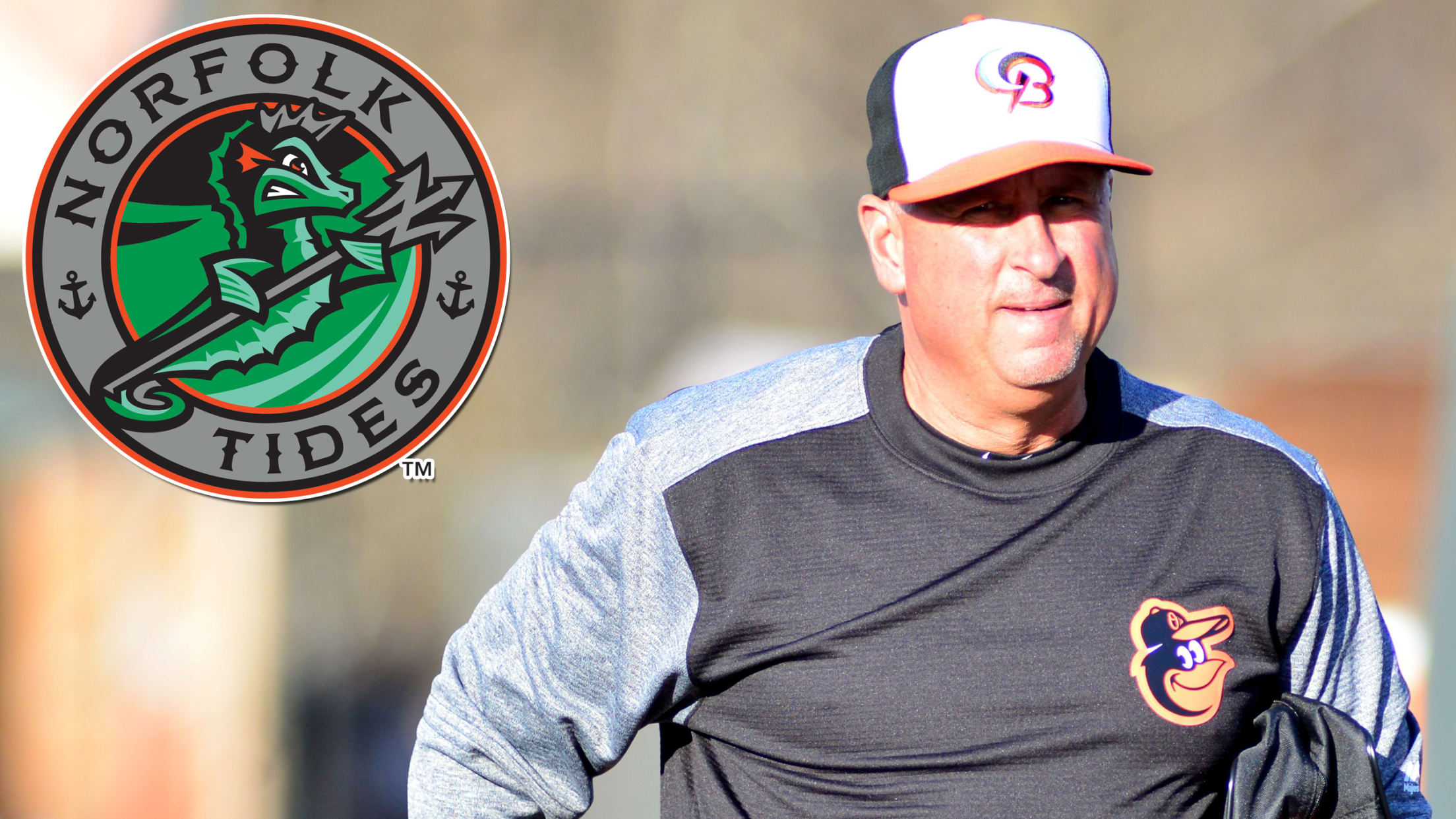 Gary Kendall has the franchise record for managerial career wins in Bowie history. (Bowie Baysox)
The Norfolk Tides and Baltimore Orioles today announced Norfolk's field staff for the 2019 season. Manager Gary Kendall will be joined by longtime Tides Pitching Coach Mike Griffin and Hitting Coach Butch Davis, who is returning to Norfolk for his second season with the club. Ramon Sambo is joining the
The Norfolk Tides and Baltimore Orioles today announced Norfolk's field staff for the 2019 season. Manager Gary Kendall will be joined by longtime Tides Pitching Coach Mike Griffin and Hitting Coach Butch Davis, who is returning to Norfolk for his second season with the club. Ramon Sambo is joining the Tides staff as the Field Coach, Chris Poole is returning as the Athletic Trainer, and Trevor Howell will serve as the club's Strength and Conditioning Coach.
Gary Kendall, 55, is entering his first year in Norfolk and his 20th season in the Orioles organization. He spent the previous eight seasons as the manager of the Double-A Bowie Baysox, where he set the club's franchise record with 570 wins. Kendall led the Baysox to a postseason appearance in three of his eight seasons with Bowie, including the franchise's lone Eastern League championship during the 2015 campaign. Following the 2013 season he skippered the Surprise Saguaros of the Arizona Fall League, helping lead them to the AFL championship. He's also managed at Delmarva, Aberdeen and Bluefield in the Orioles system, amassing 902 career managerial victories over his 19-year career.
Kendall is a 1982 graduate of Sparrows Point High School in Baltimore, and he went on to play baseball at the Community College of Baltimore and at Atlantic Christian College (NC), where he received his degree in 1987. Kendall will be just the third Tides manager since Norfolk became an Orioles affiliate in 2007, following Gary Allenson (2007-2011) and Ron Johnson (2012-2018).
Mike Griffin, 61, is entering his 11th season as Norfolk's Pitching Coach and his 12th season in the Orioles organization. He's twice been presented with the Orioles' Cal Ripken Sr. Player Development Award (in 2009 and 2010), and he's previously spent time as a coach in the Boston Red Sox and Cincinnati Reds organizations. As a player, Griffin appeared in 67 major league games over parts of five seasons with five different organizations, including 23 games for the Orioles in 1987.
Butch Davis, 60, is entering his second season as Norfolk's Hitting Coach after previously serving as Hitting Coach for the Double-A Bowie Baysox (alongside Gary Kendall). The 2019 season will be his 23rd season in the Orioles organization, as Davis has served in various capacities in the Baltimore minor league system since 1995. His coaching accolades also include a two-year stint as the First Base Coach for the Minnesota Twins from 2015-2016. An East Carolina University product, Davis played parts of eight MLB seasons with five different organizations from 1983-1994.
Ramon Sambo, 56, is entering his first season in Norfolk and his 13th season in the Orioles organization. He spent the last two seasons as a coach with the Class-A Aberdeen IronBirds, and he's registered 283 career wins as a manager in the Baltimore and Pittsburgh minor league systems. Sambo began his coaching career in 1997 after a 10-year minor league playing career that included stints in the Philadelphia Phillies, Cincinnati Reds, Milwaukee Brewers, Chicago White Sox and California Angels organizations.
Chris Poole, 30, is entering his second season as the Athletic Trainer for the Tides after spending the previous two years as an Assistant Athletic Trainer with the Orioles. He has been an athletic trainer in the O's organization since 2013, having previously spent time with the GCL Orioles and Aberdeen IronBirds. Poole received his Bachelor of Science degree in Athletic Training from Towson University and his Master of Science degree in Exercise Science with a concentration in Exercise Physiology from William Paterson University.
Trevor Howell, 35, is in his 6th year as the Strength and Conditioning Coach in Norfolk, and his 7th within the Orioles system. He graduated from Sonoma St. University before obtaining his Masters at Fresno Pacific University. Prior to joining the Orioles system, Howell played baseball and served as a Strength and Conditioning Coach in the German Professional League.