TIMELY HITS AND STELLAR RELIEF PITCHING PUT NATURALS ONE WIN AWAY FROM CHAMPIONSHIP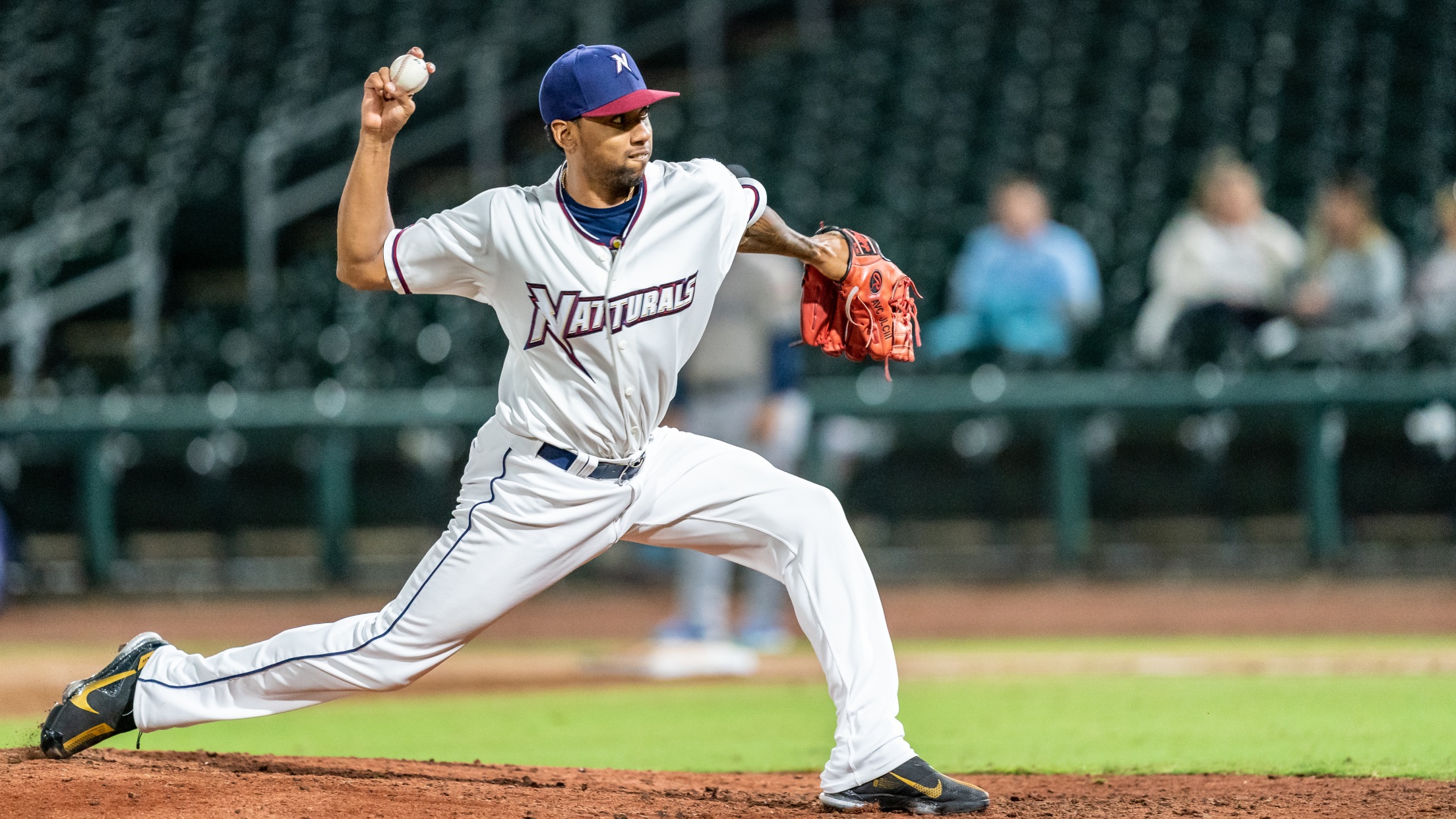 Jose Cuas, Andres Sotillet, and Garrett Davila combined for 5.0 innings of shutout relief in the Game 2 win over Wichita on September 22, 2021. (Alan Jamison)
The Northwest Arkansas Naturals rallied for timely hits and blacked up by a strong effort from the team's relief pitchers, beat the Wichita Wind Surge 5-1 Wednesday night, jumping out to a 2-0 series lead in the best-of-five Double-A Central Championship Series. After the game was scoreless through the first
The Northwest Arkansas Naturals rallied for timely hits and blacked up by a strong effort from the team's relief pitchers, beat the Wichita Wind Surge 5-1 Wednesday night, jumping out to a 2-0 series lead in the best-of-five Double-A Central Championship Series.
After the game was scoreless through the first three, the Naturals jumped onto the scoreboard in the fourth, when Vinnie Pasquantino (MLB Pipeline's No. 18 Royals' prospect) doubled home Jeison Guzmán (MLB Pipeline's No. 21 Royals' prospect) for a 1-0 lead and they remained ahead all night. With two outs, Freddy Fermin placed a single behind second base that scored Guzmán and Seuly Matias for at the time a 3-0 advantage.
Meibrys Viloria added two more runs of insurance in the sixth, singling home Guzmán and Pasquantino to bring the score to the 5-1 that held to be final.
Yefri Del Rosario pitched four scoreless innings and after allowing a runner to reach base in the fifth gave way to Garrett Davila, who allowed the run to score but retired all six batters he faced, including the last four on strikeouts.
Andres Sotillet followed Davila, with two scoreless innings and three strikeouts of his own, bridging the gap to the ninth, where Jose Cuas shut down the Wind Surge for the second straight night and recorded the final three outs for the victory.
All seven hits Wichita recorded came off of Del Rosario, with the three bullpen arms combining for 5.0 hitless innings with eight strikeouts.
The top six hitters in the Naturals lineup were responsible for the night's offense, as all six had at least one hit, with Guzmán going 3-for-4 and both Pasquantino and Matias offering two-hit nights. Across the first two games, Fermin has driven in five runs, while Viloria has reached base six times in nine plate appearances.
One win away from the club's second league title and first since 2010, the Naturals travel to Wichita on Thursday to continue the series with the Wind Surge with Game 3 on Friday night at 7:05 p.m. CT from Riverfront Stadium. Left-hander Drew Parrish will have the start as Northwest Arkansas tries to sweep Wichita to claim the championship.