NATURALS SPLIT DOUBLEHEADER WITH TRAVS TO FINISH SERIES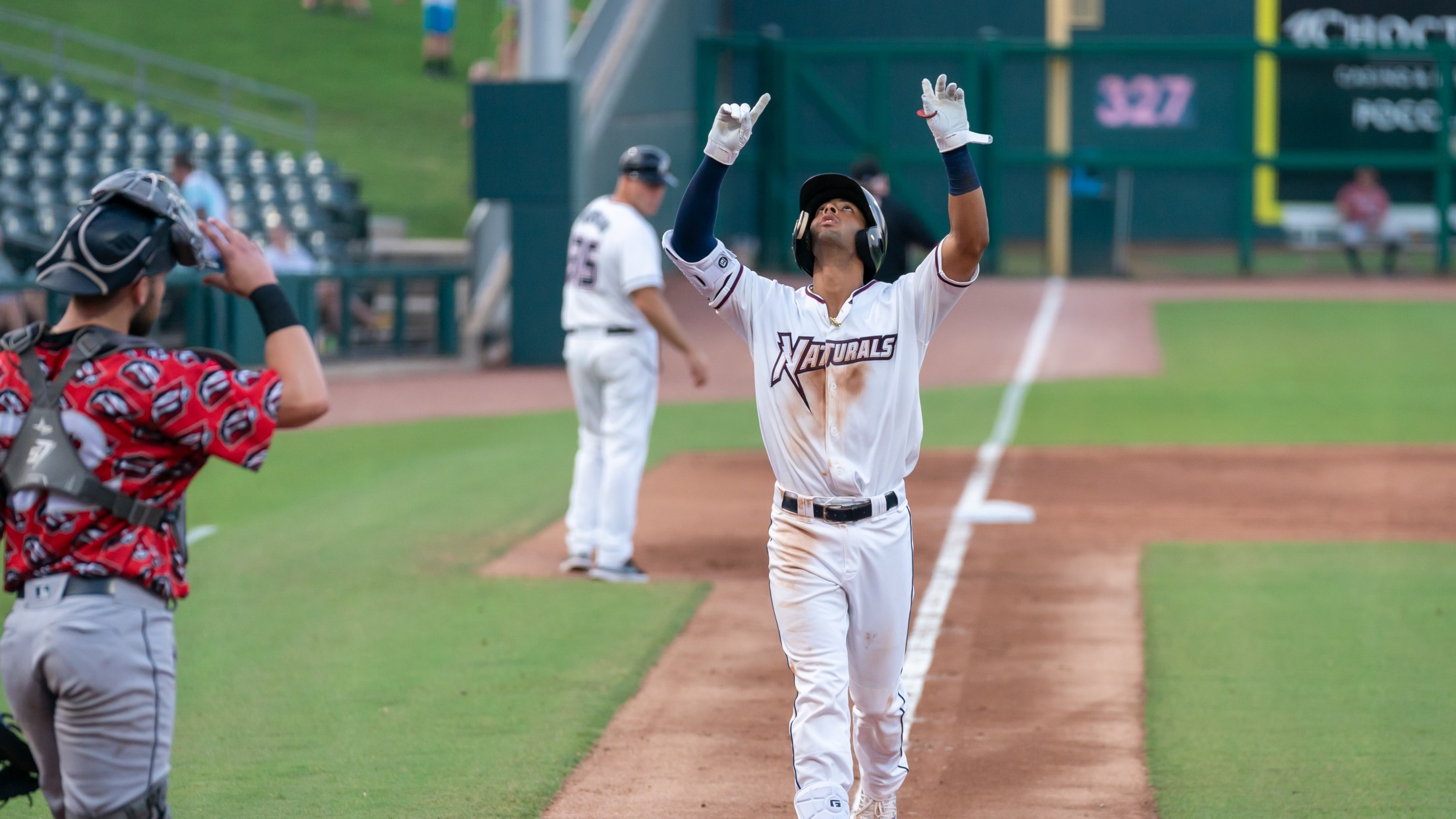 MJ Melendez connected on his 19th home run of the season in the Game 1 victory over the Travelers. (Tim Campbell)
The Northwest Arkansas Naturals split a Sunday doubleheader with the Arkansas Travelers, winning the first game 4-2 and dropping the second, 10-6. Austin Cox* (MLB Pipeline's No. 10 Royals' prospect) earned his first Double-A win in Game 1, pitching five one-run innings while striking out five Travelers hitters. Stephen Woods
The Northwest Arkansas Naturals split a Sunday doubleheader with the Arkansas Travelers, winning the first game 4-2 and dropping the second, 10-6. Austin Cox (MLB Pipeline's No. 10 Royals' prospect) earned his first Double-A win in Game 1, pitching five one-run innings while striking out five Travelers hitters. Stephen Woods Jr. earned his first save of the season, throwing the last two innings while striking out five in the Naturals' 34th win of the year.
Northwest Arkansas scored two in the second and two in the third, with catcher MJ Melendez (MLB Pipeline's No. 13 Royals' prospect) blasting a two-run shot in the third, his Double-A best 19th homer of the season. He is now back in a tie for second place in Minor League baseball for the most home runs.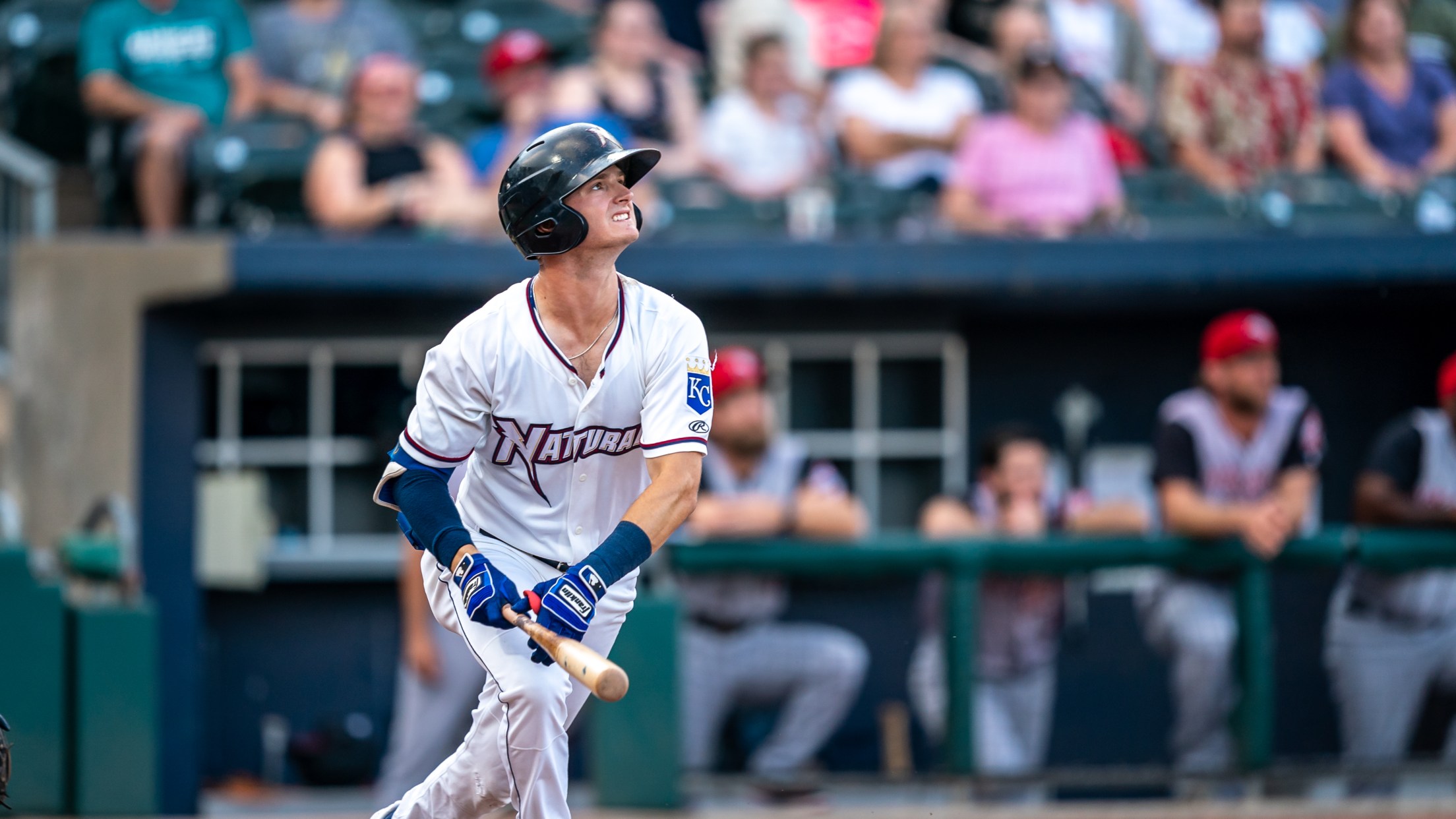 The long ball mojo continued into the second game, as Clay Dungan connected on the first pitch in the bottom of the first inning, nearly hitting the Arvest Ballpark Train and depositing the ball over the Naturals bullpen for his seventh homer of the season, his third lead-off shot this year.
The Travelers took control in the second inning with a three-run home run and did not look back, including a five-run sixth inning.
As they always do, the Naturals did not give up without a fight, scoring two runs in the fifth and three more in the seventh.
Brett Bewley stretched his hit streak to six games, with an RBI double in the first game and both a single and RBI groundout in the second game, giving him six runs batted in over the week-long series.
Bobby Witt Jr. (MLB Pipeline's No. 7 prospect in baseball) ended his tenure in Northwest Arkansas on a high note, doubling home a run in the fifth inning of the second game, his 50th run batted in of the season with the Naturals.
In the bottom of the seventh, the Naturals began the inning with a Bewley single, saw Dungan reach on an error, then with two outs, the club drew three straight walks to plate two runs and bring the tying run to the on-deck circle. However, the rally fell short and the Travelers forced a series split.
After an off day on Monday, the Naturals will travel west to Tulsa for seven games in six days at ONEOK Field against the Tulsa Drillers, beginning Tuesday at 4:00 p.m. for a doubleheader, finishing a suspended home game from early June and then beginning the regularly scheduled six games on the road.