10-RUN 2ND INNING POWERS NATURALS TO 14-7 WIN OVER WICHITA
Pasquantino, MLB Pipeline's No. 19 Royals' prospect, hits ninth Double-A home run
Despite trailing after the first inning, the Northwest Arkansas Naturals scored ten runs in the second inning and held a lead the rest of the way, in a 14-7 win over the Wind Surge in Wichita on Thursday night. The second consecutive win for the Naturals over the Wind Surge
Despite trailing after the first inning, the Northwest Arkansas Naturals scored ten runs in the second inning and held a lead the rest of the way, in a 14-7 win over the Wind Surge in Wichita on Thursday night.
The second consecutive win for the Naturals over the Wind Surge brings the club a game closer in the Double-A Central standings, now just 3.5 games out of both first place in the North Division and the first playoff seed.
Wichita struck for a pair of runs in the first inning but Northwest Arkansas sent 13 batters to the plate with just three hits and six walks in the inning. Jimmy Govern singled in two runs with one out and the bases loaded to tie the game at 2-2, Brewer Hicklen scored on a balk to give the Naturals the lead, then Clay Dungan scored Govern on a fielder's choice.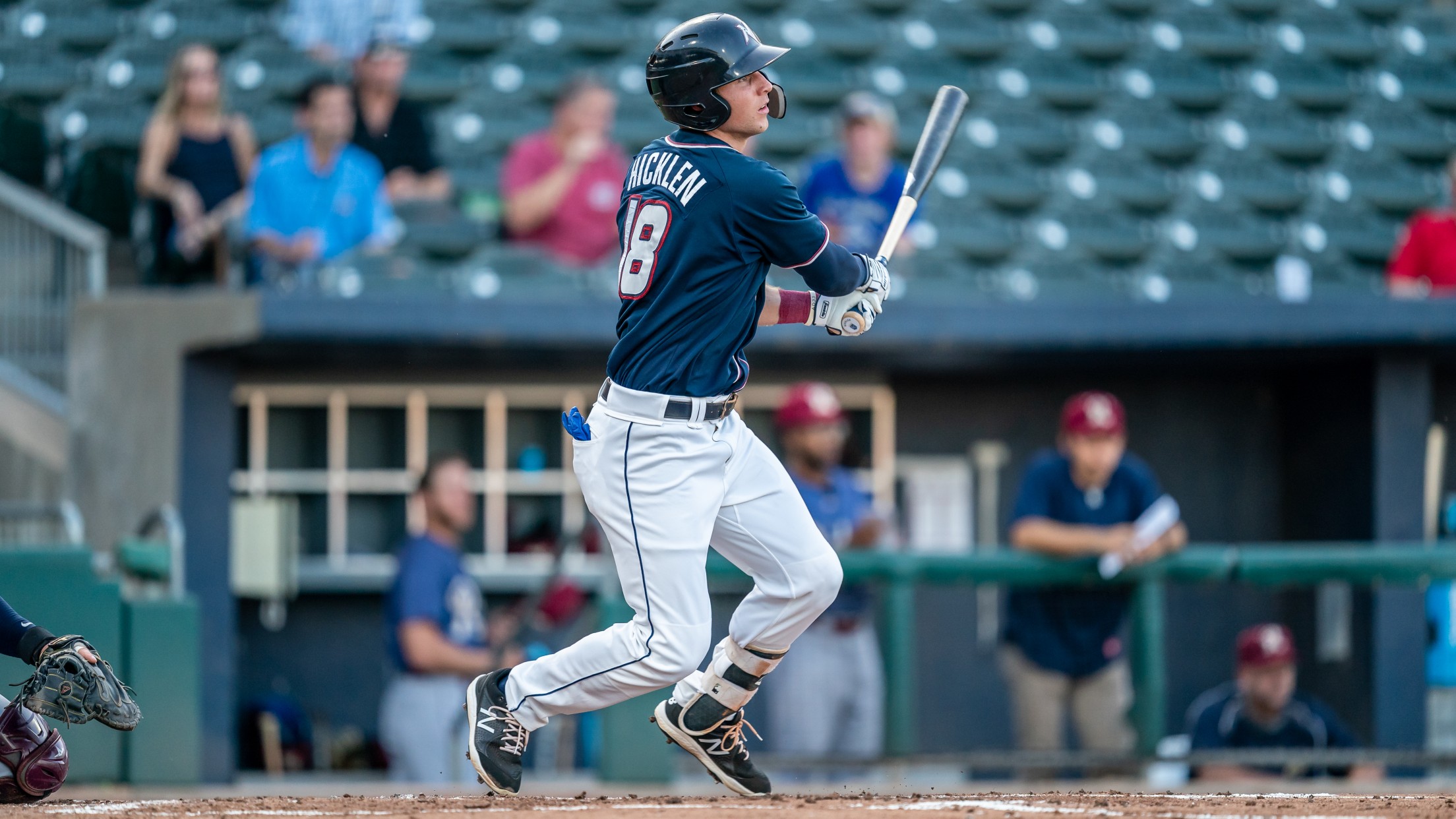 Jeison Guzmán (MLB Pipeline's No. 21 Royals' prospect) laid down a sacrifice bunt with runners on the corners to score Blake Perkins. Three consecutive walks and a pair of wild pitches scored one more run and with the bases loaded, Hicklen crushed a grand slam to left-center field, his 15th home run of the season and the team's sixth grand slam of the season.
Two more runs crossed the plate in the fourth inning, on Vinnie Pasquantino's (MLB Pipeline's No. 19 Royals' prospect) ninth home run of the season, a two-run shot that scored Guzmán.
Pasquantino added another run in the eighth when he drove in Perkins with a single, then Austin Dennis singled home Hicklen in the ninth for the 14th and final run of the night.
Pasquantino finished the game 3-for-4 with three runs batted in and two runs scored, while Guzmán, Hicklen, Dennis and Meibrys Viloria each recorded two hits. Dennis went 2-for-2 coming off the bench and Govern, who he pinch-hit for in the 7th inning, drove in a pair of runs.
Backed by sturdy run support, starting pitcher Nolan Watson fired 4.0 innings, allowing four runs (three earned) on four hits while striking out three.
C.J. Eldred made his first appearance of the week and earned his second win in as many outings with the Naturals this season, pitching 3.0 scoreless innings and striking out four to improve his record to 2-0.
Garrett Davila and Josh Dye followed Eldred with an inning each of their own and while Davila allowed three runs in the eighth, Dye struck out a pair in the ninth to preserve the seven-run win.
Still 1.5 games back of the Frisco RoughRiders and the Arkansas Travelers with nine to play, Northwest Arkansas (59-51) looks to secure at least a split with Wichita (63-48) on Friday night at 7:05 p.m. as Austin Cox (MLB Pipeline's No. 13 Royals' prospect) returns to the mound.