Emeralds reach Northwest League Finals
Strand tying run on third in ninth to oust two-time defending champs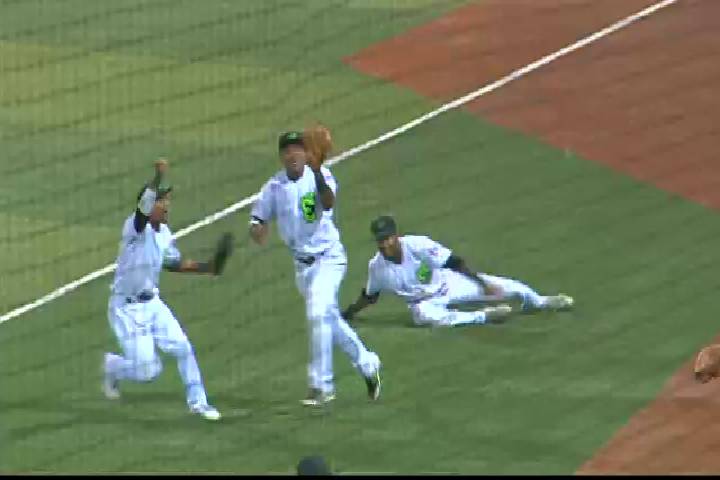 By Michael Peng / MiLB.com | September 10, 2016 3:31 AM
The Northwest League will crown a new champion for the first time in three years, and it took everything from the Eugene Emeralds to make it happen.
Erling Moreno struck out seven over five innings as Eugene dethroned two-time defending champion Hillsboro with a 2-1 victory in the decisive third game of the semifinals at PK Park.
The Emeralds, who had the Northwest League's best regular-season record at 54-22, rallied for a berth in the Finals after dropping Game 1 in extra innings on the road.
"You could feel the atmosphere at Hillsboro that they are back-to-back champions," Eugene manager Jesus Feliciano said. "[Manager] Shelley Duncan has done a great job there and even though their players are not the same from last year, they played like champions. We have to beat the champions to be champions, and that's what happened."
The Emeralds scored the go-ahead run in the third inning when Wladimir Galindo collected his second RBI of the game with a groundout to short. Moreno (1-0) protected the lead, allowing a run while scattering six hits and three walks.
"Our pitching has done a tremendous job all year," Feliciano said. "They have carried us to where we are right now. Moreno tonight was outstanding. He got into some tough situations, but he stepped up and gave us five huge innings."
Jed Carter, Michael Knighton and Wyatt Short combined for four scoreless innings following Moreno. Together, they kept Hillsboro 0-for-14 with runners in scoring position, including the eighth and ninth when the Hops got the tying run to third.
"We have no doubt that we can put away a game in late situations with those guys out there," Feliciano said. "We knew our chances were high. Knighton got a big double play with two on and no out in the eighth and Short got out of that inning. After the leadoff guy got to second in the ninth, Short made some huge pitches to get out of that, too."
The Emeralds, who set a Northwest League record with 15 consecutive wins in August, will face Everett in the best-of-3 Finals starting on Sunday. Game 1 will be at Everett with the remaining two at PK Park.
"Everett had a great second half and beat us four out of five in our series, so we know what kind of team they have," Feliciano said. "They've played great and that's the reason they are playing in the championship. We are expecting a lot from them, but we are confident in the way we are playing and I know we are going to have a good series."
In other playoff action:
AquaSox 8, Indians 0
Matthew Festa allowed six hits and a walk over seven innings, while Nick Zammarelli paced Everett with three RBIs as the AquaSox completed a two-game sweep. Box score
Michael Peng is a contributor to MiLB.com. Follow him on Twitter @MichaelXPeng This story was not subject to the approval of the National Association of Professional Baseball Leagues or its clubs.
View More