Filia helps force decisive Northwest finale
Mariners prospect rips three hits, drives in three as AquaSox tie series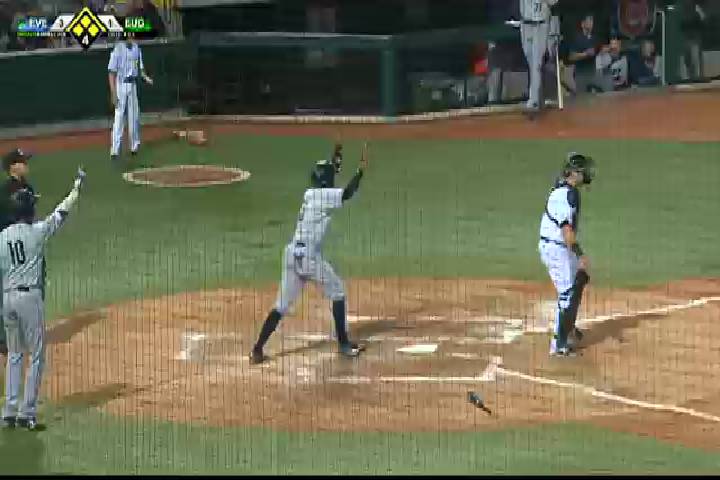 By Tyler Maun / MiLB.com | September 13, 2016 3:14 AM
There's little room for error in the Northwest League Championship Series. If you're down one game, like Class A Short Season Everett was entering Monday night, you're one game from being done. Respond the way the AquaSox did in Game 2, and the season reaches a winner-take-all apex.
Behind three hits and three RBIs from league Most Valuable Player Eric Filia, visiting Everett beat Eugene, 7-1, to force a decisive Game 3 to crown the circuit's 2016 champions.
"I love games like this," said Filia, who batted .362/.450/.496 in 68 games for the AquaSox during the regular season. "I love the atmosphere, and I love being up against your back because it brings out the best of you. It brings out who you truly are and you see what character you truly have."
Filia was in the center of the action for Everett early in Game 2. The UCLA product singled to center field in a two-run first inning and followed with a two-RBI single to center in the fourth as the AquaSox plated four more. He lifted a sacrifice fly to left in the sixth for his team's final run and doubled to left in his last at-bat in the ninth, the only Everett extra-base hit of 12 total knocks.
After their Game 1 defeat, the AquaSox didn't panic with their season on the line. Instead, they drew on experience that, for many, came not too long ago.
"It's funny because we've got a bunch of college guys, and we've been through a lot of that, one loss and we have to come back," Filia said. "We've experienced it on a three-day weekend (in college-style series), try to win the weekend and stuff like that. We went in with the same confidence as we had all year, and we played our game, stuck to our gameplan. We just went out there, played our game, had some fun and came out with the 'W.'"
Everett's pitcher fed off the support. Ljay Newsome (1-0) turned in his longest start since he went seven innings in his first outing of the year. He allowed one run on five hits while striking out six over six frames.
"He stepped up," Filia said. "He did a great job. He pitched very, very well, and that's what we needed out of him. It kept us in the ballgame, and with the bullpen coming in and shutting the door, we couldn't ask for anything better."
Relievers Michael Koval, Joselito Cano and Paul Covelle pitched a scoreless inning apiece to send the series to Game 3, back at Eugene's PK Park on Tuesday night.
"We're excited," Filia said. "We've got one more day, one more game, and it's going to be very exciting. Nine innings is a long game, but as long as we win each inning and win each pitch, we'll put ourselves in a great situation. We've battled our butts off throughout the whole year, and it comes down to tomorrow."
Tyler Maun is a contributor to MiLB.com. Follow him on Twitter @TylerMaun. This story was not subject to the approval of the National Association of Professional Baseball Leagues or its clubs.
View More