Prospect Q&A: Swanson reflects on trade
Braves' No. 1 prospect, 2015 top Draft pick talks up Hillsboro, hoops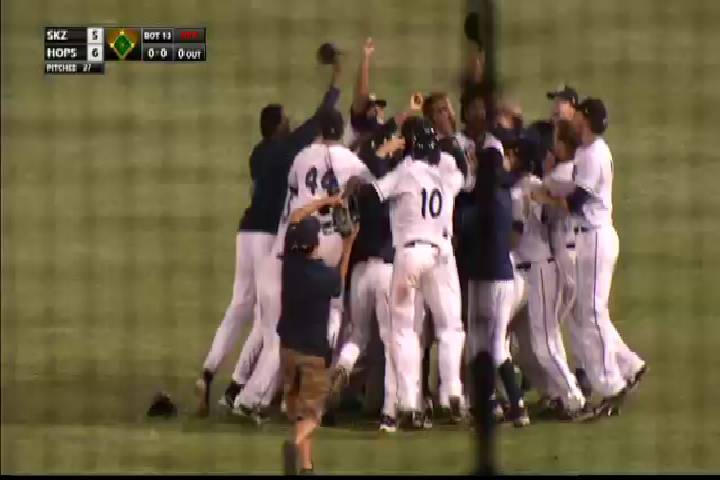 By Danny Wild / MiLB.com | January 29, 2016 10:00 AM
Dansby Swanson became one of the biggest names in baseball last year when the D-backs made him the No. 1 overall pick of the 2015 Draft. A shortstop from Vanderbilt, Swanson's professional career began after taking a pitch off his jaw in Arizona, a freak injury that delayed his Minor League debut. The 2014 College World Series Most Outstanding Player and 2015 Golden Spikes Award finalist overcame the concussion and hit .289 with a homer, 11 RBIs and 11 extra-base hits for Class A Short Season Hillsboro last summer in what he hoped would be the start of a long and successful career with Arizona.
On Dec. 9, about five months after receiving a $6.5 million signing bonus, he was traded.
"It blindsided me," Swanson said. "I don't think anyone saw it coming."
Swanson was a key piece in a deal that sent Ender Inciarte and Aaron Blair to Atlanta for Shelby Miller and Gabe Speier. It was a move that shocked many, including Swanson.
"We wanted to make it painful for [the D-backs] with players that we got back," Braves president of baseball operations John Hart told MLB.com. "They are players that we think are going to be a big part of our future."
Swanson has moved on and we caught up with him after a workout at Vanderbilt, where he's been lifting weights alongside David Price in anticipation of suiting up for his favorite childhood team.
MiLB.com: How's the offseason been going?
Dansby Swanson: It's been going really well, good to be back at Vandy with the guys working out every day. I've got a good routine and rhythm and it's exciting to go into an offseason, this being my first one. I'm taking full advantage of everything here and looking forward to the season. Just focused on getting better for the new year.
MiLB: So you're back at Vanderbilt now to work out?
Swanson: Yeah, Sonny Gray, David Price, Pedro Alvarez -- anyone who played at Vanderbilt, they work out here. There's 20-25 of us.
MiLB.com: You've had a month or to so reflect on this -- how stunned were you when you heard you'd been traded last month in the Shelby Miller deal?
Swanson: Stunned is a pretty accurate word. It took me a while to understand everything that was going on. Some people thought I was upset -- that's false. It's one thing, you hear you got traded and you don't believe it. It takes you a while to wrap your mind around what's happening. You kind of set your mind to being loyal to a college team and then to another team like the D-backs, and you want to make an impact with that organization. You have your sights set on reaching the Majors with that team and having that success. So something like this catches you off guard. I'm trying to set myself, my mind-set, but I'm excited about what's ahead, especially being at home [with Atlanta]. I'm not saying it's a dream come true, but that's as close as it can get.
MiLB.com: That was actually my next question -- you're from Georgia, isn't this sort of a dream scenario for you, to play for your favorite team growing up?
Swanson: I think the coolest part to me is being a part of the Atlanta sports culture. That's great to me, I grew up an Atlanta Hawks fan, so to be able to contribute to that culture is very special. Being able to give back to the community is something I'm looking forward to.
MiLB.com: How excited are you to get to Spring Training and start this new chapter? Do you know where in the Minors you'll start the season?
Swanson: I have no idea. It's a good opportunity to be around all the guys and get to know everyone and see what it's like to be a part of that organization. They're trying to get a team that lasts for a while, and to see it happen in front of my eyes, I think it's going to be a special group. I'm looking forward to putting together some good teams.
MiLB.com: Who was your favorite player growing up?
Swanson: I've always been a Nomar Garciaparra fan. He was probably one of my favorite shortstops.
MiLB.com: Take me back to the day you signed with the D-backs -- apparently your contract was finalized with only 10 minutes remaining before the signing deadline. What was that day like, to go through that process?
Swanson: I always had good faith the deal would get done. I wasn't concerned, but you never know what can happen. That was the only thing that kept me on edge. At the end of the day, I had a good feeling things would come through and I'm thankful for the Diamondbacks for everything they did for me. There's no way I can be mad about them.
MiLB.com: What was Draft Day like for you? There's not many people out there who can relate to being the No. 1 overall pick and how that must feel.
Swanson: I kind of had a really weird Draft day, I was playing that day. We got done with the game, and then it's Draft time. I've had other things on my plate before, but that was very unique and special. Not many people can have that experience.
MiLB.com: What was last season like at Hillsboro? How'd you like playing there, was Minor League life what you expected?
Swanson: Hillsboro was the greatest place you could start a career. The fans and the organization is incredible, they treat you so well. You hear about the Minor League life -- "It's not any fun, it's a grind" -- but they truly made it fun. I was around a great group of guys. I couldn't have asked for anything more.
MiLB.com: Was it weird to be thrown into that situation, the center of attention, all the cameras pointed at you, all the autograph seekers screaming at you?
Swanson: I think the SEC Network helped get me used to those kind of things, just having the cameras on you. I'm not going to say I got used to it -- I'm at a different level now -- but the SEC Network is a huge thing and the cameras were always around.
MiLB.com: We found some Hops fans praising you on social media for your willingness to stay after games and sign for everyone. Is that something you've always wanted to do, do you enjoy interacting with fans?
Swanson: There's a lot of reasons why I did that. I'm not a huge fan of signing before games -- I'm there to play the game, so after is the best time for me personally. And they invest their money to watch you play, so you might as well give up your time and give back. It's one of those things where you never know whose day it could make and the impact it could have. The things you say and do mean more than you'd expect. And my parents would come to the games, so I'd come walk over and say hello afterwards and the kids would gather there.
MiLB.com: We saw some photos of you running out with a sword as the "12th Titan" during a Tennessee Titans game on Dec. 6, I guess right before the trade actually. What was that like, how'd you get involved with that?
Swanson: They're in Nashville and my girlfriend's sister works for the Titans, so they contacted me and said 'Hey, do you wanna be the 12th Titan?' You go out to the field and put the sword in the logo. It was pretty neat. They put me in a box to watch the game, it was pretty cool to go with my friends and be able to enjoy the game and meet people.
MiLB.com: You were your high school basketball team's captain before focusing on baseball at Vanderbilt. Third all-time at Marietta with 171 three-pointers. Do you miss playing? Do you think you could have had a career in hoops if you'd gone that route?
Swanson: I dunno if career is the right word, but I could have done something after high school. Basketball is my greatest passion in life, love watching and playing -- I still wish I could play now, it's something I love doing. There's nothing that can be like shooting around.
MiLB.com: So do you still mess around in the driveway or at the gym?
Swanson: We shoot around a lot, Vandy is always open for us. We shoot around quite a bit.
MiLB.com: You majored in Organizational Behavior and Management in college. What does that involve, and what do you think you'd be doing if you weren't playing baseball?
Swanson: Honestly, I have no idea. I'm sure I'd find something. Basically it's a bunch of finance and managerial and psychology, understanding people and how business can work behind that. It's pretty interesting stuff.
MiLB.com: So what's the story with your Twitter name? (@LieutenantDans7)
Swanson: I guess a pretty funny one. Freshman year I broke my foot and was on a scooter. I didn't have a Twitter, so I made one and we came up with it. It had a ring to it, it was funny. I was hurt at the time, I was rolling around on the scooter, so it made it fun. People loved it. (Editors' note: the name references the wheelchair-bound character Lieutenant Dan from the film "Forrest Gump").
MiLB.com: You bragged about your cooking skills on Twitter. What other hidden talents should fans know about you?
Swanson: Oh lord, I don't have many hidden talents at all (laughs). I can read and follow directions. I've cooked a bit in the offseason, but I don't think I have any hidden talents. I've surprised myself with what I'm good at.
MiLB.com: Favorite TV show and movie?
Swanson: I've been watching a lot of movies lately. Love all the Harry Potter movies, I felt like my childhood was over when that series was done. Anything with Denzel [Washington], I'm a huge fan. I just saw The Martian, great flick, definitely a good one. Just finished watching all four seasons of Prison Break, I would highly recommend Prison Break. Criminal Minds is always good. Other than that, just sports.
MiLB.com: What was your favorite memory of 2015?
Swanson: Of 2015?
MiLB.com: A lot happened for you.
Swanson: I think honestly just how I am, all the countless memories with my teammates and stuff, in our dorm room, not even on the field. That's all we talk about when we're together, all the stuff that went on with our personal lives.
Danny Wild is an editor for MiLB.com. Follow his MLBlog column, Minoring in Twitter. This story was not subject to the approval of the National Association of Professional Baseball Leagues or its clubs.
View More