Dust Devils' Henry finds recipe for success
Padres prospect allows two hits over seven scoreless innings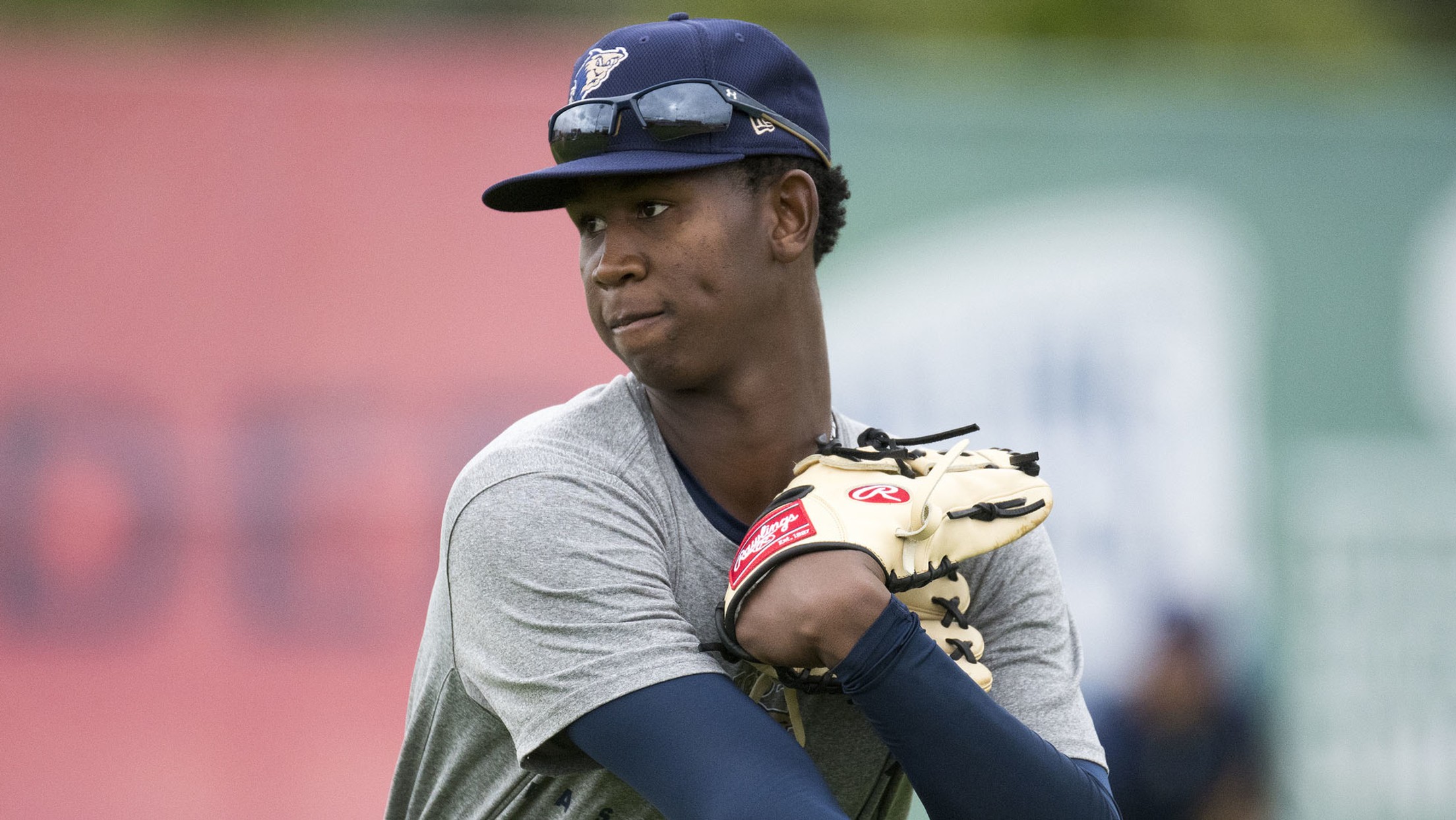 Henry Henry lowered his ERA by more than a run and a half to 3.32 on Friday night. (Jared Ravich/MiLB.com)
Josh Spence pays a lot of attention to detail as a pitching coach, but on Friday, he couldn't pinpoint one specific reason why Henry Henry was as dominant as he was.In the longest outing of his professional career, the Padres prospect allowed two hits over seven innings in Class A
Josh Spence pays a lot of attention to detail as a pitching coach, but on Friday, he couldn't pinpoint one specific reason why Henry Henry was as dominant as he was.
In the longest outing of his professional career, the Padres prospect allowed two hits over seven innings in Class A Short Season Tri-City's 3-0 blanking of Everett at Gesa Stadium. He struck out six and did not walk a batter.
"He just did the little things right," Spence said. "He had 18 out of 24 first-pitch strikes, 22 out of the 24 batters were on four pitches or less and any count that went more than three pitches, he threw two out of the first three pitch for strikes 15 out of 15 times. The guy was just attacking the zone and locating tonight."
Gameday box score
In what Spence called a "fastball-dominant" outing, Henry yielded one-out singles in the first and second innings to sixth-ranked Mariners prospectBrayan Hernandez and Onil Pena, respectively. He erased Hernandez on a double play and got out of the second with a fly ball and a strikeout.
"His command was great tonight, no question," Spence said. "He really showed how he can locate and what potential he really has. His slider has progressively been getting better throughout the year and tonight I think it really showed it's turning into a solid secondary [pitch]."
After leadoff man Austin Grebeck reached on an error in the third, Henry retired 12 batters in a row before throwing a wild third strike to Johnny Adams.
"At this level, we are focusing on the pitcher's strength rather than the other team's weakness, and his strength is working ahead, working down in the count and elevating late," Spence said. "He did that very well tonight and it was a pleasure to watch."
After getting Pena to hit into a double play to erase Adams, Henry punched out Juan Camacho to complete his outing. He threw 56 of 73 pitches for strikes.
"He definitely worked himself into sync," Spence said. "But the most innings he's thrown this year is around four or five and the most pitches he's thrown is around 85 to 90, so going seven, that was plenty of work for tonight."
A native of the Dominican Republic, the 6-foot-4, 178-pounder picked up his first win of the season after going 1-4 with a 4.89 ERA in two Rookie-level leagues the previous two seasons.
"The one thing we've really focused on since he's been here is just discipline in bullpen leading up to the game and discipline in the throwing program throughout the week," Spence said. "We really just want to put him in a good situation to be a Major League baseball player one day.
"To me, it boils down to a lot of the little things, like diet, nutrition, hydration, the gym routine, the conditioning. Success isn't a secret and I think he's definitely on his way to becoming a very dominant pitcher."
Trevor Megill struck out three after yielding a leadoff single in the eighth before Jose Galindo fanned two in the ninth for his first professional save.
The Dust Devils got an RBI double from Luis Anguizola in the second and padded their lead on a two-run double in the eighth by Padres No. 17 prospectLuis Almanzar.
Michael Peng is a contributor to MiLB.com. Follow him on Twitter @MichaelXPeng.