Van Gansen delivers All-Star walk-off win
Padres' 12th-round pick comes through with RBI single in 10th inning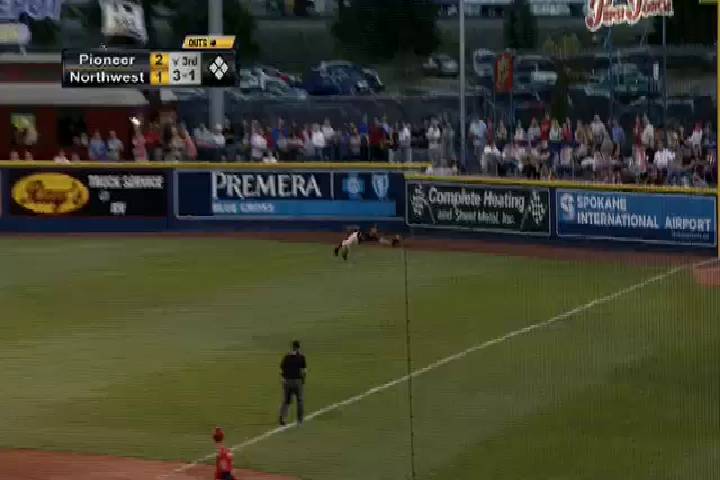 By Jared Ravich / Special to MiLB.com | August 5, 2015 3:17 AM
SPOKANE, Washington -- Peter Van Gansen turned on the first pitch he saw from Missoula's Dan Savas in the 10th inning and sent it down the right field line for a walk-off single, giving the Northwest League a 6-5 win in its first-ever All-Star Game against the Pioneer League.
Van Gansen, the Padres' 12th-round pick in this year's Draft, also walked twice and received the MiLB.com Top Star Award.
A packed Avista Stadium crowd of 7,083 watched a see-saw battle between the Class A Short Season Northwest League and the Rookie-level Pioneer League, which would have won the game on a Home Run Derby tiebreaker had Van Gansen not come through.
"I was just going up there, sitting fastball first pitch," he said. "I got it and I was able to pull it down the line. The guy almost caught it; I'm glad he didn't."
The guy who almost caught it was Royals prospect Amalani Fukofuka, who made a terrific diving effort but came up short.
"I wasn't trying to win it, I was trying to get a base hit," Van Gansen said. "I'm just glad it was able to work out like that."
David Denson, the Brewers' No. 27 prospect was named MiLB.com Top Star for the Pioneer League after going 2-for-3 with a pinch homer, two RBIs and a pair of runs scored.
"Just having fun with my teammates," Denson said. "Coming out here was just a blessing and an experience in itself. Whatever was in God's plan to tell me which way was where I was going."
The Northwest League scored first on back-to-back doubles in the bottom of the first by Everett shortstop Drew Jackson and Boise third baseman Kevin Padlo.
Angels first-round pick Taylor Ward got the visitors even with a solo blast off Hillsboro's Jared Miller in the second. A third-inning RBI groundout by Orem's Michael Pierson scored Grand Junction's Daniel Suero, who'd ripped his second double of the night.
Miller has allowed only four homers over 88 1/3 innings this season before Ward, the Angels' eighth-ranked prospect, sent the 6-foot-7 left-hander's 2-1 offering over the left field fence.
With two out in the bottom of the fifth, Spokane's LeDarious Clark manufactured a threat by fouling five pitches before walking against White Sox prospect Evin Einhardt. Clark stole second and third, then scored on Padlo's sharp single up the middle.
"I was just trying to get on base," Clark said. "I knew if I got on base, I was going on the first pitch. I drew a walk and got my chance to steal two bags, so I feel pretty good about that."
In the sixth, Denson took an 0-1 pitch from Vancouver's Brandon Hinkle deep to put the Pioneer League back in front.
"Basically, I was up there telling myself, 'Don't try to do too much, just keep your hands inside the ball. See ball, hit ball, A to B,'" Denson said. "When I was up, the very first pitch he threw me was a changeup. I read it, I just didn't react to it. But I saw that it was hanging.
"I told myself, 'Scoot up in the box and be ready for a fastball. But if he hangs another changeup, blast it.' And sure enough ... "
Idaho Falls left-hander Tripp Davis escaped a jam in the sixth. Salem-Keizer's Jose Vizcaino Jr. drew a two-out walk, Vancouver's Justin Atkinson singled and Rangers No. 14 prospect Yeyson Yrizarri also walked to load the bases for Clark. But Davis retired him on an inning-ending groundout.
The Northwest League grabbed the lead with a pair of runs in the seventh. Padlo walked, Boise's Hamlet Marte singled and Everett's Logan Taylor walked to load the bases. Padlo scored on a wild pitch and Vizcaino plated Marte with a sacrifice fly to make it 4-3.
But the Pioneer League surged in front again in the eighth. Pierson singled, stole second and scored on a base hit by Denson, who took second on the throw. Eugene's Pedro Araujo walked Idaho Falls' Joshua Banuelos before Missoula's Luke Lowery, who won the Home Run Derby before the game, delivered an RBI single.
That lead, like the others, did not last long. Clark doubled off Grand Junction's Hunter Brothers with one out in the eighth and scored on a wild third strike to Padlo.
That forced extra innings and the Pioneer League was two outs from a win before Van Gansen came through in the clutch, singling home Spokane's Yrizarri for the come-from-behind victory.
"It means a lot," Van Gansen said. "It's my first year in the pros. It's been one heck of a ride so far. I'm just loving it out here."
Everett left-hander Luiz Gohara pitched 2 1/3 scoreless innings for the win. Savas was charged with the loss.
Jared Ravich is a user interface engineer for MiLB.com. This story was not subject to the approval of the National Association of Professional Baseball Leagues or its clubs.
View More