Sea Unicorns vs. Starfires to Air Live on NESN on July 24 at 12:00 pm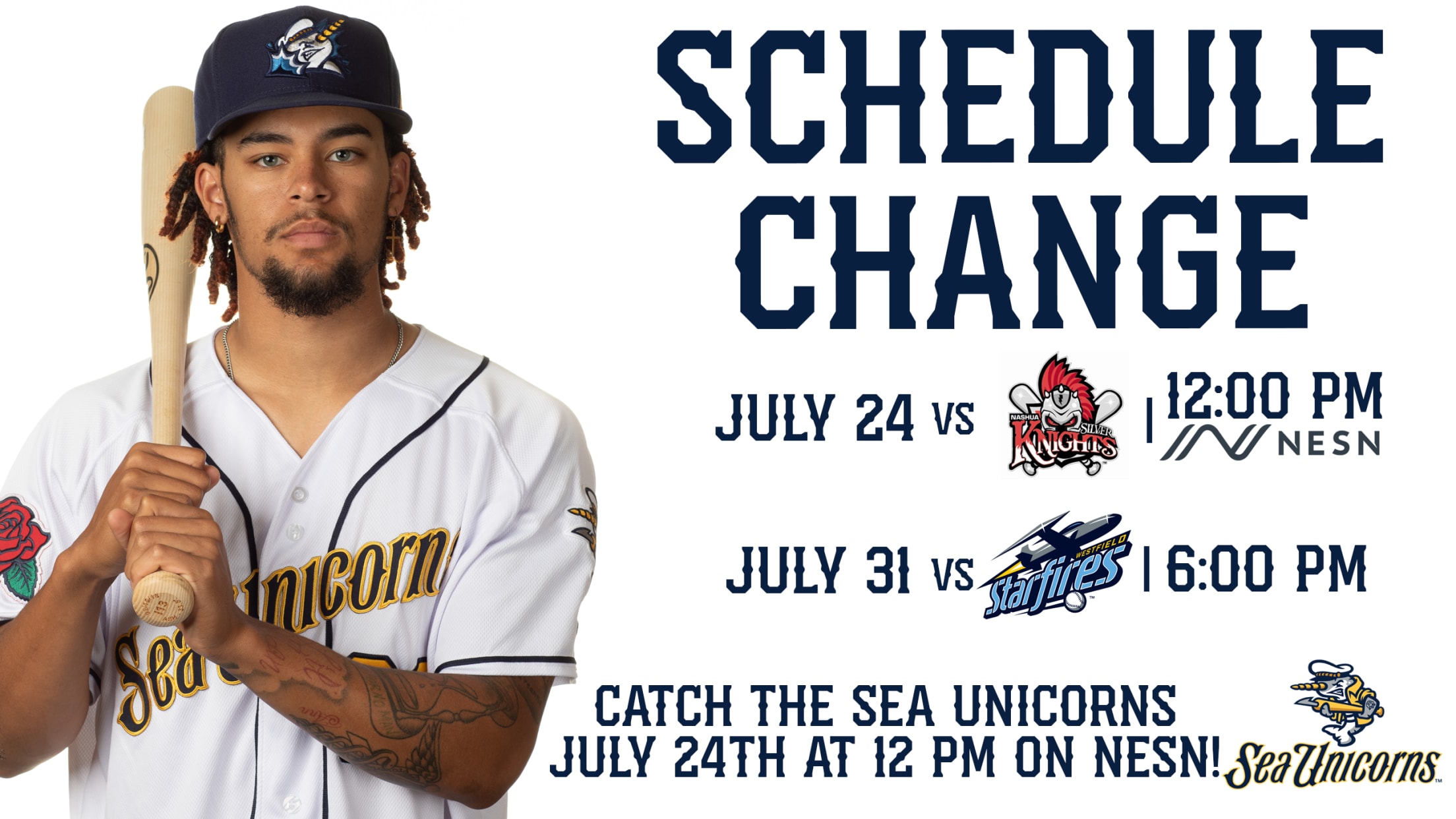 (Norwich, CT) - The Norwich Sea Unicorns' game against the Westfield Starfires on July 24 at 12:00 pm will air live on the New England Sports Network (NESN) as part the "Futures League Saturdays on NESN" four-game slate featuring all eight teams in the Futures Collegiate Baseball League of New
(Norwich, CT) - The Norwich Sea Unicorns' game against the Westfield Starfires on July 24 at 12:00 pm will air live on the New England Sports Network (NESN) as part the "Futures League Saturdays on NESN" four-game slate featuring all eight teams in the Futures Collegiate Baseball League of New England (FCBL).
FCBL Commissioner Joe Paolucci announced the continuation of its linear television partnership with NESN during the 2021 season on Friday. Every FCBL team will be showcased on a regionally-televised broadcast for the second straight summer. All four "Futures League Saturdays on NESN" games are scheduled to begin at 12:00 pm on four Saturdays throughout July.
Because of the set 12:00 pm start times for all four televised games throughout the league, the noon start time for the Norwich Sea Unicorns vs. Westfield Starfires game on July 24 has been changed from the originally scheduled 6:00 pm first pitch. The start time for the Norwich Sea Unicorns vs. Nashua Silver Knights game on July 31 has been changed to 6:00 pm, moved back from its original start time of 12:00 pm.
"The Futures League is excited to continue our relationship with NESN for another year, showcasing our great brand of baseball to a regional television audience," Paolucci said. "Last year's games were a great success, and we can't wait to give our players the opportunity to compete on such a well-known stage in New England once again."
The television slate begins on July 10 with the first-ever broadcast from Worcester's Hanover Insurance Park at Fitton Field, where the Bravehearts will host the Pittsfield Suns. NESN returns to Historic Holman Stadium in Nashua, N.H., for the following week's game between the defending champion Nashua Silver Knights and current first-place Brockton Rox.
The final two NESN broadcasts will take place in the state of Connecticut and feature one of the league's newest teams as part of the matchup. The Westfield Starfires will travel to Norwich to take on the Sea Unicorns on July 24, while the New Britain Bees and Vermont Lake Monsters will have the first game of their July 31 day-night doubleheader from New Britain Stadium televised across the region.
Founded in 2011, the Futures League is a wood-bat league featuring top collegiate baseball players from New England and throughout the country. More than two million fans have attended FCBL games since the league was established. On the field, over 200 alumni have been drafted by or signed with Major League Baseball organizations and six have advanced all the way to "The Show" including three during the first month of the 2021 season.