Norwich Sea Unicorns unveil 2021 schedule
First season in Futures League begins at Dodd Stadium May 31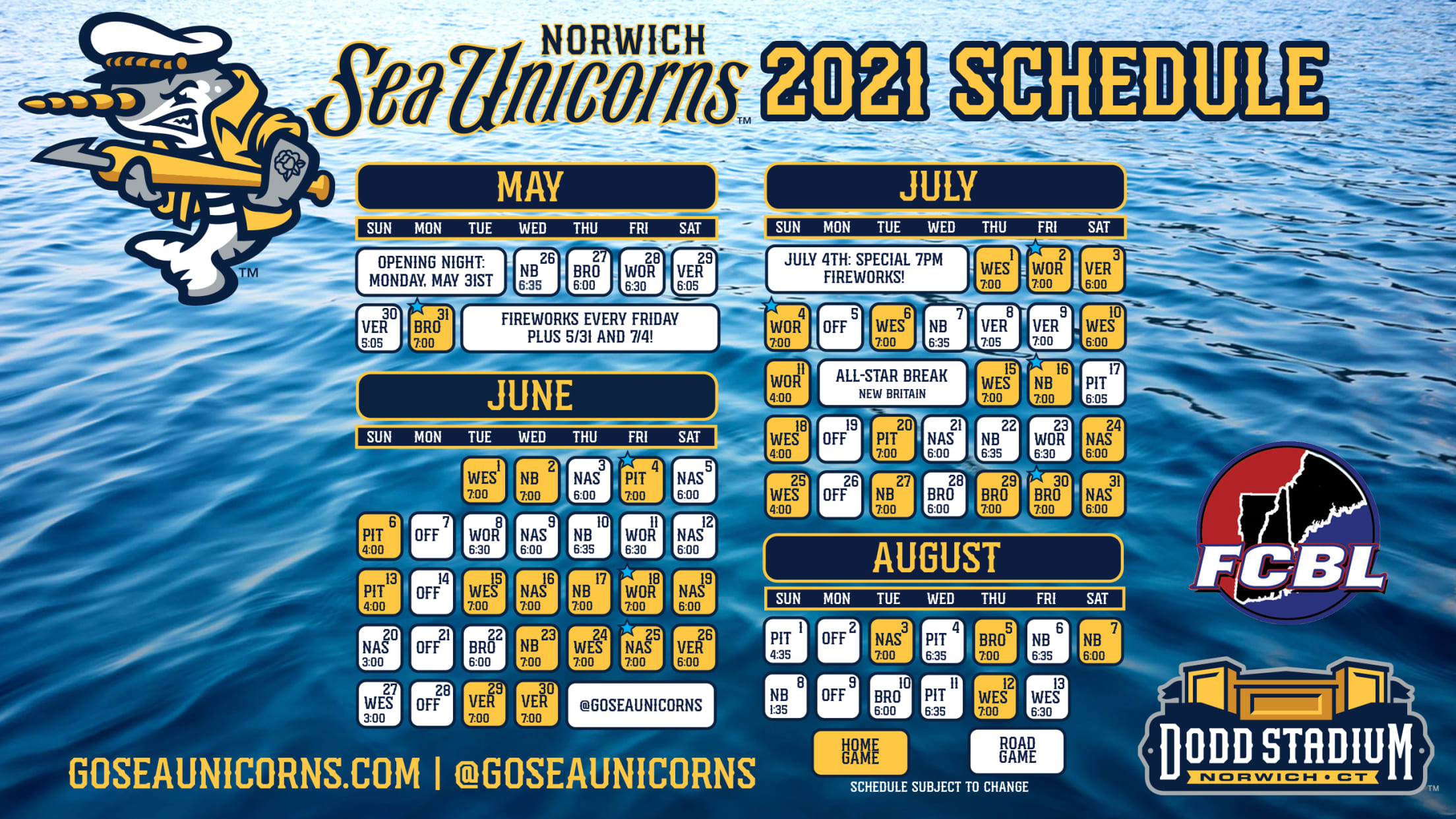 NORWICH, CT -- The Norwich Sea Unicorns in conjunction with the Futures Collegiate Baseball League unveiled the 2021 schedule today. The Sea Unicorns will start the season in New Britain, CT on May 26th when they take on the New Britain Bees. Opening Night at Dodd Stadium will take place
NORWICH, CT -- The Norwich Sea Unicorns in conjunction with the Futures Collegiate Baseball League unveiled the 2021 schedule today. The Sea Unicorns will start the season in New Britain, CT on May 26th when they take on the New Britain Bees. Opening Night at Dodd Stadium will take place Monday, May 31st as the Sea Unicorns take on the Brockton Rox (Brockton, MA) at 7 pm with fireworks following the game.
Founded in 2011, the Futures League is a wood-bat league featuring top collegiate baseball players from New England and throughout the country. More than two million fans have attended FCBL games since the league was established. On the field, over 200 FCBL alumni have been drafted by or signed with Major League Baseball organizations, including pitcher Tyler Bashlor (South Georgia College/Pittsburgh Pirates), outfielder Chris Shaw (Boston College/Baltimore Orioles) and pitcher Aaron Civale (Northeastern University/Cleveland Indians) who have already debuted in Major League Baseball. The eight team league also includes the New Britain Bees (New Britain, CT), former New York-Penn League rival Vermont Lake Monsters (Burlington, VT), Brockton Rox (Brockton, MA), Nashua Silver Knights (Nashua, NH), Pittsfield Suns (Pittsfield, MA), Westfield Starfires (Westfield, MA), Worcester Bravehearts (Worcester, MA).
The 2021 schedule features a total of 68 games with 38 games played at Dodd Stadium and 30 on the road. The home schedule features one home game on a Monday, seven on Tuesdays, four on Wednesdays, seven on Thursdays, six on Fridays, seven on Saturdays and six on Sundays. The Sea Unicorns will take on the new cross-state rival New Britain Bees a total of twelve times, including six games in Norwich.
Game times will by 7 pm for all games Monday-Friday, 6 pm for Saturdays and 4 pm for Sundays. The one exception will be a special 7 pm gametime on Sunday, July 4th to allow for a spectacular post-game fireworks show.
There will be a total of eight post-game fireworks shows in 2021 including Opening Night May 31, all six Friday night home dates, and Sunday, July 4th. Further details regarding the 2021 promotional schedule will be released over the coming weeks.
Details regarding 2021 ticket options will be released in the coming days. The Sea Unicorns will be working with the State of Connecticut and local health officials to ensure proper protocols are in place for a safe fan experience this summer.
The Norwich Sea Unicorns are located at Dodd Stadium in Norwich, Connecticut. The front office and box office are open daily from 9 am to 5 pm Monday through Friday and can be accessed in person or by calling 860-887-7962. Sea Unicorns merchandise is available anytime by visiting goseaunicorns.com.