NYPL notes: Gillaspie finding his groove
Rays first-rounder adjusting to the pace of pro ball with Renegades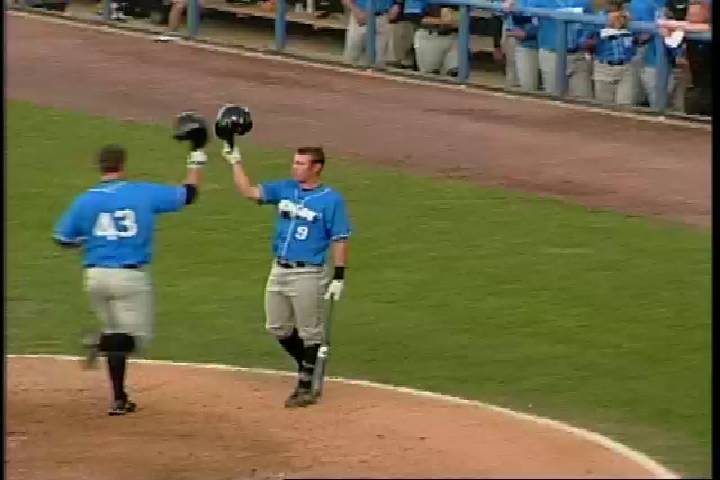 By Craig Forde / Special to MiLB.com | July 4, 2014 10:00 AM ET
With raw power from both sides of the plate, Casey Gillaspie, the Tampa Bay Rays' first-round Draft pick in June, was hoping to establish his worth from the get-go as he began his professional career with the Hudson Valley Renegades.
Selected 20th overall -- 17 slots high than brother Conor in 2008 -- Casey has made some quick adjustments to pro ball that are starting to bear fruit as he catches up to the speed of play.
"It's a little quicker and there is better talent than at the college level," said Gillaspie of his initial impressions on the New York-Penn League. "There are a lot of people who come from all around the world to play in the States. I'm really enjoying playing at this level -- it's a lot of fun to see all the talent from around the world."
Undrafted out of Millard North High School in Omaha, Casey followed in his brother's footsteps, starring at Wichita State. Following his freshman year, he had a nice summer in the wood bat collegiate Northwoods League, where he was named an All-Star in 2012.
In the summer of 2013, the 6-foot-4 first baseman catapulted himself into a first-round talent after showing off in the prestigious Cape Cod League, where he again was named an All-Star after leading the league with eight home runs.
"Playing in the Cape, the highest college guys play there," said Gillaspie on how much his time in Falmouth helped him get ready for the jump to the pros. "It's similar to the best pitching you see, and the best hitters are up there. That's kind of where I'm at right now -- it's very similar to the Cape. Using wood last summer and the summer before that helped out, too."
Gillaspie finished his Wichita State career with a .320 batting average, 34 home runs, 128 RBIs and 128 runs.
It took just two games for him to put that power on display for the Renegades as he took his first professional hit over the wall at Dutchess Stadium for a two-run homer that led Hudson Valley to victory.
"That was cool," said Gillaspie. "The fans here in Hudson Valley are great and we get pretty good crowds. For that to be my first hit was pretty special to me."
That first hit aside, Gillaspie struggled somewhat, mustering just three hits in his first six games as he tried to keep pace.
Then he found it, he caught up, and since then he has looked every part the 20th overall pick, hitting in seven of his last nine games, including four multi-hit efforts.
In that span Gillaspie has a .364/.463/.636 slash line with two more home runs, five RBIs and five runs scored. Even more encouraging is an improved patience at the plate, having drawn his first six walks in the last eight contests.
"I'm starting to settle down, get more comfortable in my environment and hopefully there's more to come," Gillaspie said. "I'm trusting the process."
In turn, he will begin to trust himself to be a viable professional as he starts his ascent toward Tampa.
"It clicks for everybody at different times," said Gillaspie. "I'm just coming to the park every day with the same mind-set, trying to get better."
In brief
Steal away: The green light is on again in Hudson Valley as the Renegades have raced to a league-best 39 stolen bases with a 78 percent success rate. Hudson Valley's 121 swipes were tops in the NYPL a year ago, and in 2009 they had a club-record 134.
Barn door open: State College's Jacob Booden, Josh Lucas and Jeff Rauh have each made seven relief appearances for the Spikes, the most in the league. Combined, the three relievers have a 1.82 ERA and 0.94 WHIP in 29 2/3 innings of work.
Broken wings: A 5-4 win over Staten Island on Tuesday helped Aberdeen snap an 11-game losing streak, the franchise's longest since they dropped nine in 2011. The IronBirds lost a team-high seven straight at home during the streak. Of their 16 losses on the season, 11 have been by two or fewer runs.
Spinning the hits: Lowell outfielder Nick Longhi has four multi-hit games in his last five played and has hit safely in 13 of his 15 games this season. His .358 batting average is third best in the league.
Craig Forde is a contributor to MiLB.com. This story was not subject to the approval of the National Association of Professional Baseball Leagues or its clubs.
View More