Back-to-Back Leads Raptors Blanking of Owlz
Blasts from Bannon and Clementina in the first, in addition to solid pitching, spur second shutout in five days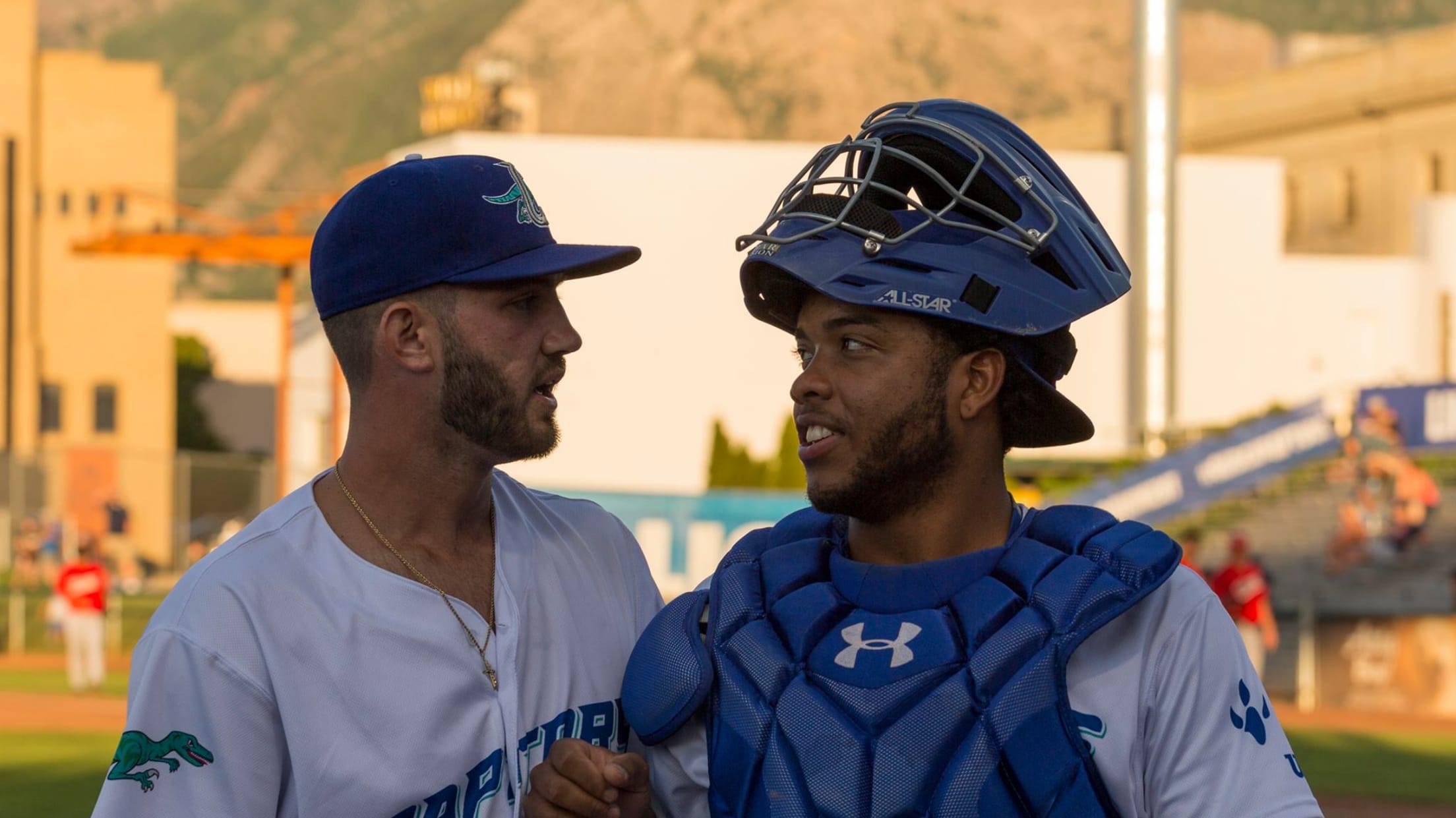 Hendrik Clementina, right, hit his first home run of the season. (Kevin Johnson)
The Ogden Raptors shut down the vaunted Orem Owlz offense Wednesday night for their second shutout in five games, and the offense put up three runs in the first and cruised to a 5-0 win.The victory pulled the Raptors to .500 on the season thanks to a modest two-game winning
The Ogden Raptors shut down the vaunted Orem Owlz offense Wednesday night for their second shutout in five games, and the offense put up three runs in the first and cruised to a 5-0 win.
The victory pulled the Raptors to .500 on the season thanks to a modest two-game winning streak, both over their archrivals from the south.
Ogden's bats put on a clinic in the first inning, as Cristian Santana singled with one out to bring up Rylan Bannon. Bannon, without a hit in his first two professional games, crushed a slider over the left-field fence to put his team up, 2-0, and round the bases for the first time as a pro. Hendrik Clementina followed immediately with his first home run of the campaign, a 3-0 lead after one.
That was all Gregorio Sequera, Logan Crouse and James Carter needed. The three pitchers combined on a six-hitter with no walks and 11 strikeouts, blanking an Owlz offense that had averaged over 10 runs per game in the first nine games of 2017.
Five times, Raptors pitching turned in 1-2-3 innings. The last shutout was on Saturday, when three pitchers threw goose eggs against the Grand Junction Rockies in a 9-0 win.
Wednesday's game was the first shutout pitched by the Raptors in Ogden since August 8, 2014, when José De León and Lenix Osuna combined to blank Helena.
Third baseman Bannon stood out with the leather as well as the bat, making a diving stop down the line to preserve the shutout in the seventh inning and turning in another play in the eighth.
Thirsty Thursday features $2 12-ounce domestic cans and draft beers along with half-price fountain drinks. On "Free Tee Fridays", the first 300 fans will receive a Raptors T-shirt - every Friday home game features a new design!
Saturday and Sunday are Bank of Utah nights 1 and 2, where showing a Bank of Utah debit or credit card at the ticket office gets you four free general admission tickets! Saturday is also Date Night - you buy your ticket and the Raptors will pay for your date's ticket. Wear your favorite casual Hawaiian clothing for Aloha Sundays; the players will be in brand-new Hawaiian jerseys of their own. Also, kids 12 and under get into the park completely FREE for every Sunday home game.
The last game of the homestand, Monday, July 3, is the first Mini-Monday of 2017. Every Monday home game, the Raptors will give away 500 mini bobblehead dolls featuring former Raptors/Ogden baseball ambassadors!