OKC Dodgers Release 2017 Opening Day Roster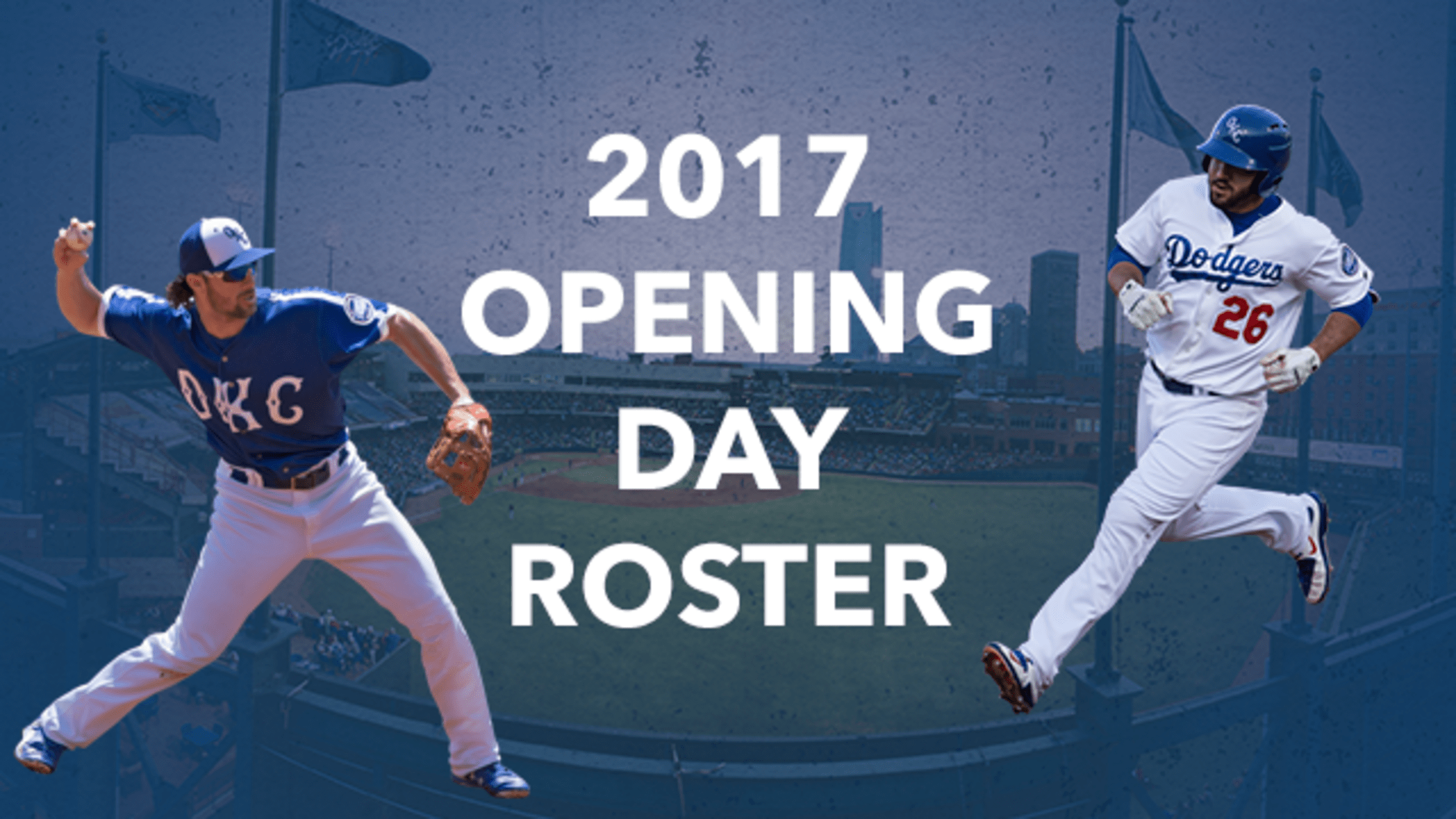 OKLAHOMA CITY - The Oklahoma City Dodgers and Los Angeles Dodgers have announced the OKC Dodgers Opening Day roster for the 2017 season.The OKC Dodgers ring in the 20th season of baseball at Chickasaw Bricktown Ballpark Thursday, April 6 to open a five-game series against Iowa Cubs. First pitch is
OKLAHOMA CITY - The Oklahoma City Dodgers and Los Angeles Dodgers have announced the OKC Dodgers Opening Day roster for the 2017 season.
The OKC Dodgers ring in the 20th season of baseball at Chickasaw Bricktown Ballpark Thursday, April 6 to open a five-game series against Iowa Cubs. First pitch is scheduled for 7:05 p.m., and gates will open at 6 p.m. The roster is subject to change between now and Thursday night.
Among the 25 players on the current roster, 13 played in the Major Leagues in 2016, with six suiting up for the Los Angeles Dodgers. A total of 17 players have Major League experience, and seven players are currently on the Los Angeles Dodgers' 40-man roster. Twelve players spent time at some point with the OKC Dodgers last season.
The roster is headlined by three of the Dodgers' top four prospects, as ranked by Baseball America: first baseman/outfielder Cody Bellinger (#1), outfielder Alex Verdugo (#3) and second baseman Willie Calhoun (#4). Each member of the trio is 22 years old or younger, and they all played together at Double-A Tulsa last season.
Bellinger - ranked the seventh overall prospect in baseball by Baseball America and 12th overall by MLB.com - is known for his prodigious power and outstanding defense at first base. The left-handed slugger has hit 56 home runs over the past two seasons and owns a .494 slugging percentage during his pro career. He joined OKC at the end of the regular season and during the playoffs in 2016, totaling four home runs and 11 RBI over 14 games.
Playing last season at either 19 or 20 years old in Double-A, Verdugo led Tulsa in hits and was named a Mid-Season and Post-Season Texas League All-Star. In his first full pro season, Calhoun led the Texas League with 88 RBI and ranked second with 27 homers. Like Verdugo, he nabbed a pair of all-star honors in the league.
Position players making their return to Oklahoma City include infielders Charlie Culberson, Rob Segedin, Darnell Sweeney and Chris Taylor, outfielder O'Koyea Dickson, and catcher Jack Murphy.
Last season Segedin had a breakout campaign that saw him lead the Minor Leagues in slugging percentage (.598) and rank second in OPS (.989). He was named a PCL Mid-Season and Post-Season All-Star and made his Major League debut. Culberson shuttled between OKC and Los Angeles last season and hit one of the most memorable homers in Dodgers history, when his walk-off blast in the 10th inning against Colorado on Sept. 25 clinched the NL West title.
Dickson performed admirably in his second Triple-A season, batting .328 with 18 homers. Once he was activated off the disabled list in late May, he ranked among the top 10 in in the PCL in almost every offensive category. After spending 2016 in the Phillies organization, Sweeney was reacquired in a November trade. During his 2015 season in OKC, he was the PCL's starting second baseman in the Triple-A All-Star Game.
Taylor was acquired from Seattle last July and split his time in the Dodgers organization between Los Angeles and OKC. He batted .322 in the PCL last season while suiting up for Tacoma and OKC. Murphy spent the entire 2016 season in Oklahoma City and became a fan favorite. He is highly-regarded for his ability to work with pitchers.
Murphy will be joined behind the plate by veteran catcher Bobby Wilson. Wilson has appeared in 324 career Major League games primarily as a backup catcher and last season spent significant time playing for the Detroit Tigers, Texas Rangers and Tampa Bay Rays.
Patrolling the outfield along with Verdugo and Dickson will be Brett Eibner, Tyler Holt and Trayce Thompson. Both Holt and Thompson spent 2016 exclusively with the Cincinnati Reds and Los Angeles Dodgers, respectively. Thompson gained notoriety last season for his athleticism in the outfield and hitting clutch home runs, but a back injury ended his season prematurely in mid-July. Eibner made his Major League debut last year with the Kansas City Royals and also played for the Oakland A's.
The starting rotation to begin the season will be led by Trevor Oaks, who enters 2017 as the 13th-ranked prospect in the Dodgers minor league system according to Baseball America. Oaks pitched across three levels of the organization last season and went 14-3 with a 2.74 ERA over 24 starts, including 10 with OKC.
The rest of the rotation is filled with veterans Fabio Castillo, Wilmer Font, Jair Jurrjens and Justin Masterson. Both Jurrjens and Masterson have extensive Major League experience and have 116 wins between the two of them.
The bullpen features three members of the Los Angeles Dodgers 40-man roster: Josh Fields, Adam Liberatore and Jacob Rhame. Last season Liberatore set the Dodgers' franchise record with 28 consecutive scoreless outings out of the bullpen, shattering the previous mark of 22. Rhame spent the entire season with OKC and led the team with 54 appearances and tied for the team lead with seven saves.
Each of the remaining four relievers spent at least part of the 2016 season in the Major Leagues. Veteran right-hander Brandon Morrow posted a 1.69 ERA over 18 games with the San Diego Padres last season and has made a total of 254 career Major League appearances between starting and relieving. Steve Geltz was a frequent member of the Tampa Bays Rays bullpen over the last three seasons and set a team rookie record with 70 appearances in 2015.
Lefty Patrick Schuster was dominant in the PCL last season while playing for Nashville, posting a 1.16 ERA over 32 appearances. He made his Major League debut with Oakland and also spent time pitching for Philadelphia. Madison Younginer also made his Major League debut last season with the Atlanta Braves and racked up 15 saves in the minors.
Opening Weekend features the season's first $2 Thursday and postgame fireworks on April 6, and the first Fireworks Friday on April 7. On Saturday, April 8, the first 2,000 fans will receive a 2017 magnetic schedule. April 9 marks the return of Chaparral Family Sundays, where kids can get autographs from select players before the game and run the bases after the game. Limited tickets remain for Thursday and Saturday's games. To purchase tickets for any game during the Opening Weekend or throughout the entire 2017 season, please call (405) 218-1000, go to okcdodgers.com, or visit the Chickasaw Bricktown Ballpark box office on S. Mickey Mantle Drive in Bricktown.