Blewett, Omaha blank Iowa on Runza Night
Chasers improve to 14-3 at home with shutout win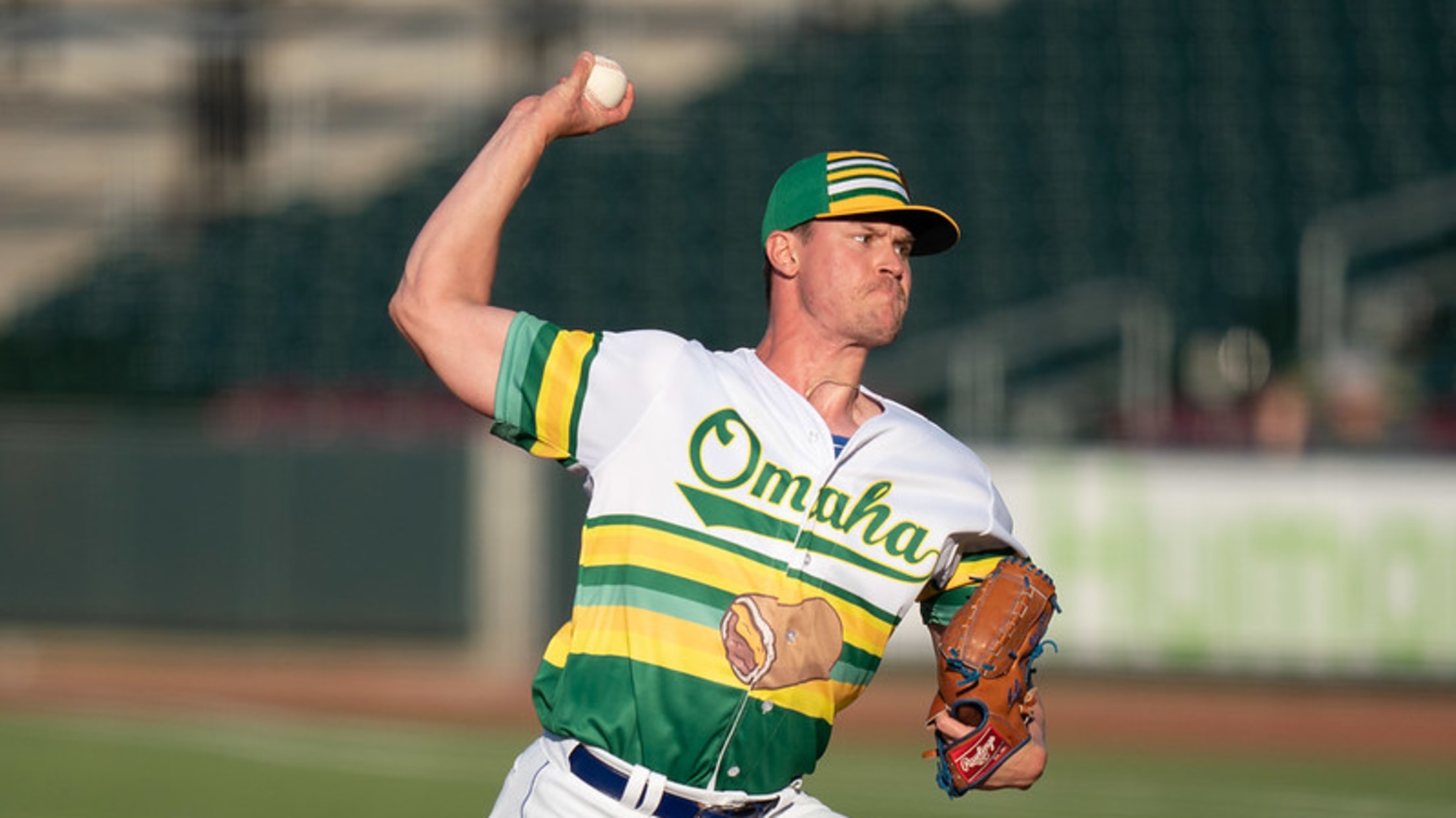 Scott Blewett's scheduled start on Tuesday of this week turned into a rare relief appearance as teammate Ronald Bolaños opened the game and pitched an inning before heading to Kansas City. Back in his normal role four days later, Blewett put together his best performance of the season. The right-handed
Scott Blewett's scheduled start on Tuesday of this week turned into a rare relief appearance as teammate Ronald Bolaños opened the game and pitched an inning before heading to Kansas City.
Back in his normal role four days later, Blewett put together his best performance of the season.
The right-handed Royals prospect blanked Iowa on two hits over six innings as Omaha shut out the I-Cubs 5-0 Saturday at Werner Park. Blewett faced one batter over the minimum while striking out six as the Storm Chasers, playing as the Omaha Runzas for the only time this season, moved to 14-3 at home.
"We were able to establish the fastball early and really get ahead," said Blewett, now 1-1. "We were able to get to the secondary stuff. And having command of that secondary stuff is big moving forward."
Omaha's starter allowed only a first-inning single to Vance Vizcaino, who was then caught stealing, and a hit by Jacob Olson in the third. Blewett retired the final 10 Cubs he faced before exiting after the sixth.
Grant Gavin, Jake Newberry and Gabe Speier kept the shutout intact over the final three innings. Speier picked up his fifth save in as many opportunities, getting Vizcaino to hit into a game-ending double play.
The hardest hit ball by Iowa in the game was a Abiatal Vaelino's line drive right at Blewett in the fifth.
"I saw it all the way," Blewett said. "I saw it, literally, out of the hand, and it was all just kind of slow motion. My glove was right there, and I found it. Those feel good to catch and get outs on."
The Chasers grabbed an early lead in the second when Bubba Starling doubled off losing pitcher Scott Effross (0-1) then scored on Sebastian Rivero's single. Kyle Isbel homered an inning later to make it 2-0.
It remained that way until the eighth, when Omaha used five singles to tack on three runs. Anderson Miller drove in the first one on a fielder's choice. Emmanuel Rivera and Ryan O'Hearn added RBI singles.
That advantage was plenty for the bullpen after the work that Blewett had done early on. His previous outing against the Cubs didn't go as well, when he didn't make it out of the fourth inning in Des Moines.
On Saturday, he put it all together.
"Mixing up sequences and keeping them off-balance was big," he said. "We kind of had five pitches in play tonight. … I was able to throw all of them for strikes. If I can do that, we should have some success."