Q&A with Nicky Lopez
2018 Chasers infielder & Creighton alum discusses Spring Training, offseason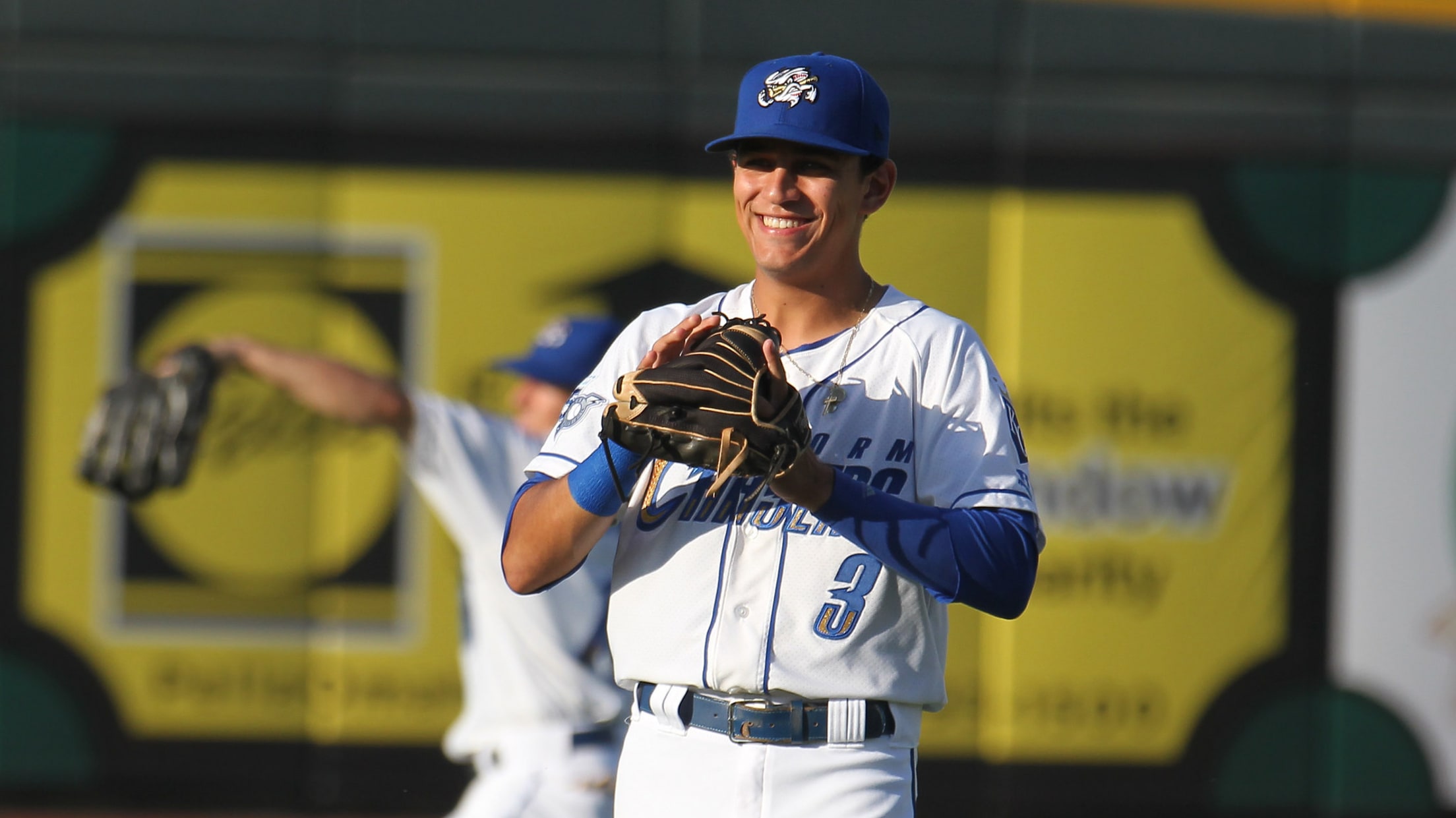 INF Nicky Lopez played in 57 games with the Storm Chasers last year in his first taste of Triple-A. (Minda Haas Kuhlmann)
Even before earning a call up to the Omaha Storm Chasers in 2018, Kansas City Royals shortstop Nicky Lopez once called Omaha home.The shortstop, now entering his third full professional season, starred in Omaha for three years at Creighton University. The Naperville, Illinois native earned All-Big East Second Team honors
Even before earning a call up to the Omaha Storm Chasers in 2018, Kansas City Royals shortstop Nicky Lopez once called Omaha home.
The shortstop, now entering his third full professional season, starred in Omaha for three years at Creighton University. The Naperville, Illinois native earned All-Big East Second Team honors as a junior hitting .306 with 11 doubles, two homers and 11 stolen bases.
The Royals then selected Lopez in the fifth round of the 2016 MLB draft, the highest of any Creighton player since 1999. Lopez quickly rose up the ranks of the Royals minor league system and was promoted to the Triple-A Storm Chasers in mid-June of 2018, where he hit .278 including seven home runs and 26 runs batted in.
Lopez, currently in Surprise, Arizona getting ready for the 2019 season, is now considered one of the Royals' top prospects and could see time in Kansas City as soon as this year.
We caught up with Nicky recently and asked about his offseason and his spring training experience so far.
What is a typical day at Spring Training like? Is there a specific routine?
A typical day at Spring Training depends on what time the game is that day. If the game is at 1:05pm MST, I will have to wake up around 6:45am and try and get to the field at around 7:15am. Usually I'll have breakfast around 7:40am, and then have hitting around 8:00am. After we hit we have time to settle in for a little bit. If it is a home game, we don't usually start our practice until around 10:00am, but if it is an away game, we start practice a little earlier. Practice usually consists of a defense drill or fundamental that we will work on that day (like rundowns, cuts and relays, etc.). Then we will go into our hitting rotations (bp, defense, baserunning, and bunting). Each day is different when it comes to the rotations. There isn't really a special routine, other than if I have some time, I like to go in the hot tub before everything starts.
This is your third year in Surprise for spring training. What's different from your first year to now?
The first year was a little different because I wasn't in Major League Spring Training. I got to Surprise a little later that year than I have the past two years. Last year, I was fortunate enough to receive a Major League Spring Training invite. The difference between last year and this year was that I had the "wow" factor of being in a Major League clubhouse and being a part of a Major League team for a little bit. This year, it has been pretty normal, even though it is still crazy to think how far I have come. It has been an unbelievable experience and I wouldn't change it for anything in the world. Hopefully one day I will be able to be a part of the clubhouse for good.
What part of your game have you been focusing on the most this spring?
This spring I have been just continuing to have a lot of fun and try to be a student of the game. I really like to learn and we have a lot of helpful resources here in camp, so asking questions and picking the brains of the coaches and my teammates here has been something I have been focusing on. Also, this offseason, continuing to gain weight and maintain weight has been a focus as well. As far as focusing on something when it comes to a part of my game, I haven't focused on anything in particular. I have been just trying to polish my skills, make the necessary adjustments needed, and just continue to try and get better in any area that I feel necessary.
What are your goals for the upcoming season?
My goal, wherever I do start the season, is to get off to a fast start. My main goal though is to get to the Big Leagues and be able to live out my dream of being a Major League baseball player. Another goal of mine is to live in the moment and have as much fun with my teammates, coaches and team because it has been going by fast. Just trying to take it all in this year and have fun because this year has a chance to be the best one yet I think.
You've been a non-roster invite to big league camp the past couple of years. How has that helped you? What have you learned in those experiences and has there been a veteran player or starter you have learned something from?
Being able to be in big league camp has helped me a lot the past couple year. I have been able to learn a lot from the coaches that come and help us every day. I have been able to pick the brains of the veterans and also the ones that have put on a Royals uniform in the past. Everyone has been very helpful and it is pretty awesome to be able to have the necessary resources every day at camp.
What did you do this offseason?
This offseason I was back in Omaha taking classes at Creighton University. Hopefully I don't need to have a back up plan and can play the game of baseball for a really long time, but I know how important that college degree can be. I am very close to graduating so why not try and finish. I had 3 classes on Monday/Wednesday, and 2 classes Tuesday/Thursday. It was pretty tough having the motivation to go and take the classes, but I was able to make it work.
What was your favorite memory while in college at Creighton and what was a favorite memory last year returning to Omaha and playing for the Storm Chasers?
My favorite memory of playing college at Creighton was just the every day experiences and everything that went into a college season. It was awesome being able to just hang with my teammates and all play for one common goal. Also, travel, bus rides, and plane rides were a lot of fun with the team as well.
My favorite memory from last year coming back to Omaha to play for the Storm Chasers was probably my first game. The first game was pretty cool because of the reception that I received. There were a lot of people that came to the game and a lot of familiar faces in the stands. Also being able to speak to some of the media that I had spoken with before while I was at Creighton. And when I walked up to the plate for my first at bat, I was greeted with a lot of fans cheering for me, which was an unbelievable feeling. It was like a homecoming. Omaha was home to where I spent three of my really important years in baseball and it was really good for me. They treated me so well there at Creighton and it was definitely something I didn't take for granted.
We'd like to thank Nicky for taking the time to speak with us. Following the Royals Exhibition Game presented by Cobalt Credit Union on Monday, March 25 at 6:05pm, the Storm Chasers begin regular season play in Memphis on Thursday, April 4. Opening Night at Werner Park is scheduled for Tuesday, April 9 at 6:35pm.