Sounds Top Chasers 8-4
Weiss homers & drives in 3 in front of 6,533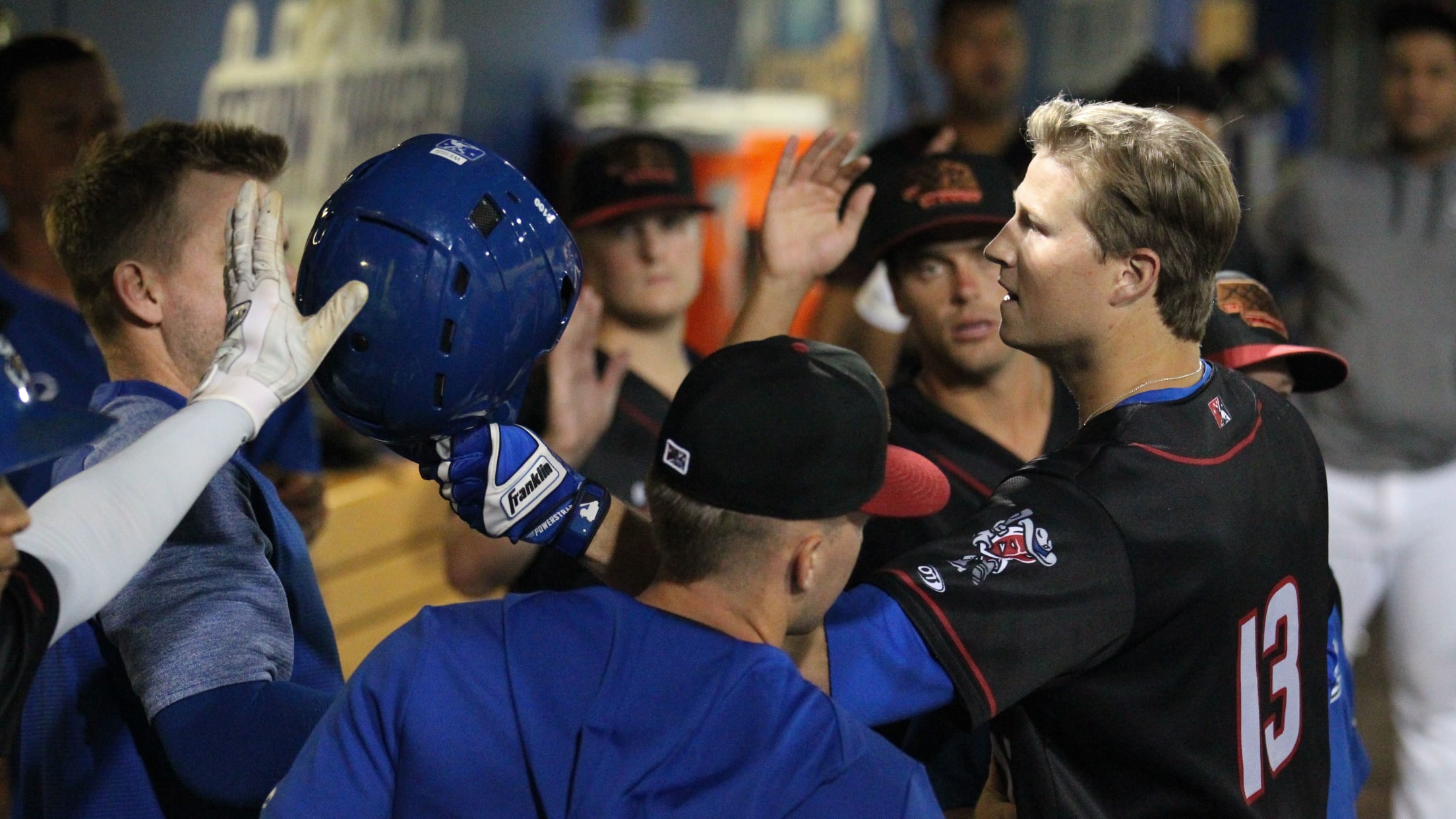 Omaha 1B Erich Weiss (#13) homered and drove in three runs in the Storm Chasers' 8-4 defeat to Nashville on Thursday night at Werner Park. (Minda Haas Kuhlmann)
Storm Chasers first baseman Erich Weiss homered and drove in three runs, however Sounds third baseman Matt Davidson clubbed a longball while brought home two runs and starting pitcher Seth Maness tossed a quality outing in Nashville's 8-4 win over Omaha in front of 6,533 fans on Thursday evening at
Storm Chasers first baseman Erich Weiss homered and drove in three runs, however Sounds third baseman Matt Davidson clubbed a longball while brought home two runs and starting pitcher Seth Maness tossed a quality outing in Nashville's 8-4 win over Omaha in front of 6,533 fans on Thursday evening at Werner Park.
The Sounds surged ahead with a five-run opening frame, capped by Davidson's two-run blast to left. Following a single tally in the third, Nashville extended that margin to eight courtesy of RBI singles by RF Preston Beck and CF Zack Granite in the fifth.
After RF Jorge Bonifacio's run-scoring double broke the Sounds' shutout hopes in the sixth, Weiss brought Bonifacio across with a single to center to make it 8-2. Weiss would later launch a two-run shot to right to narrow the deficit to four.
Granite (3-5, R, RBI) tallied a game-high three knocks, with Davidson (2-5, 2 R, 2B, HR, 2 RBI) and LF Patrick Wisdom(2-5, R, 2 RBI) adding two hits apiece. Weiss (2-4, R, HR, 3 RBI) and Bonifacio (2-4, R, 2 2B, RBI) each recorded multi-hit efforts for Omaha.
Maness (6.0 IP, 6 H, 2 R< 2 ER, BB, 3 K) earned the win to improve to 8-4, while relievers Jeffrey Springs (1.0 IP, K) and David Carpenter (1.0 IP) each fired shutout frames of support. Omaha starter Brian Flynn (6.0 IP, 11 H, 8 R, 7 ER, 2 BB, 4 K) suffered the defeat.
The Storm Chasers are set to begin their final series of the 2019 season at Werner Park, a four-game set versus the Round Rock Express on Friday, August 30. First pitch is scheduled for 7:05pm CT.
Tickets for that game and all remaining Storm Chasers home contests can be purchased online at www.omahastormchasers.com, or by calling the Werner Park Ticket Office from noon until 6:00 p.m. Monday through Friday at (402) 738-5100.