Jackson, Owlz Pound Raptors, 18-5
Jackson tied Pioneer League home run record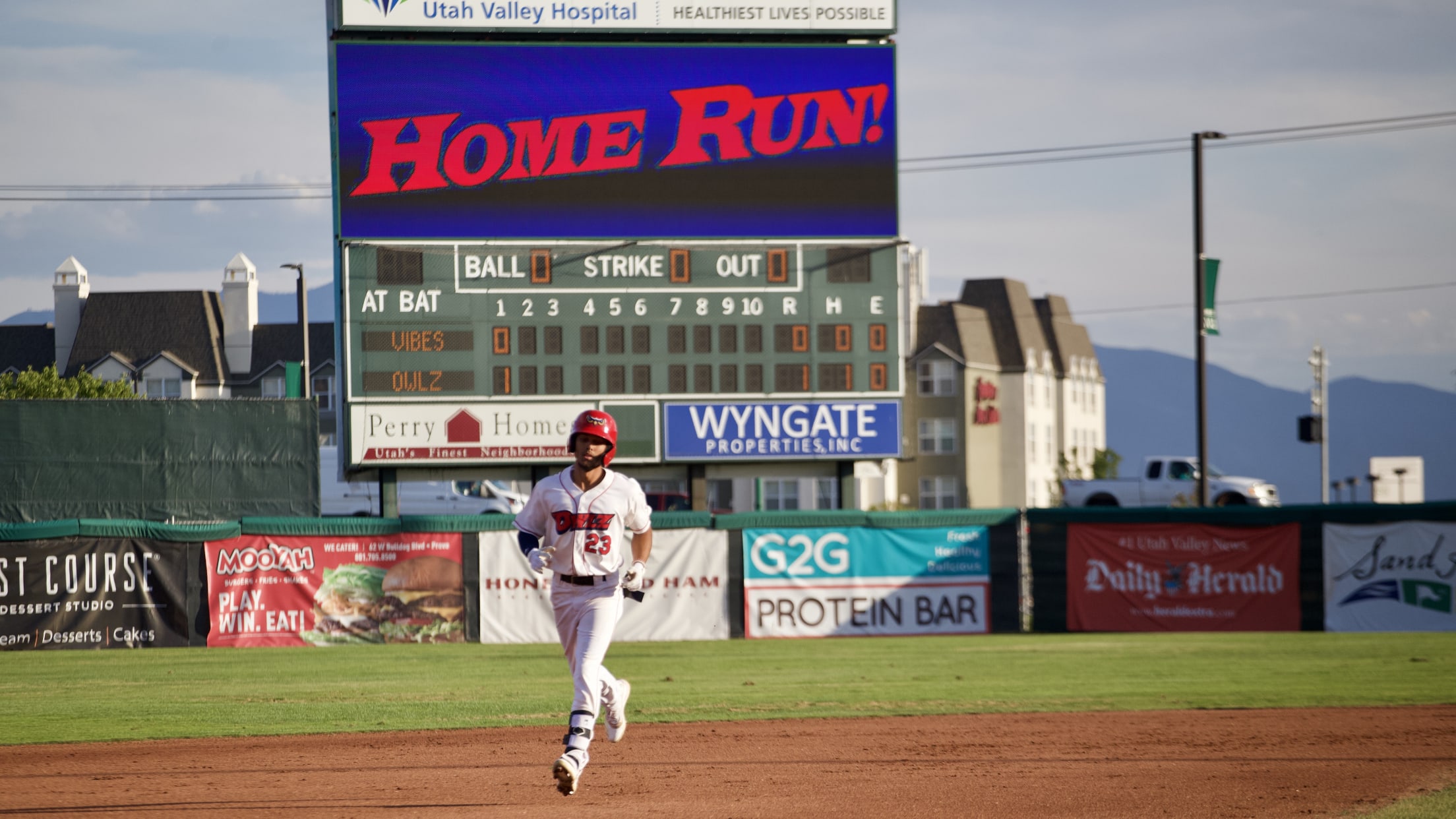 (Rick Avery)
(Orem, UT) - The Orem Owlz (28-41) scored nine runs in the second inning on their way to a blow out win over the Ogden Raptors (18-13) 18-45 on Saturday night at the Home of the Owlz. 
(Orem, UT) - The Orem Owlz (28-41) scored nine runs in the second inning on their way to a blow out win over the Ogden Raptors (18-13) 18-45 on Saturday night at the Home of the Owlz.
The Owlz opened the scoring in the second inning, putting together their biggest inning of the season. The inning started when Caleb Scires reached second base on an error. After Jose Guzman walked, Morgan McCullough drove in a run with a single, giving the Owlz a 1-0 lead. Brandon White then followed with a single to push the lead to 2-0. After a walk and a strikeout, Jeremiah Jackson singled in a pair to double to lead to 4-0. Jose Reyes picked up an RBI the hard way as he was hit by a pitch with the bases loaded to drive in the Owlz fifth run of the inning. Caleb Scires added two more runs with a single and then Guzman and McCullough followed with back-to-back singles capping off the nine run inning.
Ogden cut into the Owlz nine-run lead with a two-run homer from Ramon Rodriguez in the top of the third before the Owlz took those two runs back in the bottom half of the inning. Jackson singled with one out and moved to third on a Knowles double. Reyes drove in the Owlz 10th run of the night with a ground out and the Owlz added another run on an error, pushing the lead back to nine at 11-2.
Owlz starter William Holmes allowed just two runs in his Pioneer League pitching debut while striking out a career best seven batters in four innings of work.
Morgan McCullough added to the Owlz lead in the sixth inning, hitting his fourth home run of the season. With a runner on, Jeremiah Jackson blasted his 23rd home run of the season to push the Owlz lead to 15-2. Jackson's home run tied the single season Pioneer League record set in 1997 by Greg Morrison with the Medicine Hat Blue Jays.
Andy Pages homered for the Raptors in the eighth before the Owlz scored three more on a Knowles double and a Scires sacrifice fly to extend the lead to 18-3.
The Raptors scored two runs in the ninth inning on an Andrew Shaps two-run homer.
Jose Natera (2-3) earned the win, allowing three runs in 4.2 innings out of the bullpen. Alfredo Tavarez (1-3) was charged with the loss. The Owlz and the Raptors continue the series on Sunday afternoon at 4:00 at the Home of the Owlz.