Arcia leads Milwaukee's best prospects
Club's top hitter, Lopez ascend at upper level of Brewers organization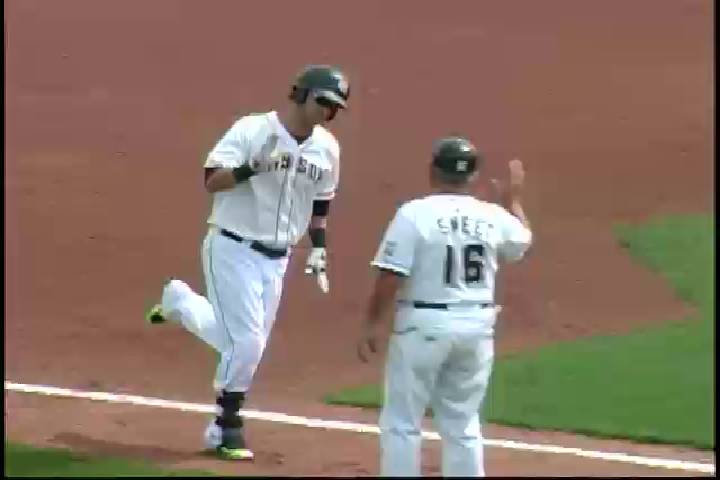 By Kelsie Heneghan / MiLB.com | November 18, 2015 10:00 AM
This offseason, MiLB.com will be honoring the players -- regardless of age or prospect status -- who had the best seasons in their organizations. We're taking a look at each team to determine the outstanding seasons in Minor League baseball.
While it may not seem like it at the Major League level, 2015 was a big year for the Brewers, filled with significant moves throughout the system.
First there was a literal move as Milwaukee shifted its Double-A affiliate from Huntsville to Biloxi. Due to stadium construction, the Shuckers were forced to start the year on the road, but as soon as they got home on June 6, the Brewers prospects brought magic and an eventual MiLBY to their homecoming.
At the deadline, Milwaukee upped the ante on pivotal moves by picking up highly touted outfielders Brett Phillips and Domingo Santana in a deal with the Astros. While their short 2015 tenures with the Brewers excludes them from this list, the system's Organization All-Stars are stocked with talent, including MLB.com's No. 12 overall prospect (Orlando Arcia), two baseball legacies (Matt Clark and Kyle Wren) and the club's first overall pick in this year's Draft (Trent Clark).
The biggest moves for the organization came off the field when the Brewers hired 30-year-old David Stearns as their new general manager, succeeding Doug Melvin. Stearns had been assistant GM for the Astros and helped their rebuild, which began, of course, with the farm system. Stearns dismissed former farm director Reid Nichols, replacing him with Tom Flanagan, who started as a Brewers batboy in 1990 and had spent the last decade as the club's director of baseball operations. He takes over a system on the way up.
Brewers Organization All-Stars
Catcher -- Nevin Ashley, Colorado Springs (94 games), Milwaukee (12 games): After spending parts of the past five seasons in the International League, Ashley was signed by the Brewers in January and got to experience the Pacific Coast League. The change seemed to be all the 31-year-old needed to be boosted to the next level.
"He really swung the bat well for us, got a lot of big base hits and controlled the game from behind the plate -- something that he really didn't have the opportunity to do in a few years because he's been a backup," Colorado Springs manager Rick Sweet said.
Ashley hit .306 for the Triple-A Sky Sox while leading Brewers catchers with eight homers and 61 RBIs before finally getting the call to the Majors in September. After the season, the Indiana State product elected free agency and now could join his fifth organization in five years.
First baseman -- Matt Clark, Colorado Springs (132 games): The Brewers signed Clark as a free agent on July 4, 2014 and the deal has been mutually beneficial ever since. In his fourth attempt at Triple-A, the LSU product lit up the system, with an organization-leading 20 homers and 77 RBIs.
Clark, the son of former Major Leaguer Terry Clark, was added to the Brewers' 40-man roster on Oct. 5, but was outrighted to Triple-A at the start of the offseason. After a dominating campaign, Clark could be in contention for a big-league roster spot come Spring Training.
"I am shocked that he has not gotten an opportunity at the big-league level. He has consistently put up numbers for the last two, three years. If you look at his home run and RBI totals, he's got to be one of the top guys in the last three years in the Minor Leagues," Sweet said. "I really hope he gets the opportunity this year to go into camp with somebody and get a shot at first base, because I think he can hit 20-plus home runs at the Major League level and put up a good average."
Honorable mention: Garrett Cooper completed a Triple Crown for first basemen in the organization by leading the system with a .310 average. The 24-year-old also notched career highs with eight homers and 54 RBIs between Class A Advanced Brevard County and Double-A Biloxi.
Second baseman -- Chris McFarland, Brevard County (137 games): After repeating the Midwest League, McFarland found success at the next level. The 22-year-old hit .274 with a career-high 46 RBIs and 28 walks. McFarland ranks second in the organization with 150 hits, while topping second basemen with 183 total bases.
A shortstop in high school, the Texas native continued to work on his defense as he transitioned to the pitcher-friendly Florida State League this past season. McFarland will look to cut the errors down as he enters his fifth campaign as a second baseman in 2016.
Honorable Mention: Pete Orr tied McFarland with 46 RBIs to lead Brewers second basemen. The 36-year-old boosted his average to .303 while cutting his strikeouts from 76 in 2014 to 51 this season.
Third baseman -- Nate Orf, Biloxi (127 games): Orf continued his steady promotion rate, reaching Double-A in his third season. The versatile player made his way around the field, but really stood out at third, making just three errors in 66 games at the hot corner. Perhaps the most remarkable part of the Baylor product's year, though, was that he collected two homers, 43 RBIs and four triples for the second straight season.
"Being a 50th-round pick, he knows what it takes to get to the big leagues," Shuckers manager Carlos Subero said. "On the bases, he'll read a ball in the dirt, he'll go first to third, he'll break up a double play. He'll do all the little things that he needs to do to be able to play at the highest level."
Shortstop -- Orlando Arcia, Biloxi (129 games): This year Arcia showed why he is the Brewers top prospect with a breakout season -- and he has the MiLBY to prove it. The 21-year-old led the system with 157 hits while posting career highs in homers (eight), RBIs (69) and average (.307).
"He is a natural leader, not necessarily a kid that has to be loud, but just the way he goes about the game. It speaks for itself, all players look up to him," Subero said. "If it's a tight ballgame in the seventh, you want Orlando up. He wants to be up there and he'll deliver. So that's the type of player he is, he's a kid that, with help and God-willing, he'll definitely be an impact at the Major League level soon."
Outfielders
Michael Reed, Biloxi (93 games), Colorado Springs (38 games), Milwaukee (seven games): Reed reached Double-A in his first full season, but hadn't been back since that 2012 campaign. But this year, he proved he was ready for the Southern League and beyond as he made his Major League debut. The 22-year-old's 70 RBIs and 26 swipes put him in the top three of the system before he hit .333 in the bigs.
"He's a professional, he gives you pro ABs, has great plate discipline, and as he goes up, he's not only going to get better, but umpires get even better," Subero said. "I can see he has the speed to steal 20-plus bases, likes to steal, looks into different stuff to see pitchers' tendencies. I would say he is another one that had a great year for us and a breakout year."
Trent Clark, AZL Brewers (43 games), Helena (12 games): The Brewers selected Clark with the 15th overall pick in this year's Draft and the 19-year-old quickly showed off his above-average bat. Clark hit .309 in the Rookie-level Arizona League, then kept it going with a .310 average after jumping to the Pioneer League.
The left-handed hitter displayed his other strong tools with 25 stolen bases in 33 attempts while making just two errors in center field.
Kyle Wren, Biloxi (60 games), Colorado Springs (76 games): In 2014, Subero was impressed by Wren from the opposing dugout as the left-handed hitter raked for Double-A Mississippi, but after Atlanta traded Wren to Milwaukee for Zach Quintana last November, the skipper got to see the talent up close.
"Just his ability to get on base, work deep ABs and a line-drive hitter who will steal a base, great range in the outfield, typical leadoff hitter and knows his game and what it takes him to score runs," Subero said.
After a slow April, the son of Red Sox executive Frank Wren took off, garnering a promotion to Triple-A in June. In the Pacific Coast League, Wren belted his first homer since 2013.
Utility player -- Yerison Pena, DSL Brewers (43 games), Helena (20 games): After three seasons with the Dominican Summer League Tigers, Detroit released Pena in August 2014, but the following May, Milwaukee saw potential and signed the free agent. In a new system, the switch-hitter flourished as he hit .327 with 34 RBIs before finally moving on to the Pioneer League on Aug. 9.
Defensively, Pena found himself at five positions, splitting his time equally between the infield and outfield. The 24-year-old committed just 12 errors, with six of those coming at the hot corner.
Right-handed starting pitcher -- Jorge Lopez, Biloxi (24 games), Milwaukee (two games): Lopez turned his Double-A introduction into an eventual Major League debut with an organization-leading 137 strikeouts and 12 wins. The 22-year-old posted a 2.26 ERA and finished the year with three straight Brewers Pitcher of the Month honors en route to being named the Southern League's Most Outstanding Pitcher.
"I was able to see him turn from a kid into a man in terms of baseball savvy and on the mound, working with his pitches," Subero said. "Just a kid who's hard-working, great competitor with three pitches -- all three are plus pitches -- and he would even show plus command at times during the game. That's what got him over edge and definitely made him one of our top guys in the whole system."
Honorable mention: Tyler Wagner just barely edged Lopez with a 2.25 ERA to lead the system while ranking second with 11 wins. The Las Vegas native fanned a career-high 120 while getting two callups to Milwaukee.
Left-handed starting pitcher -- Brent Suter, Biloxi (20 games), Colorado Springs (six games): Suter made the most of a Double-A redo with a 1.90 ERA in his first 20 games (including 11 starts). Although the Brewers moved him to the bullpen with strong rotation in Biloxi, it wasn't long before the Harvard product stretched his long-relief appearances into starts and eventually into a promotion to the Sky Sox rotation.
"He doesn't throw as hard, but is a very smart kid and is able to read hitters," Subero said. "Being able to spot his pitches, work ahead in the count, not give hitters that much credit and just stay aggressive with all pitches. [He's] baseball-savvy with a great pickup move. I think those are factors that got him graduated from the level Double-A."
Relief pitcher -- Damien Magnifico, Biloxi (42 games): Along with the promotion to Double-A, Magnifico was sent to the bullpen. The right-hander started out as a middle reliever, but after rebounding from a tough outing, Subero saw a closer in Magnifico. The University of Oklahoma product allowed three inherited runs without registering an out against Mississippi on May 10. Instead of letting him fester over it, the manager threw Magnifico back in the fire the following day.
"He performed and saved the game, and ever since, we called him our closer," Subero said. "It's just really electric stuff with good sink on it, mid-90s to upper-90s and is developing a slider, which has been very impressive, in the Fall League."
Kelsie Heneghan is a contributor to MiLB.com. Follow her on Twitter @Kelsie_Heneghan. This story was not subject to the approval of the National Association of Professional Baseball Leagues or its clubs.
View More