Brinson's blasts put Express ahead in Finals
Rangers No. 4 prospect goes yard twice in first two innings at Fresno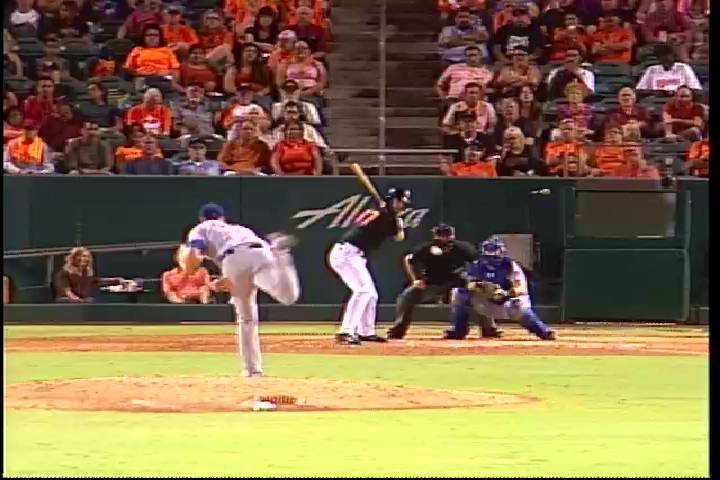 By Josh Jackson / MiLB.com | September 19, 2015 2:43 AM
Things are on the upswing for Lewis Brinson and his club.
The Rangers' No. 4 prospect homered in each of the first two innings Friday, sending Round Rock on its way to a 6-2 victory at Fresno and a 2-1 lead in the best-of-5 Pacific Coast League Championship Series.
"We're all about momentum, and we have been throughout the playoffs," the 21-year-old outfielder said. "This gives us momentum going into tomorrow's game. All we need is one more and it's good we took the first one from them at their home place. Hopefully, tomorrow we can do the same thing."
During the regular season, the 2012 first-round pick climbed from Class A Advanced High Desert and through Double-A Frisco in time to see action in eight PCL games before the playoffs. Across the three levels, he slashed .332/.403/.601 with 20 homers and 18 stolen bases in 100 games.
Brinson hammered Brett Oberholtzer's second pitch of the game over the center field wall before Brett Nicholas produced another run with a groundout. Brinson said he couldn't have dreamed up a better start to the night.
"It'd be pretty hard," he said. "That was big for us. I was looking for a pitch up, and luckily that California air carried it out. I didn't think it was going to go until I saw [center fielder Andrew Aplin] jump and it went over his glove. I thank California for that."
Beneficial air or no, the wall at Chukchansi Park's center field is 400 feet from home plate.
"Yeah, I've been doing a couple pushups," Brinson joked. "It was a great feeling off the bat. And in the leadoff at-bat, it gave us good momentum for the rest of the game."
Facing Oberholtzer (1-1) again with a man on second and two outs in the second, MLB.com's No. 69 overall prospect swatted another 0-1 pitch out of the yard, this time to left field.
"I was just looking for something up. I hit a fastball in my first at-bat and he started me with a changeup in the second at-bat. Then he threw me a fastball in. I think he was trying to get one by my or jam me, but luckily I was ready for it and I reacted to it," Brinson said.
The Florida native thought back to Game 1, in which he had three hits and helped the Express to an early lead, only to see the Grizzlies score four times in the eighth. Round Rock walked off with a 9-8 victory in the 12th.
"We want to score as many runs as we can because we remember what they did in that first game. We were up six and they took the lead in that inning," he said. "The more runs we get, the batter chance we have, especially against these guys. They can really swing the bat and make things happen, so going up, 4-0, in the second was a good place to be."
Jared Hoying, who was 4-for-8 with a homer in the Express' semifinal sweep of Oklahoma City, added a solo shot in the fourth.
"That was huge," Brinson said. "Hoying is kind of the leader out there in center -- he guides me and [Nomar Mazara] around out there. It's good to see him swinging the bat well, too, and it was good to see him hit that long home run tonight."
Phil Klein (2-0), who earned the victory in the semifinal clincher against the Dodgers, struck out nine and gave up three hits and four walks over six scoreless innings.
"He was just as much a part of the momentum tonight as anybody," Brinson said. "I know he's been in the big leagues and he knows what he's doing. He's a big body, a big presence. He throws lots of strikes and keeps us on our toes on defense so we can make plays for him. He pounds the zone and doesn't give in. They can't pick him up because he's stepping half way to home [on his delivery]. He did a great job in OKC and he did a great job tonight."
Tyler Heineman hit a two-run single in the eighth to avoid the shutout for the Grizzlies, who host Game 4 on Saturday.
Josh Jackson is a contributor to MiLB.com. This story was not subject to the approval of the National Association of Professional Baseball Leagues or its clubs.
View More