Dodgers' Seager goes 6-for-6, plates six
Top prospect homers, sets career high in hits, falls triple shy of cycle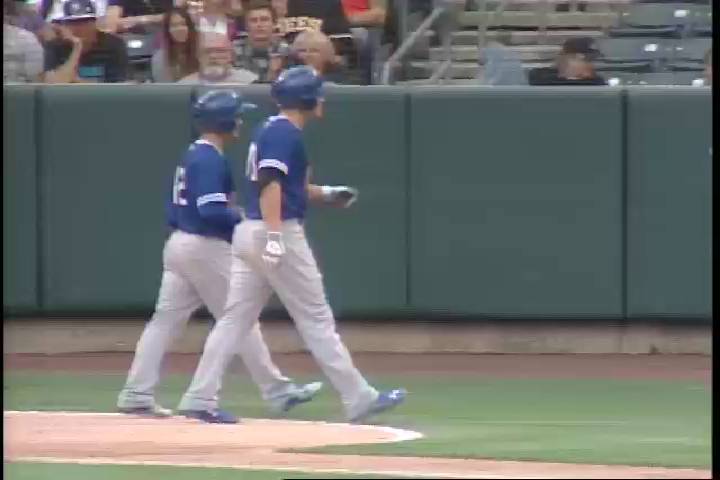 By Danny Wild / MiLB.com | May 28, 2015 7:16 PM
Even after the best game of his career, Corey Seager remained humble about his future.
The Dodgers' top prospect went a career-high 6-for-6 and tied a personal best with six RBIs to lead Triple-A Oklahoma City past Salt Lake in a wild 14-11 slugfest win on Thursday afternoon.
Was this one of those headline-making performances that could persuade the brass in Los Angeles to pull the trigger on a promotion soon? Seager, still just 21 and a veteran of only 25 Triple-A games, claims he hasn't even thought about playing in the Majors this year, a scenario that Dodgers fans dreamed of a year ago when it was Joc Pederson lighting up the Pacific Coast League.
"No, I don't even think about it, to be honest," he said. "It's not my decision, it's completely out of my hands, so there's no need for me to worry about."
Of course, six hits and six RBIs in one game can put any hitter's mind at ease. The No. 6 prospect in baseball says he's remaining focused on the present. On Thursday, that included a solo homer in the first inning, a two-run single in the third, a one-out base hit in the fifth and an RBI single in the sixth before he doubled home a run in the seventh and then capped his day with a line-drive ground-rule double to the right-field corner in the ninth to knock home rehabbing catcher Yasmani Grandal for a second time.
"It was cool," Seager said. "It was a good game, it went back and forth. Everyone was hitting, so it's just fun to be a part of a game like that and get the win."
Seager's six-hit effort was the second in Oklahoma City history -- Jeff Pickler, now a executive with the Dodgers, was the first to do it on June 22, 2004 against Albuquerque.
The 21-year-old shortstop took it all in stride, though, brushing off thoughts that Thursday's game was out of the ordinary.
"Nothing out of the normal," he said of his approach at the plate. "I just wanted to put a good swing on balls and hope for the best."
The Dodgers' first-round pick in the 2012 Draft had never totaled more than four hits in a game since debuting four years ago out of a North Carolina high school. His only other six-RBI game came on June 21, 2013 with Class A Great Lakes. He hit .375 with five homers and 15 RBIs in 20 games at Double-A Tulsa this season before earning a promotion on May 1.
He's been especially hot this week -- since May 24, the shortstop is 14-for-23 with three homers and 10 RBIs. He went 4-for-5 on May 26, a day after clubbing two homers in his first game at Salt Lake.
"It's always nice to succeed and you always feel more confident about everything," he said. "But I just try to ride the highs and keep it going."
Seager's first at-bat came against Bees starter Andrew Heaney, who threw him a 1-0 pitch on the outside half of the plate that ended up landing over the left-field wall at Smith's Ballpark.
"Beginning of the game, I'm just trying to put a good swing on it. I'd never faced him before, so I just wanted to kind of take a pitch and see it," Seager said. "I got a good pitch and put a good swing on it and had some good luck."
Seager said he wasn't thinking about hitting a triple to complete the cycle in his final at-bat in the ninth, which came after Grandal doubled to right with two outs to keep the inning going.
"I honestly didn't even know that," he said, "It was a ground-rule double, I didn't even realize it until I got back to the dugout and they told me I needed to run to third."
But the infielder and brother of Major Leaguer Kyle Seager did admit he was aware of his growing hit total during the game.
"You always kind of know what you're doing, but I just kind of wasn't expecting to go 5-for-5," he said of his fifth hit. "That doesn't happen often, you just go up and battle."
Seager, who raised his average from .281 to .324, had plenty of help in a game that included 25 runs and 36 hits. Buck Britton's only hit in five at-bats was a grand slam in the sixth, and Andy Wilkins, who led the Triple-A International League with 30 homers last year, went 2-for-5 with his fourth home run in the eighth. Grandal went 2-for-4 with three runs scored and Elliot Johnson finished with three hits and an RBI.
Hitting behind Grandal, who is working his way back from a concussion, has only benefited Seager.
"You kind of get to see a big leaguer go about his business and approach to his game and watch it," Seager said. "It's a good learning experience."
But back to LA -- does Seager personally think he's ready to make the transition to the Majors?
"Again, it's whenever they think I'm ready," he said. "It's not when I think I'm ready, it's all on them."
Is Triple-A at least a little more challenging than the Texas League?
"The game is always a little faster, the game is cleaner, the pitchers don't make as many mistakes," he said. "I fight through the adjustments and go on with it."
Pederson was hittting .303 on Aug. 31 when the Dodgers finally gave him a taste of the Majors last September. He was the PCL's MVP and Rookie of the Year.
Oklahoma City (32-14) and Salt Lake (22-25) finished with 18 hits apiece in a game the Bees actually led 6-3 at one point. C.J. Cron and Roger Kieschnick went deep for the Angels affiliate.
Heaney (5-1) was charged with seven runs on 10 hits and a walk in 5 1/3 innings, while Ian Thomas (1-0) picked up the win in relief of Dodgers starter Joe Wieland, who was chased after allowing five runs on nine hits in four innings. Thomas got the victory despite giving up six runs on eight hits and a walk in 2 1/3 innings.
Danny Wild is an editor for MiLB.com. Follow his MLBlog column, Minoring in Twitter. This story was not subject to the approval of the National Association of Professional Baseball Leagues or its clubs.
View More