Dodgers' Urias pitches six hitless innings
Nearly perfect, Oklahoma City lefty leads way in one-hit shutout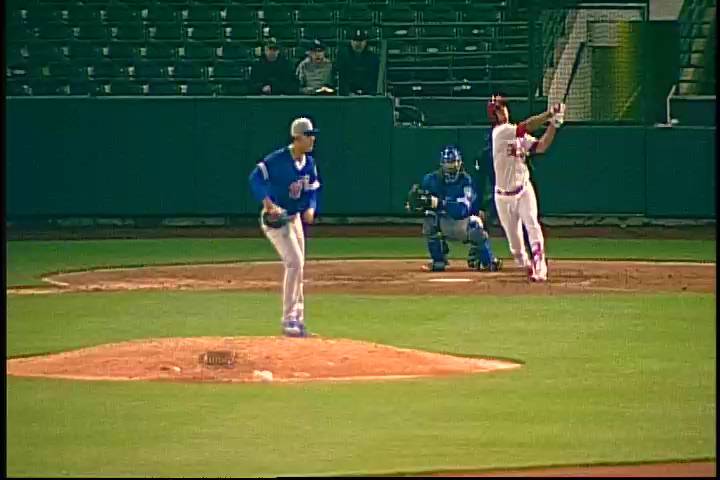 By Danny Wild / MiLB.com | May 4, 2016 4:50 PM
It was arguably the best start of Julio Urias' career, but the 19-year-old kept things in perspective on Wednesday.
"I feel like it's too early to say this was my best," Urias said. "I plan on working harder."
The Dodgers' top prospect couldn't have been much better in his fifth start of the season and was nearly perfect over six hitless innings, helping Triple-A Oklahoma City combine on a one-hitter as the Dodgers blanked New Orleans, 5-0.
Urias (3-1) struck out six and did not walk a batter, throwing 52 of his 77 pitches for strikes in his longest outing of the year. Lisalverto Bonilla yielded two walks but kept the no-hitter alive through the eighth before Zephyrs third baseman Austin Nola led off the ninth with a line-drive single to left to break it up. Chin-hui Tsao came on to record the final two outs to seal the one-hitter and Oklahoma City's fourth shutout of the season.
"I thank God I was out on the mound today. All of my pitches were working and I was feeling comfortable," Urias said through an interpreter, Damian Santamaria. "Thank God my pitches were working well today."
New Orleans' lone baserunner against Urias came in the fifth when Dan Black reached on an error by shortstop Zach Walters to lead off the frame. Urias retired Joey Galloway and induced a fielder's choice from Matt Juengel before picking him off at first to end the inning.
"The honest truth is every pitch I threw I had command over," Urias said. "Slider, curveball, changeup, I thought I was really confident throwing any pitch in any moment. I felt really good today."
Urias, MLB.com's No. 2 overall prospect, struck out two in the first, got Black looking to start the second, and whiffed two more in the third. He fanned Nola swinging to end the sixth before handing the ball over to his bullpen in the seventh.
"I had one outing where I went six innings last year, but today every pitch and out, I was just going into the next inning and of course you wanna stay in the game," he said. "But I respected the coach's decision and was OK with it, but felt I could stay longer."
Urias went five innings in each of his first three starts this year, striking out a season-high nine in his debut on April 11 at Memphis. He's allowed just five earned runs in 24 innings so far with only three walks. Last season, the southpaw pitched six innings on five occasions. He had one hitless effort against Double-A Arkansas on Aug 1, 2015, when he struck out six over 5 1/3 innings.
On Wednesday, he said he noticed early on that he was no-hitting the Z's.
"A lot of pitchers say they don't notice the scoreboard, but I was looking at it," he said. "I knew from the beginning that I had a no-hitter, and when I came out, I didn't feel nervous. I was comfortable. I'm thankful that we won."
The Dodgers (14-11) took the lead in the third with a pair of runs and added three more over the next two frames, giving the left-hander a healthy cushion to work with.
"I feel like when hitters get me runs, I feel like they have my back, so now I'm gonna have their back," Urias said. "I did my best to keep the lead and I feel comfortable when I have runs behind me. It's a team effort, and the mental part of the game -- it's easier when you have runs, as a pitcher. You want runs and you feel more comfortable."
Wednesday marked the second time Oklahoma City has carried a no-hitter into the eighth inning this season.
Urias, the top left-handed prospect in baseball and No. 2 overall behind Nats righty Lucas Giolito, said he appreciates the recognition and ranking.
"I'm proud of that, but I'm working harder," he said. "My goal is to get to the Majors, but it's not the end goal. I still want to do better and I'm thankful that people see me this way right now. I still want improvement, I want to get better and I plan every day on getting better any way I can."
Catcher Jack Murphy clubbed a two-run homer off New Orleans starter Paul Clemens in the third to open the scoring. Austin Barnes and Corey Brown also plated runs for the Dodgers, as did Urias himself when he dropped down a bunt and Rico Noel raced home from second following an error by second baseman Elliot Soto.
Clemens (3-3) was charged with four runs -- three earned -- on seven hits and two walks over four innings.
Danny Wild is an editor for MiLB.com. Follow his MLBlog column, Minoring in Twitter. This story was not subject to the approval of the National Association of Professional Baseball Leagues or its clubs.
View More