Mateo caps three-hit night with walk-off
Athletics No. 8 prospect homers, triples, singles for Aviators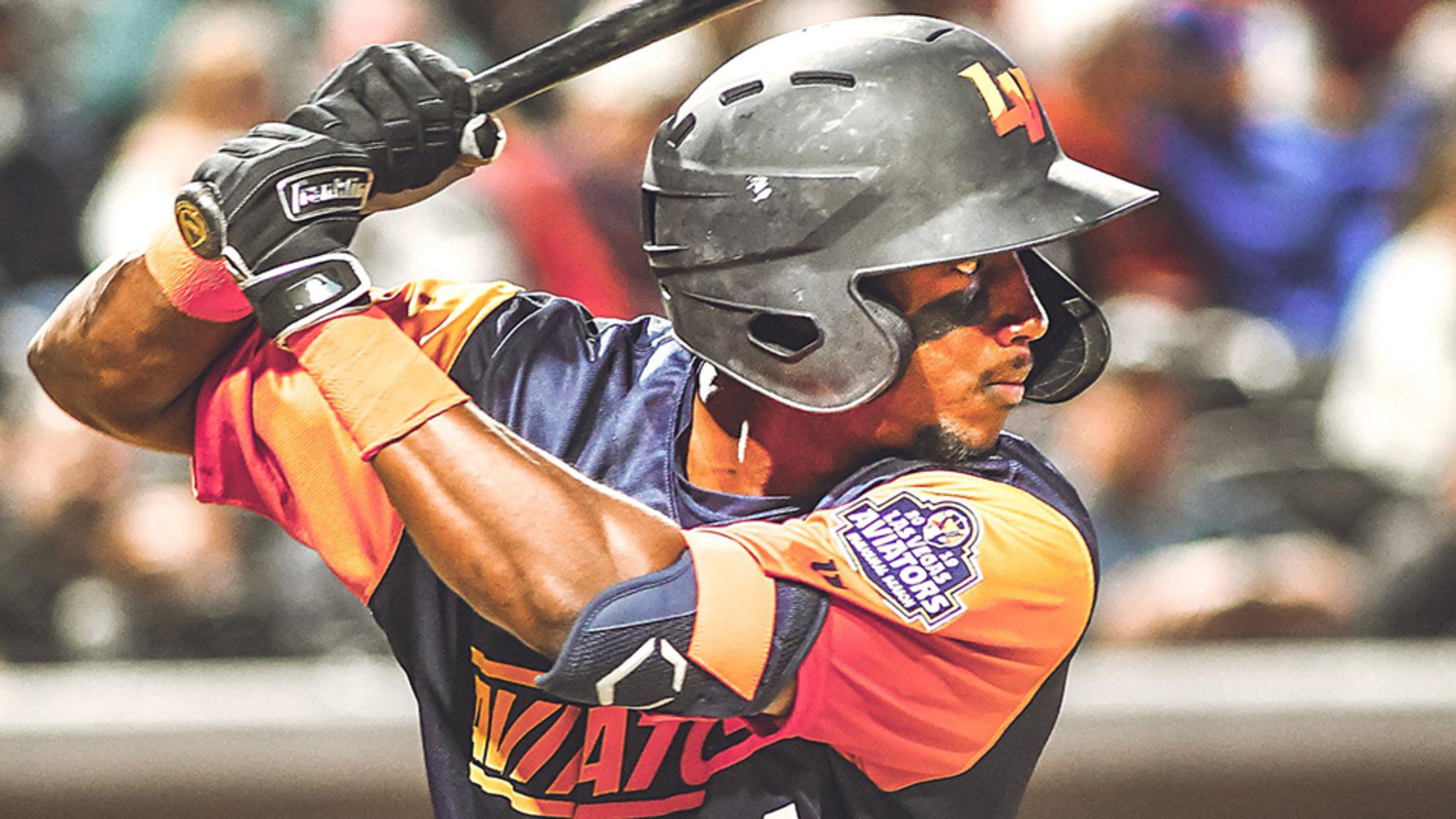 Jorge Mateo leads the Pacific Coast League in both hits (53) and stolen bases (11). (Steve Spatafore)
Jorge Mateo has been racking up milestones for Triple-A Las Vegas. After collecting the team's inaugural homer under its freshly altered identity, he added the first walk-off hit at brand new Las Vegas Ballpark.The eighth-ranked A's prospect capped a four-run rally with a walk-off single in the ninth inning as
Jorge Mateo has been racking up milestones for Triple-A Las Vegas. After collecting the team's inaugural homer under its freshly altered identity, he added the first walk-off hit at brand new Las Vegas Ballpark.
The eighth-ranked A's prospect capped a four-run rally with a walk-off single in the ninth inning as the Aviators rallied past Salt Lake, 9-8, on Wednesday. Mateo also clubbed a two-run homer and a triple.
With the game tied, 8-8, and runners at the corners, Mateo stepped in against right-hander Matt Ramsey. He fouled off three straight pitches, digging himself into an 0-2 hole. On the next pitch, the 23-year-old bounced a ground ball up the middle and under the diving grasp of shortstop Wilfredo Tovar. A's No. 19 prospect Skye Bolt jogged home with the winning run, while Mateo tossed his helmet high into the air before being mobbed by his teammates near second base.
The game-ending theatrics tied a bow on Mateo's performance, an evening in which he went 3-for-5 to extend his hitting streak to seven games. The native of the Dominican Republic finished a double short of the cycle and scored twice while posting his 15th multi-hit game of the season.
Gameday box score
After nearly five seasons in the Yankees organizations -- where he was once the top-ranked prospect -- Mateo was acquired in 2017 as part of the Sonny Gray trade. The shortstop struggled in his first season at Triple-A in 2018, batting .230/.280/.353 for Nashville, but has a .340/.280/.578 slash line with Las Vegas.
For Aviators hitting coach Eric Martins, there is a word to describe Mateo's turnaround: downhill.
"Last year, being a young player, he was really talented but didn't always completely focus," Martins said. "He came into Spring Training this year with a different focus. I told him, 'I'm going to hold you accountable for every at-bat. You're too talented to give away at-bats.'
"I just say, 'Downhill, stay over the baseball.' When he goes uphill, he chases. He's exposed to fastballs in the zone."
Martins conveyed just how important those conversations are, noting that Mateo chased a couple of pitches before his ninth-inning heroics.
"When he's gotten himself a couple of bad swings, I'll yell at him," Martins said. "Like tonight before the walk-off, he swung at a couple of pitches out of the zone. I barked at him and he came through with a big hit for us."
Mateo put the Aviators on the board in the first off big league veteran Nick Tropeano. After Dustin Fowler beat out an infield single, the shortstop launched his third big fly of the year, just left of the swimming pool in the right-center pavilion.
After striking out in the third, Mateo barreled up on his Pacific Coast League-leading ninth triple to center, leading off the sixth against Tropeano. He scored three pitches later when Seth Brown connected on his 10th dinger to get the Aviators within striking distance at 8-5.
Asked to describe the biggest change Mateo has made since last year, Martens didn't hesitate.
"It's his in-at-bat adjustment," he said. "Before, at-bats would pile up. He would go through weeks of having good at-bats but would be frustrated because the results weren't there. Now he knows how to get back into at-bats, and it's huge for him."
"He's a really talented kid. The tools are all there: run, hit, power, he can do it all. ... If he continues at this rate, he's going to be a superstar."
Fowler finished 2-for-5 with two RBIs and a run scored, while Beau Taylor contributed two hits and scored a run. Nick Martini and Mark Payton added RBIs for Las Vegas.
For Salt Lake, Tovar highlighted a four-RBI night with a three-run jack in the second inning off veteran right-hander Edwin Jackson. Taylor Ward hit a solo shot in the third and Jarrett Parker added a two-run double.
Katie Woo is a contributor to MiLB.com. Follow her on Twitter @katiejwoo.