Soler hits walk-off slam for Storm Chasers
Royals outfielder tied game with homer in ninth, drives in six runs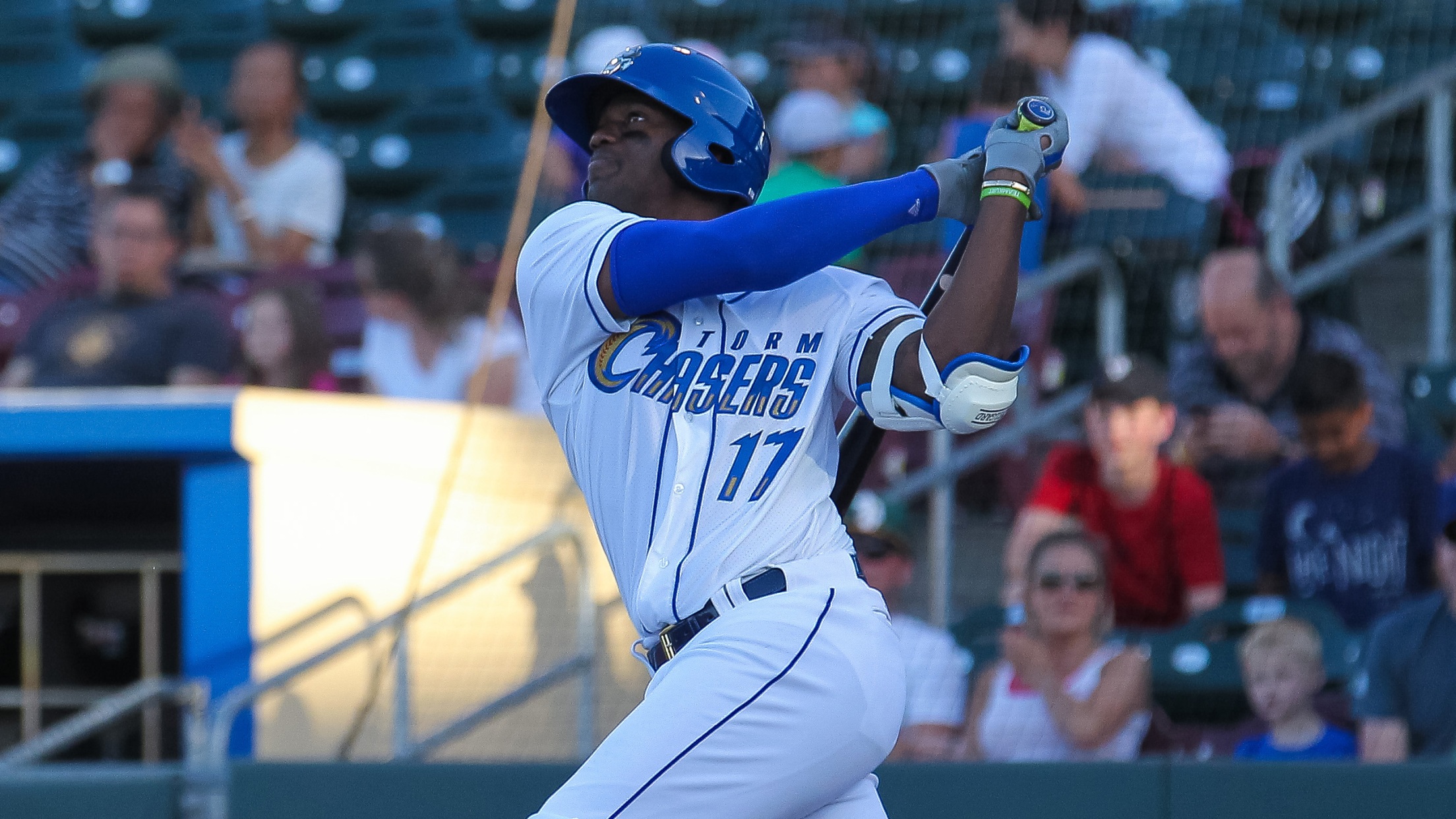 Jorge Soler has five homers and 11 RBIs in seven game since returning to the Pacific Coast League. (Minda Haas Kuhlmann)
Even with the wind swirling late in the game at Werner Park, Triple-A Omaha manager Brian Poldberg knew Jorge Soler could go deep without any help from the weather. The big league veteran proved just that -- twice. After hitting a game-tying two-run homer in the ninth inning, Soler blasted a
Even with the wind swirling late in the game at Werner Park, Triple-A Omaha manager Brian Poldberg knew Jorge Soler could go deep without any help from the weather. The big league veteran proved just that -- twice.
After hitting a game-tying two-run homer in the ninth inning, Soler blasted a walk-off grand slam in the 10th to give the Storm Chasers a 15-11 win over New Orleans on Sunday afternoon. He drove in a career-high six runs, eclipsing his previous best of five on July 13, 2014 as a Cubs prospect with Double-A Tennessee.
"I have never seen that before," Poldberg said with a big laugh. "That was wild."
The outfielder, who came to the Royals in the Wade Davis trade last December, landed on the disabled list in April with a strained left oblique and worked through a rehab stint with Omaha. Upon returning to Kansas City, he posted a .164/.292/.273 slash line with one homer and three RBIs in 55 at-bats and was sent back to the Pacific Coast League on June 4.
Gameday box score
Since rejoining the Storm Chasers, Soler has five homers and 11 RBIs in seven games.
"When he was down here earlier, you could see that his swing still wasn't free and easy," Poldberg said. "You could see there was some residuals from his injury. He went up and had a little bit of success, but he came back down. I could tell a big difference in his swing from when he went up to when he came back. He's healthy now, his bat speed is there, there's no hesitation in his swing. I think he's going to be ready to go really soon."
Hitless through his first four at-bats as the designated hitter on Sunday, Soler stepped up in the ninth with Bubba Starling on first after a one-out single. The Havana native crushed the second offering from Victor Payano over the left-center field wall to even the score at 11-11.
"It's good to have that feeling that you're still in the game with the tying run on first and a guy who can hit it out," Poldberg said, "whether the wind's blowing in or out in any situation."
Garin Cecchini led off the bottom of the 10th with a single before Terrance Gore bunted for a hit against reliever Javy Guerra. After Ruben Sosa's sacrifice, Raul Mondesi was intentionally walked to load the bases. Starling lined to short for the second out, setting the stage for Soler. He connected on a 1-1 pitch, sending a no-doubt blast over the center field wall. It was Soler's first grand slam since Aug. 11, 2012 when he was with Class A Peoria.
As he circled the bases and tossed his helmet off, Poldberg couldn't help but smile.
"Just as he went to the onslaught of players at home plate, you can see he's comfortable here right now and he's having some success," the manager said. "He wants to be here to get back where he needs to be, and every day he's getting better at it. He's probably not far from getting a recall."
Dean Anna and Royals No. 28 prospect Cam Gallagher hit back-to-back homers in Omaha's five-run second. Anna had two hits and two RBIs, while Gallagher finished 3-for-5 with two RBIs. Frank Schwindel contributed three hits and scored twice.
"The second inning was big," Poldberg said. "We gave up four in the first, three in the second, you're down, 7-0, coming up in the second. You need to put up a run at some point and we came back and put five up in the second. Everybody through the lineup did something along the way to get us back in the game and put us in a position to win."
David Vidal homered and drove in five runs for the Baby Cakes and Chad Hinshaw homered and doubled out of the leadoff spot.
Andrew Battifarano is a contributor to MiLB.com. Follow him on Twitter, @AndrewAtBatt.