Lara, Peterson come up big for Mariners
Seattle also has serious young power bats in Blash, Kivlehan, Henry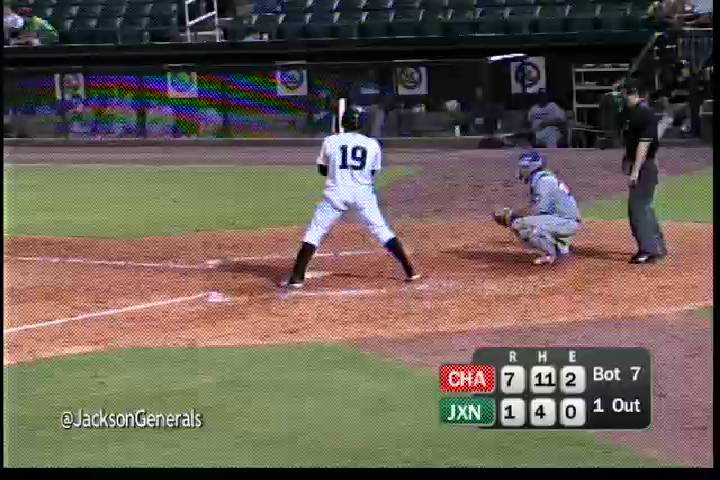 By Danny Wild / MiLB.com | October 16, 2014 10:00 AM
This offseason, MiLB.com is honoring the players -- regardless of age or prospect status -- who had the best seasons in their organization. Today, continuing with the Seattle Mariners, we're taking a look at each team to determine the outstanding seasons in Minor League Baseball.
The Mariners' Minor League system may have made a few headlines in 2014 for less-than ideal reasons -- Jesus Montero's bizarre ice cream sandwich offer and Jabari Blash's drug suspension -- but there were also plenty of emerging talents and storylines for fans to get excited about at Safeco.
Highly ranked prospects like Chris Taylor, D.J. Peterson and Taijuan Walker delivered as expected, while other lesser-known Minor Leaguers like Jordy Lara and Jabari Henry surprised with their power and production at the plate.
In terms of on-field success, the Seattle system produced just one affiliate with a winning record above the Rookie-level (Tacoma went 74-70). The Mariners also pulled their Appalachian League affiliate from Pulaski this fall and moved its California League club from hitter-friendly High Desert to Bakersfield.
We chatted with Mariners director of player development Chris Gwynn, a 10-year Major League veteran, World Series champion, Olympic silver medalist and the brother of the late Hall of Famer Tony Gwynn, to look at who shined for the M's in 2014.
Mariners Organization All-Stars
Catcher -- Tyler Marlette, High Desert (81 games), Jackson (nine games): Marlette, the Mariners' No. 10 prospect, reached Double-A in his fourth season and showed plenty of power. The 21-year-old backstop hit .297 with career highs in homers (17) and RBIs (51) in 90 games, mostly with Class A Advanced High Desert. Seattle's fifth-round pick in 2011 also swiped nine bases and finished with a .349 on-base percentage. Already known for his strong arm, Marlette managed to keep his average up this season while more than doubling his home total from 2013.
"He's a definitely a prospect, he's progressed well, but he still has work to do," said Gwynn. "But he's right on pace to doing what we think he can do."
First base -- Jordy Lara, High Desert (102 games), Jackson (33 games): Lara, a 23-year-old signed out of the Dominican Republic, broke out with a huge season in 2014, hitting .337 with 26 homers, 104 RBIs and a .392 OBP in 135 games, all career highs. A California League All-Star and three-time league Player of the Week, Lara spent most of the season with High Desert, where he batted .335 with 16 homers against right-handers and .348 against lefties. Gwynn said the organization was impressed -- Lara led the system in batting and was named the organization's Co-Player of the Year -- but isn't sure if he'll remain at first base for the long term.
"He could just be a late bloomer," Gwynn laughed. "He played two seasons at Pulaski and finally, when he got his opportinity, he was able to put together a really, really good year. His on-base ability was really good, he has right-handed power and has a really good arm."
Second base -- Ty Kelly, Tacoma (134 games): Kelly, a 26-year-old infielder, set career highs with 15 homers and 80 RBIs in 2014, his first full season in the Mariners organization after being traded by Baltimore last June for Eric Thames. The 2009 13th-round pick hit .263 with 11 stolen bases and a .381 OBP, and defensively he made just four errors with a .984 fielding percentage in 543 innings.
"He's done well," Gwynn said. "I think last year after the trade he had a really ridiculous on-base percentage, like .460 or something [ed. note: his OBP was .456] -- he plays hard, he's a throwback-type kid. He swings at strikes and he's done well. He's done everything we could ask."
Third base -- D.J. Peterson, High Desert (123 games), Jackson (58 games): Peterson, the Mariners' first-round pick in 2013, reached Double-A in just his second season and shared Seattle's Minor League Co-Player of the Year honors with Lara. The 22-year-old New Mexico product, currently ranked as the team's No. 2 prospect, hit .297 with 31 homers, 111 RBIs, seven steals, 147 hits and a .360 OBP.
"We envisioned him doing well, but 31 homers -- that's a big year," Gwynn said. "I figured he would have success, but with the success there's growing pains no matter who you are. It was good for him to stay healthy and play every day, so we're very happy, he's right on schedule doing what he has to do. He's in the Arizona Fall League right now, and we're very happy -- the sky is the limit."
Peterson has competition at third with Patrick Kivlehan, Seattle's No. 6 prospect, producing similar numbers this season. Plus, the Mariners are pretty content at third with Kyle Seager, who had 25 homers and 96 RBIs this season. Would Seattle consider moving Peterson somewhere else on the field?
"I don't know," Gwynn said. "I think the safest thing to do is let him play [at third] until it's time to move him, but I don't know. We've got Kyle Seager, and if he's healthy, he's going to be playing. D.J. has played some first and he played some in college, it's not out of the realm to play in the outfield."
Shortstop -- Ketel Marte, Jackson (109 games), Tacoma (19 games): Marte is now the Mariners' top-ranked shortstop prospect after Chris Taylor graduated to the Majors earlier this year. The 20-year-old switch-hitter reached Triple-A in just his second full season thanks to career highs in RBIs (55), homers (4), doubles (32), hits (159) and stolen bases (29). The Dominican infielder ranked third in the Mariners' system in hits and average (.304) and received the M's Heart and Soul Award for his efforts.
"I think Marte is a 20-year-old that had about 475 plate appearances in the Southern League -- I think that's an accomplishment in itself," said Gwynn. "He's done really well. Taylor deserves recognition too -- he had a hell of a year."
Gwynn said the Mariners hope Marte can develop into a top-of-the-order speedster in the next couple of years after ranking fourth in the system in steals this past season.
"Ultimately that's the objective -- to try to get him at the top the order. He's done really well. He's come along pretty quickly, I think he started he started last year in Clinton, and he ended up [this season] in Triple-A -- he didn't miss a beat. He performed well, and as a 20-year-old, we're really proud of him. He's right on the cusp of the Major Leagues, for sure."
Marte's ascencion through the Mariners' system has been accelerated, but Gwynn said the team didn't plan to be so aggresive with his development initially. Long term, they envision him staying at short.
"We knew [Brad] Miller and [Nick] Franklin were going to battle it out, and whoever wasn't there was going to be in Triple-A, and we knew we needed a guy at Double-A and Marte played really well the year before," said Gwynn. "We were cautious about putting him there, but thought he could handle it. We didn't know he would do as well as he he did. There's a little bit of upside there, but you knew he'd be able to play and be a good player.
Outfield
Gabby Guerrero, High Desert (131 games): The 20-year-old's big season helped him move up the Mariners' prospect rankings to No. 3 this offseason, and Gwynn said the organization was impressed with his power. Guerrero hit .307 with 18 homers and 96 RBIs, 18 stolen bases, 165 hits and a .347 OBP in the Cal League.
"He improved with his pitch recognition, and he ran out there every day -- he was very good defensively, he has a strong arm, too. He did well, I think he's growing up right before our eyes. He's a great kid, a good teammate, has power and he can do a little bit of everything. He's fun to watch."
Jabari Henry, High Desert (114 games): The 2012 18th-round pick stunned everyone in 2014 when he nearly tripled his homer total from 2013. The 23-year-old left fielder followed that up by hitting .291 with 30 homers, 95 RBIs, six steals and a .398 OBP in 430 at-bats for the Mavericks, numbers that ranked him No. 2 in homers and No. 5 in RBIs among Mariners farmhands.
"He's done well, he's always had a little bit of power, always done well getting on base. He swings at strikes most of the time, and I believe the power is pretty real," Gwynn said. "If it wasn't for other kids, he would have been moved up as well. He will start off at a higher level -- he deserves it. He's probably a corner outfielder."
Xavier Avery, Tacoma (120 games): The Mariners' No. 16 prospect was solid overall but lacked the gaudy numbers of some of his teammates. The 24-year-old spent the entire season at Triple-A, hitting .275 with 10 homers, 38 RBIs, 31 steals, 110 hits and a .344 OBP. Originally a second-round pick by the Orioles in 2008, the speedy outfielder was a consistent contributor but may be headed to another team in 2015.
"He's a free agent, he might not be back -- I don't know," said Gwynn. "He had a pretty good year, he's a left-handed hitter, runs the bases well, probably better in center than the corners, but he's a good kid -- he plays hard."
Honorable mention: Gwynn was high on Jabari Blash, whom we selected here last year. Blash posted good power numbers -- he had 18 homers and 59 RBIs in 82 games -- but he also hit .221 and was slapped with a 50-game suspension for a drug of abuse in late June. He was sent back to Double-A when he returned from the restricted list and struggled in 12 games.
"He was dominating the [Pacific Coast] league, and then he tested positive, but he's a big-time prospect with big-time power," Gwynn said. "Jabari Blash is a kid I would put on the roster coming up -- this is his time; he may have to be put on [the Spring Training roster]. That decision will come later, but he's a guy who can hit at any ballpark with right-handed power."
Designated hitter -- Patrick Kivlehan, High Desert (34 games), Jackson (104 games): The 24-year-old could easily have made our list at third after hitting .295 with 20 homers, 103 RBIs, 11 stolen bases, a .363 OBP, 32 doubles and 84 runs in 138 games. Seattle's fourth-round pick in 2012 was a two-sport star in college at Rutgers in baseball and football -- he spent four years as a safety but eventually focused on baseball, where he on the Big East Player of the Year and hit for the conference's Triple Crown.
"He's come on as much as anybody in our whole system," said Gwynn. "He played football at Rugters and all of sudden wanted to concentrate on baseball, and he's started putting it all together. He's tough, he's a good right-handed hitter looking to do damage. He's played third and first and will see a lot of first in the fall league. He can play outfield, too, so we're trying to find a spot for him."
The ascent for Kivlehan, who grew up in New York, comes after the 6-foot-2 infielder joined Rutgers' baseball team as a walk-on prior to his senior year. "They told me I could get a tryout, but nothing was guaranteed," Kivlehan told NJ.com. "I told them I was just looking for a tryout and I just wanted to make the team."
Seattle named him its Minor League Unsung Hero Award winner, and Gwynn thinks the slugger could contend for a Major League roster spot.
"His bat is coming on so fast he could be knocking on the door pretty quickly," said Gwynn. "More than likely he'll start at Tacoma, but you never know. He's earned a right to play in Tacoma. He's been steady, a leader, and it's been amazing to watch him transform into a guy who has a talent and is starting to put it together and figure it out."
Right-handed starting pitcher -- Jordan Pries, Tacoma (25 games), Jackson (two games): The 24-year-old ranked second in the Mariners' system in wins and strikeouts, finishing 10-8 with a 3.86 ERA and 120 strikeouts in 154 innings, mostly at Triple-A. That all helped him earn Seattle's recognition as Co-Starting Pitcher of the Year honors with Clinton's Edwin Diaz.
"He only had two starts in Double-A, so he did all that in Tacoma without any Double-A experience," Gwynn said. "He performed really well, he's steady, threw stikes, kept us in the games and now he's knocking on the door. We're really impressed with what he was able to accomplish this year."
Left-handed starting pitcher -- Tyler Olson, Jackson (22 games), High Desert (five games): The 2013 seventh-round pick reached Double-A in just his second Minor League season, although he's already 25. Still, the southpaw led Seattle's farm system in wins and strikeouts, going 12-8 with a 3.46 ERA and 127 strikeouts in 148 games.
"He's done well, we picked him out of Gonzaga two Drafts ago, and we really didn't know what he could do early. He put in a lot of innings the year he came out of college, but he came to camp and was ready to go, and he's dominated from the word go. He earned a call up to Double-A and had sucess there as well. We're really proud of him, I'm not sure where he starts this year, but definitely earned a consideration to start at Triple-A next year."
Reliever -- Matt Brazis, High Desert (23 games), Jackson (17 games): A 28th-round pick in 2012, Brazis has worked exclusively out of the bullpen since his debut three years ago, and it all came together in 2014 when the Mariners named him their Minor League Relief Pitcher of the Year. The right-hander went 4-1 with a 2.36 ERA, 84 strikeouts in 72 1/3 innings and six saves. Plus, he walked only 18 batters and allowed just three homers in 40 appearances.
"He didn't give up many hits, and didn't walk anybody in High Desert -- that's hard to do," said Gwynn (Brazis actually walked eight in 39 1/3 innings there, but point taken). Gwynn also highlighted right-hander Mayckol Guaipe, among others, who went 1-3 with a 2.89 ERA and 12 saves at Jackson, "Brazis had the best year out of all of them."
Danny Wild is an editor for MiLB.com. Follow his MLBlog column, Minoring in Twitter. This story was not subject to the approval of the National Association of Professional Baseball Leagues or its clubs.
View More