Bees' Hermosillo plates six on career night
Angels No. 10 prospect slams two homers in PCL blowout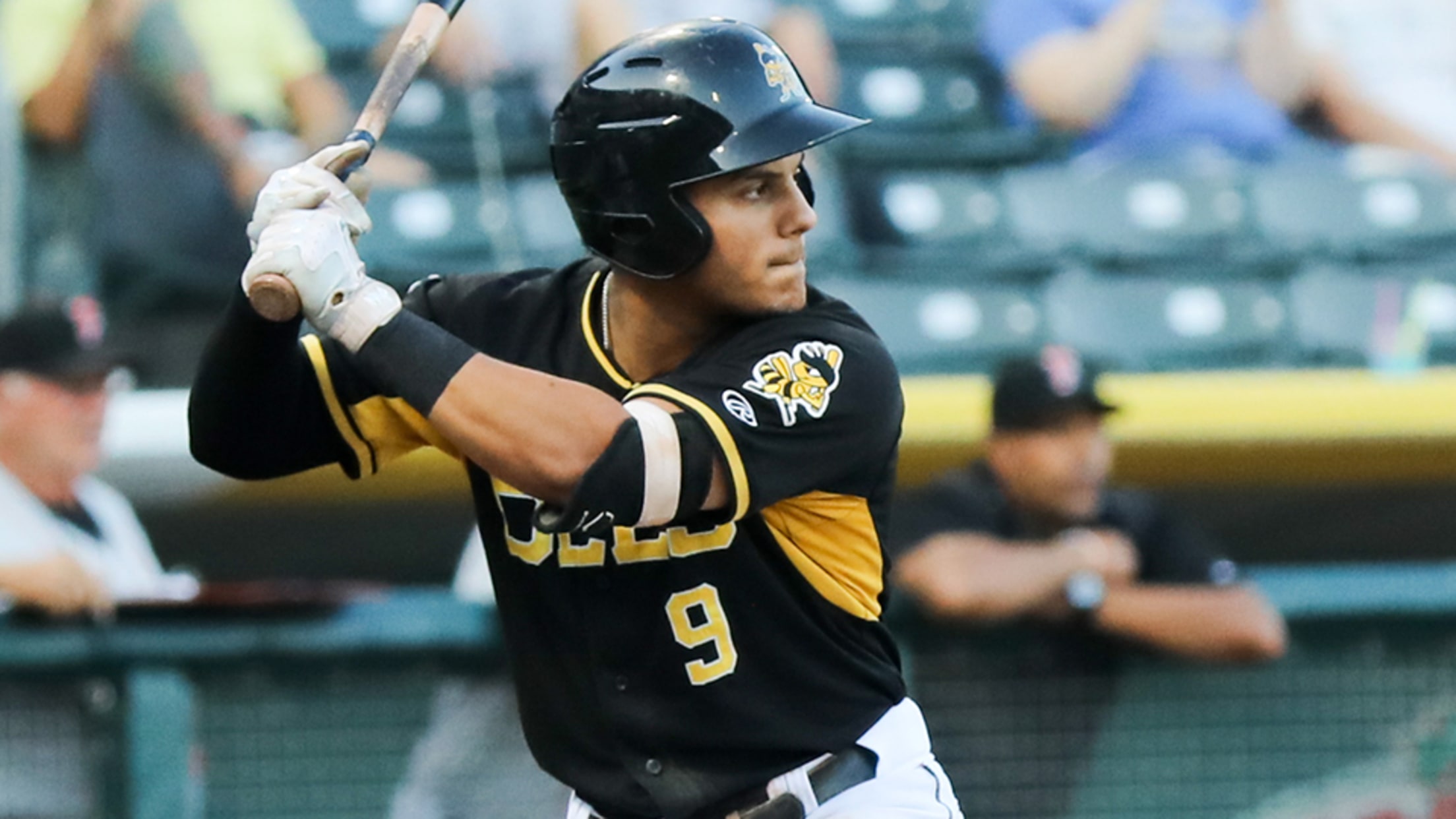 Michael Hermosillo raised his batting average 42 points to .279 with his second three-hit game of the season. (Brent Asay/Salt Lake Bees)
Salt Lake put together a solid night at the plate Tuesday, but Michael Hermosillo had one for his personal record book.The Angels' 10th-ranked prospect led a 14-hit attack with a pair of homers, a triple and a career-high six RBIs to lead the Triple-A Bees to a 12-3 romp over the
Salt Lake put together a solid night at the plate Tuesday, but Michael Hermosillo had one for his personal record book.
The Angels' 10th-ranked prospect led a 14-hit attack with a pair of homers, a triple and a career-high six RBIs to lead the Triple-A Bees to a 12-3 romp over the River Cats at Smith's Ballpark.
"I just found myself getting into hitters' counts, and I was able to lay off of off-speed pitches and waited out for the fastball," Hermosillo said of his career night. "Once I hit the first one, I wasn't trying to do it again, but I was just focusing on driving it to right-center.
"But it's awesome. I try to shoot for that every day and take advantage of the opportunities when they come."
Hermosillo found his groove in the second inning with a two-run triple to right field that doubled the Bees' lead to 4-0. With his teammates continuing to clog the basepaths in front of him, the 23-year-old outfielder came to the plate again in the fourth and slugged a three-run shot to left. Chris Carter added a two-run homer later in the frame.
Hermosillo capped his second career multi-homer game with a solo blast to left in the sixth, surpassing four-RBI efforts for Salt Lake on Aug. 27, 2017 and Class A Advanced Inland Empire on Aug. 31, 2016.
Gameday box score
David Fletcher also went 3-for-5 with a double and three runs scored while Carter reached base four times and contributed four RBIs for the Bees. Taylor Cole (1-0) allowed two runs on two hits over 2 2/3 innings for the win.
Even though Hermosillo grounded out in the first, he fed off the momentum that built when Nolan Fontana took Sacramento starting pitcher Casey Kelly yard two batters later. The whole Salt Lake squad has been on a tear at the plate lately, scoring at least seven runs in each of the team's past five games.
The Bees are 4-1 during the streak over that time, but Hermosillo hadn't contributed to the cause. The center fielder entered the night with only two hits and six strikeouts in his previous 13 at-bats and with just one RBI in 2018.
"We've been doing this a lot early this season, and it's fun to be part of it," Hermosillo said. "We try to keep it going every day, but what we really preach is moving the line. If you don't get your pitch, try and take a walk. ... I've been putting in a ton of work in the cages, and it's just good to see it come to fruition."
The Illinois high school product won't be costing on Tuesday's laurels when the team faces Sacramento again Wednesday. When he moved up to the Pacific Coast League last season, Hermosillo learned to have a plan each time at-bat, and that the best one after a record-setting night was to forget about it.
"You have to be ready for everything with all these veteran, mature guys up here," he said. "I'm just going to leave it in the past. It's just the same as an 0-for-5 game. Leave it where the day ends and start fresh tomorrow. It's a new day, and it doesn't guarantee anything. Just be focused in the game, because you can only do so much."
Nathan Brown is a contributor to MiLB.com. Follow him on Twitter @NathanBrownNYC.