Thaiss rakes with career-high five hits
Angels No. 8 prospect homers; Bees' Ward goes yard twice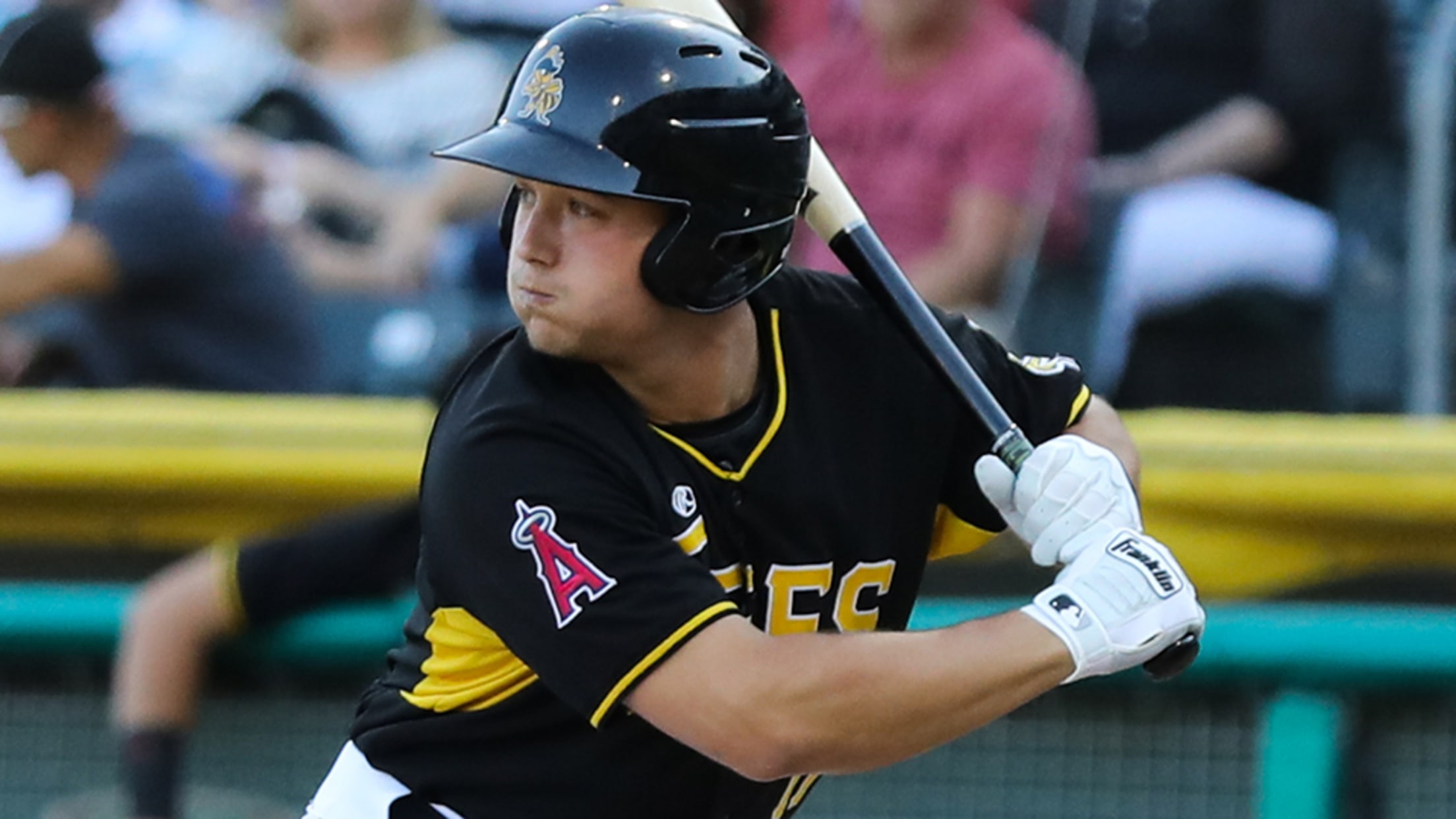 Matt Thaiss is hitting .359 with three homers and 13 RBIs in 14 games in June. (Brent Asay/Salt Lake Bees)
You could say Angels prospects Matt Thaiss and Taylor Ward have developed a bond of sorts over the last few years. The pair was called up to Double-A around the same time last year and moved up to Triple-A under similar circumstances this season. The two have shared numerous meals, lived
You could say Angels prospects Matt Thaiss and Taylor Ward have developed a bond of sorts over the last few years.
The pair was called up to Double-A around the same time last year and moved up to Triple-A under similar circumstances this season. The two have shared numerous meals, lived together and even share the trait of being former catchers learning corner infield positions.
The dynamic duo was able to capitalize on a swift breeze out to center field at Security Service Field and powered Triple-A Salt Lake to a 17-9 win over Colorado Springs on Tuesday night. Thaiss collected a career-high five hits, including a homer and a double, and Ward went yard twice while reaching base six times as they combined for nine of the Bees' season-high 24 hits.
"It just goes to show how good our lineup can be and the kind of hitters we have on this team," Thaiss said.
Thaiss doubled on the first pitch he saw from rehabbing Brewers right-hander Zach Davies and thumped a two-out solo homer as the first batter reliever Michael Brady faced in the second. He collected singles in three of his next four at-bats, two to right field and one up the middle, to round out his first career five-hit outing and raise his average to .340 in 23 Pacific Coast League games.
"It's something I've never done before and it's definitely something cool," said Thaiss, adding the last time he notched five hits in a game was "probably Little League."
The Angels' No. 8 prospect has posted four hits in a game six times, most recently on June 12.
Before being selected 16th overall in the 2016 Draft, Thaiss was the catcher on the University of Virginia's 2016 national championship squad that featured four other top prospects: D-backs first baseman Pavin Smith, Phillies outfielder Adam Haseley, Cardinals right-hander Connor Jones and Tigers right-hander Danny Pinero.
Gameday box score
Thaiss moved to first base after the Draft so he could focus on his skills at the plate.
"On cold nights like this, [I don't miss it] so much," Thaiss said of his past as a catcher. "You look at what those guys go through, with bullpens and foul balls off the body, they get beat up. I obviously miss it a little bit, but I'm happy to not be back there before."
The left-handed hitter earned a promotion from Double-A Mobile this season after hitting .287 with a .843 OPS in 40 games. He's adjusted well to the hitter-friendly PCL, boasting a .340/.382/.621 slash line.
"It's been really impressive," Bees manager Keith Johnson said. "He got off to a good start in Double-A and he's carried that over to us. The league kind of adjusted to him a little bit and he's adjusted back, so he's found something that's working for him and he's going out and displaying it every day."
The New Jersey native has advanced quickly through the Angels system, beginning his career with Rookie-level in 2016 and making it to the Southern League before the end of the 2017 campaign. He was a non-roster invitee to big league Spring Training this year and batted .259 with a .866 OPS and two homers in 27 at-bats.
Johnson has seen several glimpses of the maturity that's enabled Thaiss' quick ascent.
"He analyzes his at-bats and then he's on to the next one," Johnson said. "He stays in the present. He doesn't let his at-bats, whether they were good or bad, affect him in the here and now, and that's been really impressive. It's been good to watch."
Thaiss' biggest area of growth is his defense, according to his manager.
"He's been doing a really good job at it," Johnson said. "He's been working on his footwork around the bag and stuff like that. But I tell you what, it's coming along quickly. He's a quick study, really smart guy, takes pride in every little thing that he does and he works well. I have no doubt that he's doing everything that he can to be ready for when that call comes, and it's going to be a good day if I'm the one that tells him."
After walking in his first at-bat, Ward drilled a solo shot to center field in the third inning and smacked a two-run homer to left in the fourth, sealing the second multi-homer game of his career and first since Aug. 18 in the California League. Ranked 13th among Angels prospects, he added a leadoff single to left in the sixth.
Ward earned his first Triple-A callup on June 2 after posting a .345/.453/.520 slash line with six homers and eight doubles in 42 games with Mobile. He was supposed to move up about a week earlier but sustained a cut while unloading his luggage from a truck after concluding a series in Jacksonville, he told the Desert News of Palm Springs.
Like Thaiss, Ward was drafted as a catcher and played behind the plate for his first three professional seasons, but the Angles moved him to third base this season. And like Thaiss, he's taking it on with no trepidation.
"It's a work in progress," Johnson said. "But I tell you what, from where it was at in spring to where it is now, I have no doubt that he will continue to grow into a pretty good third baseman. He's head and shoulders above where he was at Spring Training, having been just introduced to the position and already playing it at the Triple-A level.
"It gets pretty quick up here. You can't rush experience, and especially at the hot corner. There's going to be some mistakes, his footwork is going to be a little off, but he's put the work in on a daily basis to get better and sometimes I have to tell him no, because he wants to work so hard that you have to tell him to relax a little bit, let some of things that you did do soak in."
Playing his 1,000th Minor League game, Salt Lake's Eric Young Jr. belted a three-run homer in the sixth and added an RBI single in the ninth. Dustin Ackley was 3-for-4 with two RBIs and two runs scored, while Francisco Arcia fell a double shy of the cycle, drove in three runs and scored three times.
Josh Horton is a contributor to MiLB.com. Follow him on Twitter @joshhortonMiLB